Why Explorer programs are a great recruiting tool
With the right role models in advisory positions, officers can help to instill the ethics required of today's law enforcement at a young age
---
By Michael Thueme
"So many applicants say "I've always wanted to be a cop" but after a bit of digging, we discover that the individual has lived a life more reflective of the statement: "I've always wanted to be arrested by a cop." 
As good applicants become harder to attract, perhaps it's time to institute a program sponsored by local, state, and federal law enforcement agencies that may guide young adults in the right direction from the start. Conveniently, that program already exists. Police Exploring has been around for decades. Thousands of departments already have a program in place, but it often becomes a forgotten line in a program's book.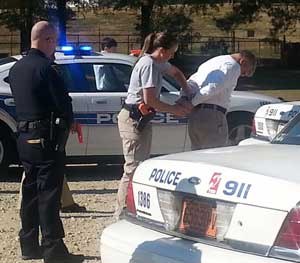 Exploring is inexpensive and easily maintained, and with the right role models in advisory positions, officers can help to instill the ethics required of today's law enforcement at a young age. Being an Explorer allows young people to see life from the perspective of the thin blue line and what it really takes to be the police. I should know. It happened to me twelve years ago.
Getting Hooked on Law Enforcement
After a short time in the program, many Explorers fully embrace the lifestyle and moral code that is expected of those who wear a law enforcement badge. Those Explorers are the ones that get hooked into the program and later, their law enforcement careers. They take pride in shining their boots and in the crest of their home and city sewn on their shoulders. 
High school and early college-aged men and women make the conscious decision to spend their time with the police. This statement alone is a profound one. Despite the common dissent toward law enforcement among young adults, a select few choose to engage. They choose to come forward and truly explore what we do rather than base their knowledge of the police on movies or the experiences of others. Many juggle school sports, part-time jobs, college classes, or ROTC. 
Explorers give their time to better their neighborhoods and schools, becoming intertwined with the community the way law enforcement strives to do through community policing efforts. They take proactive steps toward their future and throughout the entire process, they have the guidance of role model police officers. 
Explorers are taught the importance of physical fitness, leadership, chain of command, teamwork, and problem-solving. They learn to negotiate scenarios like traffic stops, building searches, domestic disturbances, and investigate mock crime scenes better than some academy recruits. All this happens before they are even old enough to drive a car in some cases. 
Top-Notch Academy Recruits and Trainees
After spending the seven allowable years vested in the department, Explorers enter the academy knowing all the particulars of the department they've grown as part of, from 10 codes and policies to civilian and sworn staff, equipment, and even department politics. Explorers will have already become well-versed in the very fabric of the department they seek to serve. 
Once in the academy, Explorers are all but bound to succeed. They've already been taught firearms safety, state and federal laws, and how to respond to certain calls for service. 
Expect former Explorers to lead their academy classes and score high on exams. These applicants will likely not quit, cheat, or become a liability to hire. The Explorer can easily be picked out during graduation. She will be the one accepting the top academic award. He will be the one accepting the top shot award. Once on the road, Explorers' field training officers often find themselves with little work to do. 
Former Explorers use their experiences during scenarios as well as what they learned in the academy right away. During their first phase of training, successful former Explorers may be as proficient as a trainee in their second or third phase of FTO training. They will form bonds with other officers quickly and become well known in the department by supervisors and officers alike because they have already become familiar with their now fellow officers through events and instruction as Explorers. They have integrated into the departmental family and set bonds that lead to assured officer retention. 
Once they graduate to solo patrol, they'll be go-getters. After all, they have been waiting a long time to do this job and now they are part of the fold. These officers will likely be proactive and excellent liaisons to the community, and front-runners for promotion or specialized assignment after only a short time.  
Don't Lower Your Hiring Standards
As departments flex and change, loosen hiring standards, and spend more money on recruitment, take a second to reflect on what is actually happening. Why are we lowering the bar when we could be pushing our applicants to surpass the bar we've already set? Use the inexpensive resources already in place to invest in the next generation of officers. Explorers should be given special consideration in the hiring process. 
The armed forces provide incentives for ROTC students just as law enforcement should for Explorers. Even Explorers who are not trained by your agency have the drive, the skills, and the desire to be a difference in the community. Just be sure to thank their former department for all their help. If your agency has an Explorer Post, underline the Explorer Program in your program's book and get the word out. 
Bring Explorers to career fairs and keep media contacts aware of the good that the Explorers are doing in the community. Encourage command staff and officers from all areas of the agency to engage and get to know the Explorers. They should be made to feel like they have a place in the department and that they are appreciated and valued. As they reach the end of Exploring tenure, make sure they get an application and a department pen to fill it out along with their certificate of participation. 
Click here for more information on law enforcement exploring. 
---
About the author
Michael Thueme is a Police Specialist (Corporal) with the Fayetteville (NC) Police Department. Michael is a former Police Explorer with Sterling Heights (MI) Police Department and former Police Cadet with Kentwood (MI) Police Department. He has a Bachelor Degree in Criminal Justice from Grand Valley State University and is currently assigned to patrol as a Field Training Officer. He is the lead advisor of the recently re-invented Fayetteville Police Department Explorer program.