Danner's Tachyon 8-inch Black GTX boots are light and durable
If a lightweight, yet highly functional pair of boots strikes a chord with you, be sure to check out the Danner Tachyon 8-inch Black GTX
---
Footwear remains the foundation of personal comfort. In short, if your dogs aren't happy, the benefits of all that high-tech uniform apparel you're wearing will seem insignificant.
Although law enforcement duties are very diverse, many of us spend a good part of our workday on our feet and highly functional, comfortable footwear goes a long way in keeping our minds on the business at hand.
Last year, I checked out Danner's Tachyon boot, a lightweight design optimized for training and special operations. The Tachyon incorporated a number of in-demand features and quickly became a personal favorite.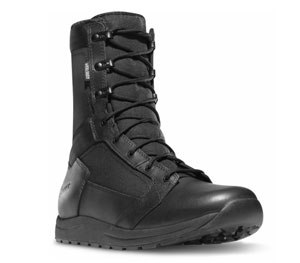 GTX's Broader Appeal
Recently, Danner introduced an enhanced version of the Tachyon which will — no doubt — have even broader appeal. The Tachyon GTX shares many of the same features, but with a 500 Denier nylon and leather upper, complete with a polishable toe. 
Best of all, the Tachyon GTX is 100 percent waterproof and its breathable GORE-TEX liner will keep your feet dry and comfortable.
The Tachyon GTX is available in a wide range of sizes, in both standard and wide widths. A speed lacing system and durable brass hardware ensure a snug fit, an important quality when engaging in vigorous physical activity. 
The Tachyon GTX is just slightly heavier than the original Tachyon and tips the scales at 35 ounces. Unlike other lightweight boots, the Tachyon GTX has a true rubber sole for superior abrasion resistance and traction.
I did have some concerns as to what sort of pounding my feet would endure over a long day with the Tachyon GTX. I'm pleased to report that the lightweight design did not prove to be problematic. 
An open-cell polyurethane footbed with an EVA cushioning midsole dissipates the shock transmitted to the feet and I've had no problem wearing these boots over long 12 hour days. The outsole features Danner's proprietary pentagonal lugs for maximum surface contact and to prevent slipping.
The true test of any boot is how they hold up and feel after several months of wear. I'm pleased to report the Tachyon GTX passed with flying colors. 
Although they wouldn't be my first choice for harsh winter weather, they kept my feet warm and dry negotiating the slushy streets of the urban jungle. Where they really shine, is in the warmer weather and I especially like the fact that I can pack one pair of boots for my extended road trips. 
If a lightweight, yet highly functional pair of boots strikes a chord with you, be sure to check out the Danner Tachyon 8-inch Black GTX.