Blackhawk's S.O.L.A.G. Recon Glove offers protection and dexterity
This duty glove is designed for high-risk entries, where protection is required beyond that of a standard patrol glove
---
I am particular about gloves. When I had an industrial accident as a young man, the glove I was wearing held the pieces of my hand together enough to allow the surgeon to reconstruct it. Without a simple thing like a glove, the outcome would have precluded both my law enforcement and military career.
Balance protection with dexterity
I have been testing gloves for years, and the challenge in the industry is keeping a balance of protection, while still having dexterity and sensitivity. A glove that allows the user to close their hand around a loop of barbed wire may not allow them to fish their keys out of their pocket. The happy medium gives both puncture protection and trigger feel in the same package.
I got to test Blackhawk's S.O.L.A.G. (Special Operator Light-Duty Assault Glove) Recon, henceforth in this article dubbed Recon Glove. This duty glove is designed for high-risk entries where protection is required beyond that of a standard patrol glove but without sacrificing a significant amount of dexterity.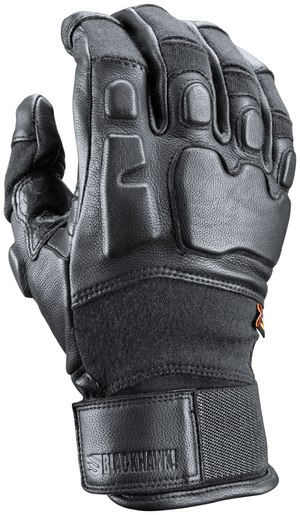 Recon Glove features
The Recon Glove has a pre-curved design, where the pattern is cut or molded around bent fingers. This is the best way to do it because there isn't a surplus of material in the palm when the hand is closed around a baton or the grip of a gun. This prevents shifting in the palm material when grip is critical, like when the officer has their hand wrapped around the wrist of a suspect.
The Recon's palm has a leather reinforcement that follows the lifeline of the hand, all the way to the fleshy part of the outside ridge, adding a strategic area of reinforcement. This is not designed as a K-9 handler glove, but it does offer protection for leash work.
The Recon Glove uses a wide elastic band that connects around the wrist to keep it on. On my hands, this put heavy, cut-resistant material over my radial pulse point. Not only did I like having the layers of protection here, but the glove also did not shift once secured. Moreover, I used the cuff to cinch the opening closed so I would not find any extra passengers in the gloves when I donned them in the dark. This is something I learned the hard way early in my military career.
I recommend this glove be purchased with a snug fit to allow a complete alignment of the padding and absolutely no slack in the fingertips. If you purchase them online, pick a vendor that has a quick turnaround for a return policy like TacticaGear.com so you can ensure a good fit.
The Recon Glove uses NOMEX, Kevlar and leather to provide flash, flame and slash protection for the hand. I experimented with this a bit. No, they don't catch on fire when placed over an open flame. However, there is something you should know about NOMEX. It doesn't have insulating qualities, which is why I'm glad Blackhawk added leather. Holding the hand over an open flame can get it kind of warm.
Impact protection
Blackhawk uses raised padded areas on the knuckles called D30 Impact Protection. This looks like simple closed-cell foam inserts on the back of the hand but it is actually a layer of advanced polymer material that absorbs force more efficiently than simple foam padding. The advanced material gives effective trauma reduction while remaining lightweight and flexible.
The D30 protection allowed my hands to handle a pretty hard hit without injury. I'm talking about a wall-denting hit that could mean the difference between finishing the shift in a patrol car or an ambulance. For users who do not like hard knuckle reinforcement, this is an excellent choice.
Where do I see the great advantage of this padding? I know a breacher who has rapped his knuckles a few times when tools rebound, or when doors are less secure than they seem and the ram disintegrates it, sending the hands into a door jam in tight quarters.
The padding and build make the glove too thick for back pockets, but they both fit in a cargo pocket easily. The loop is sturdy enough to hang off equipment using a carabiner, which I tested for several weeks on the outside of my backpack.
"Can I shoot while wearing them?" 
The most important questions I ask when testing gloves include "Can I shoot while wearing them?" and "Can I unlock a pair of cuffs wearing these?" Yes and yes. Although I don't like shooting with gloves, I found the trigger feel wasn't much different than my lightweight pair of deerskin gloves. There are no seams at critical tactile points like the fingertips.
The Recon Glove has touchscreen compatible fingers, which means a conductive pattern is sewn into a grid on the fingertips to allow a circuit to pass between the fingers and the device.
I wish they'd leave the touchscreen feature off of this type of glove. First, if the condition necessitates wearing gloves, it is not an appropriate time to be looking at a screen. Use voice control, not the touchscreen. Second, if I am going to use a padded, reinforced glove, it may be in an environment where a little non-conduction may help. I wouldn't want to negotiate around an electric cattle fence or similar barrier with conducting fingertips.
The Blackhawk S.O.L.A.G. Recon Glove is a well-designed patrol glove for everyday use. It is moderately priced (MSRP $81.95) and gives officers enough protection for duty and special-assignment use.