T&M Tactical gloves won't leave you in the dark
With these tactical light gloves, better visibility is always within your grasp
---
Business Name: T&M Tactical
Product: T&M Tactical Light Gloves
Officer / Department: (Retired) Officer Tim Matheney, Muskingum County, Ohio Sheriff's Office
Website:http://www.tmtactical.com/
The last thing you should have to worry about when entering a dark, unfamiliar place is dropping your flashlight. With T&M tactical light gloves, light is always at your fingertips.
What is your signature product?
Tactical-tough light gloves designed for law enforcement, made with Nomex flame-retardant material, premium goatskin leather in the palm, and indestructible polymer plastic light housing.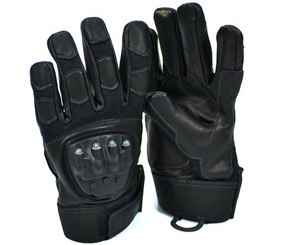 The T&M Tactical Light is securely mounted into the non-dominant glove for the safety of the officers and strategically placed for mobility and precise lighting when needed in dark conditions.
The shatterproof custom light housing protects four 15-degree high-output, ultra bright LED lights and a rechargeable lithium-ion battery that is easily charged with the USB cable provided.
A constant light will run for two hours, and the light on a strobe setting can last for four hours.
How does it work?
There are three buttons on the backside of the housing for the LED lights. The first is an on/off switch. The second button turns the light on as a constant, but can be pressed a second time to activate a strobe light to overwhelm an aggressor and neutralize the threat. The third button turns on palm pressure activation, so that simply making a fist will turn a constant light on. The glove is worn on the non-dominant hand.
Where did the idea come from?
My business partner and I were both members of our department's SWAT unit, and we had gone into a house when someone dropped their flashlight. We came up with the idea to eliminate the issue. We wear gloves all the time already.
How did that idea turn into a product?
We had done a search through the U.S. Patent and Trade website and found that there wasn't a product like this. We received a patent in 2010, two years after we came up with the idea. Then we worked with a business incubator and received local investments from a team of business owners, and we were able to purchase the materials to start creating the product.
How did you test it out?
We created a prototype lighting unit and tested it using existing police gloves. From there we made changes and developed them into the T&M Tactical gloves. We gave them to our local SWAT team to test, and the feedback we got was overwhelmingly positive. Today the gloves are being used by multiple agencies, and they're very effective.
Where can they be purchased?
A pair of gloves (which consists of one regular glove, for your dominant hand, and one with the LED lights, for the other) costs $119.99 and is available at http://www.tmtactical.com/shop/