Lenco FireCat helps put out fire under threat of armed gunman
A Lenco FireCat is being credited with helping put out flames when it was too dangerous for firefighters to approach using traditional means
---
By Suzie Ziegler
AGUA DULCE, Calif. — An armored firefighting vehicle made a big difference earlier this month when it was called to a fire scene that involved an armed gunman, officials at Lenco said in a press release.
The Los Angeles Sheriff's Department deployed its BearCat X3 FireCat on June 1 when an off-duty Los Angeles County firefighter shot two co-workers at a fire station, killing one of them. The gunman then retreated to his home and set it on fire before killing himself.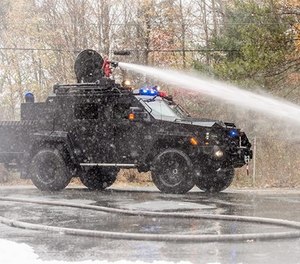 According to Lenco, authorities worried that a combination of bullets and flames could threaten the neighborhood. The armored FireCat – which carries a roof-mounted nozzle and a 300-gallon water tank – allowed first responders to approach and put out the fire.
[READ: 13 times BearCats saved lives]
"This is a prime example […] where we can use some new technology to safely handle some of these very volatile incidents and protect the neighborhood," said Chief Jack Ewell of the LASD Special Operations Division in a statement.
"We're proud that our vehicle was able to help defuse this dangerous situation, protecting both firefighters and deputies from further harm," said Lenny Light, Lenco Armored Vehicles' vice president, in a statement.
Request product info from top Armored Trucks companies
Thank You!