Vest For Life is saving LEOs' lives with donated body armor
As infuriating as it may be, many agencies don't outfit their officers with body armor, causing officers to choose between buying proper ballistic protection and putting food on the family table
---
Congratulations. You've just taken delivery of your new body armor to wear out on patrol. I hope your agency bought it for you, and that that it is top-of-the-line NIJ .06-compliant stuff. Further, I hope you wear it on every shift, no matter what. 
Now, what do you plan to do with the armor you're replacing? It may be out of warranty, but as long as you haven't been abusing it, it's probably still suitable for someone whose agency won't buy armor for its officers and/or an individual who cannot afford to buy their own body armor.
As infuriating as it may be, plenty of agencies don't outfit their officers with body armor. Those agencies also tend toward the lower end of the compensation scale, causing officers to choose between proper ballistic protection and putting food on the family table. That's where Vest For Life becomes a vital and life-saving entity.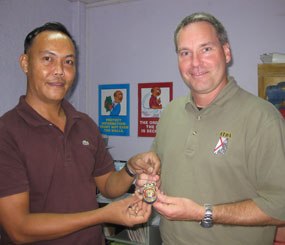 The More Things Change...
I originally wrote about this program back in 2009, soon after the effort was launched under the name Armor of God. Since then, several things have changed (in addition to the name), while other things have remained comfortably consistent. 
Back in 2009, the effort spearheaded by Captain Travis Yates and Lieutenant Clint Reck was just getting started. Today — now named Vest For Life — they've given away more than 4,000 donated vests. 
Back then, their efforts seemed to focus mostly on sending donated vests to officers overseas. After all, just about every officer in America has a ballistic vest, right? Well, unfortunately that's not quite the case, and about 95 percent of the vests the organization now gives out go to coppers here in the United States.
"When we started," said my friend and Police1 colleague Travis Yates, "we actually thought that our entire purpose was to help our brothers and sisters behind the badge in other countries. Once our website went live, almost all of our vest requests were coming from America."
Vest For Life co-founder Clint Reck added, "We were focused on the Philippines and were not aware of the need here in the States."
Two Lives Saved... So Far
Given their early history of work with officers in need in the Philippines and then here in the United States, it's no surprise that the two officers whose lives were saved by Vest For Life body armor are from those two places. 
Captain Bong Dalmatia of the Philippine National Police Force had been working a street crimes unit in a very dangerous area for eight years without a vest when he was one of three officers to receive a donated vest back in 2008. 
Less than a week after first donning his "expired" armor, Captain Dalmatia was approaching a carjacking suspect's vehicle when he was shot point blank in the chest.
"The vest saved his life," Reck told me. "I had the honor and privilege to travel to the Philippines and meet Captain Dalmatia in 2009, and that is something that I will always cherish. We spent several hours talking about his incident, and he was so thankful that he received his vest. He gave me his badge, and I still keep it in my office today to remind me of how precious life really is."
The second officer was shot while wearing a vest donated by the Tuscaloosa (Ala.) Police Department. That officer, responding to a SWAT callout, was involved in a shootout with the suspect. The officer was shot in the vest, and it saved his life. His name and the other details of his story are intentionally excluded from this column.
Expired Does Not Mean Retired
Obviously, wearing a vest that's outside of a manufacturer's warranty is better than wearing no vest at all, but are there varying degrees of better? While some of this has to do with the vest itself, much of the quality-control question is related to the level of upkeep by the original owner.
"We scrutinize all of the donated vests, but it is much better for the person or agency to scrutinize the vest before it is sent," Yates said. "If a vest was worn every shift for five years in a humid climate, we will not give that vest out. Moisture can be damaging, and we simply don't want to risk sending out a vest that will not work."
"I work to make sure that every vest that is sent out is in great shape," Reck added. "My motto is 'I will not give a vest away that I would not wear myself.' Departments donating these vests take pride in the condition of the vest they send because they know the vest is going out to fellow officers."
Yates added, "Most of the vests sent to us are in good shape. We probably dispose of approximately ten percent of [donated] vests."
Reck does offer some advice to officers who want to donate their vest, asking that you make sure the vest carrier is clean, and if possible to pay for the shipping of the vest. 
"We appreciate every vest we receive and can't thank everyone enough that has participated in assisting us in giving these vests away," Reck said.
A Clarion Call to Action
Yates told me that from what he and Reck have observed, they believe that approximately one out of every five American officers — yes, 20 percent of our cops! — do not have vests to protect them.
"Honestly," Yates said, "I find that outrageous. We've had some great support from Police1 and ODMP through the years, but honestly, I cannot believe there isn't more support or outrage. There is no excuse that we have officers wearing a badge without a vest and our profession must fix this immediately. Just imagine if our entire profession — and the organizations surrounding this profession — woke up to this issue. Imagine what could be accomplished with us collectively."
I couldn't agree more with that assessment, and I'm hopeful that someone reading this column is similarly outraged that cops are working the job without reasonable access to body armor. If you have an "expired" vest in your garage, please consider donating it.
If not, please just spread the word that the option is even available out there. 
•    Click here to request a vest  
Armor of God Project: The Process

Armor Of God Project: Vest #2000

Armor of God Project: Vest #3000