Can't make it to National Police Week in D.C.?
Even though events will be held in-person in our nation's capital this year, there are still plenty of ways you can virtually observe and participate
---
This year's National Police Week, which runs from May 11-17 in Washington, D.C., includes a variety of events taking place throughout the week.
From the Police Unity Tour to the Candlelight Vigil, law enforcement officers, family members of the fallen and supporters from across the country will gather to mourn our nation's officers who died in the line of duty.
And even though this year's events are held in person, you can still virtually observe and participate. Below, we've rounded up five ways you can stay connected and in the know about scheduled events.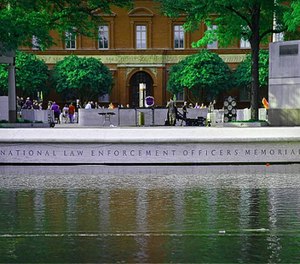 1. Download the 2022 National Police Week mobile app
The 2022 National Police Week mobile app was made possible by the National Law Enforcement Officers Memorial Fund, the Concerns of Police Survivors and the Fraternal Order of Police and its Auxiliary.
When you download the free app, you'll see a list of all events and activities taking place throughout the week. You'll also be alerted to any schedule changes via a notification on your smartphone device. Moreover, the app includes a list of newly engraved names on the memorial and their panel locations. And you can also livestream the Candlelight Vigil through the app on May 13 at 8 p.m. EST.
Download the app for free in the Apple or Google Play stores. You can also download the web version here.
2. Follow social pages to stay in the know
This year's schedule of events can be found here, but many who cannot attend in person want to go a step beyond this. If you're looking for ways to participate still and honor the fallen, here are some suggestions.
First, follow these social media pages:
Then, search and follow these hashtags on your chosen social media platform throughout the week: 
Police Unity Tour hashtags: #PoliceUnityTour, #PoliceUnityTour2022, #PUT2022 and #WeRideForThoseWhoDied
National Police Week hashtags: #NationalPoliceWeek, #PoliceWeek and #NationalPoliceWeek2022
3. Livestream NLEOMF's Candlelight Vigil and join Police1's Virtual Vigil
This year's 34th Annual Candlelight Vigil will be held on Friday, May 13 at 8 p.m. EST. For those attending in person, it will take place at the National Mall (between 4th and 7th Streets and Madison and Jefferson Drives).
However, the Candlelight Vigil will also be livestreamed on NLEOMF's Facebook and YouTube pages, as well as online and via the National Police Week mobile app.
And this year, Police1 will hold its own Virtual Vigil on our Facebook page starting Friday, May 13 at 3 p.m. EST. Our post will feature an eternal flame – a place officers, family members and supporters can gather to comment, share and remember the lives of those who made the ultimate sacrifice.
4. Host a memorial event at your agency
Each year, departments around the country make it a priority to hold their own National Police Week memorial events. These events honor each department's fallen officers and allow participants to honor and mourn the fallen without making the trip to D.C.
Here are a handful of ways departments are honoring the fallen this year:
Has your department hosted a memorial event this year? Email us at editor@police1.com with a social link and we'll include it in our roundup above.
5. Share with others why National Police Week is important and join the Below 100 Pledge
For many, writing is therapeutic – especially when it comes to honoring and remembering a fallen law enforcement officer. Police1 welcomes contributions from officers and you can find out more about our article guidelines and FAQs we receive from new authors here.
If you're looking to make a difference locally, don't forget to reach out to your local newspaper. Pitch an idea to a newspaper's editor about why National Police Week is important not only for officers and families of the fallen but for your community as well.
And if you're not the writer type, you can share some of Police1's latest National Police Week articles with your department or colleagues to keep the conversation going:
Last but not least, the mission of Below 100 is to reduce line-of-duty police deaths to fewer than 100 each year. The five principles of Below 100 are:
Wear your seat belt
Watch your speed
Wear your vest
W.I.N. – What's important now?
Remember: Complacency kills!
Download, sign and share the Below 100 pledge here.
Police1 is committed to providing training resources and expert discussion on how to eliminate preventable line-of-duty police deaths and serious injuries through training and awareness. Follow our ongoing coverage here.
NEXT: Follow Police1's complete coverage of National Police Week 2022