Looking back, looking forward: Predicting the state of policing in 2043
Over the past 25 years, technology has driven seismic shifts in how law enforcement operates, so what can we expect the policing profession to look like 25 years from now?
---
Technology is evolving so fast every day that it is hard to think about 25 years from now. At Axon's Accelerate symposium, a panel of visionaries – moderated by Axon VP Mike Wagers – discussed the changes they have seen in policing and how to predict where public safety will be a quarter century from now.
Participants
Chief Jim Bueermann (ret.), President, Police Foundation
Dr. Joe Schafer, President, Society of Police Futurists International
Darrel Stephens, Executive Director (ret.), Major Cities Chiefs Association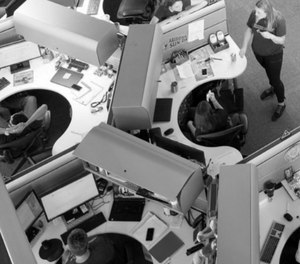 Mike Wagers: When you look back over the past 25 years of policing, what observations come to mind?
Darrel Stephens: It was a time when policing was really under the gun. In the mid-1990s, we saw the highest level of crime we had seen in many years; the number of people killed in homicides is half that today. People were looking to the police to help with this tide of violent crime. When the Violent Crime Control and Law Enforcement Act of 1994 passed it really spread the idea of community policing and problem-solving. Then money became available through federal grants to hire more police officers and introduce technology in a way we hadn't seen before.
Mike Wagers: Are police and community relations better or worse today than in the mid-1990s?
Joe Schafer: The more things change, the more they stay the same. One of the things that struck me recently was when you compare the 2015 Final Report on the President's Task Force on 21st Century Policing – which articulates six topic areas or pillars – to the Kerner Report in 1968, you can see advances in education, training, policy and oversight, but we are still talking about many of the same issues. Building trust and legitimacy is a pillar from the 2015 document, and while we weren't using that language in 1968, community relations was a component of the Kerner Report.
Not to say that there have been no advances in the last 50 or 25 years – there have been tremendous advances – but there are also changes in what society expects of its police officers and police departments. There are expectations of even greater levels of police performance with better crime reduction approaches. This is not simply viewing the police as a hammer and crime as a nail, but viewing community problems as a diverse set of circumstances that require a diverse set of responses. People want smarter officers and smarter police strategies and that is a challenge.
Mike Wagers: How did 9/11 impact policing?
Darrel Stephens: Before 9/11, we spent a lot of work developing relationships and problem-solving, which led to positive connections in most of our communities. 9/11 caused a shift in the way folks focused on resources, particularly in larger urban areas. We were not quite sure what to do, so we did lots of training and developed assets to gain and use intelligence to help keep communities safer from terrorist attacks. The 9/11 terror attacks had enormous impact in the way we thought about policing and pushed us to where when Ferguson occurred, we did not have the same level of connections as before 9/11.
Mike Wagers: How has Ferguson shaped policing?
Joe Schafer: Policing is still the most effective when it is done with people, not to people. We may have forgotten that a little bit in the 2000s, where policing became something done to communities rather than with communities. Ferguson may have been one of the more positive outcomes, reminding us that those local connections and relationships matter.
There is the challenge that as more technology becomes available, we do not lose sight of the human aspect of policing. While technology is wonderful in that it streamlines operations, improves efficiency and provides better training, information and data to officers, it doesn't replace the human interaction an officer has with a crime victim or a witness. When technology becomes a surrogate for that human interaction, we may lose the gains in trust and legitimacy agencies have built up and return to the sterile relationships we saw between police and communities in the 1960s.
Policing also exists in a very cyclical manner. If you look at 175 years of policing in the United States, it runs on a 50-year cycle. We are in the crisis and reform era just like we were in the 1960s, but a lot of growth and transformation is spurred by that so it is an exciting time. It is a time when strong leadership is needed with clear vision. The policing profession needs to be talking about how technology can be used ethically and what is acceptable to community members. If we don't have those conversations, we risk technology being legislated out of use.
Mike Wagers: We hear a lot about drones, autonomous cars and robots in policing. What will a police department look like 25 years from now?
Joe Schafer: Things can move very quickly. If we had been having this conversation five years ago, we would have been talking about body cams. People might have known that technology existed, but a single critical event led to a radical transformation. So when you think about the future, one of the key things is not to assume that change is linear. There can be periods of radical and exponential growth, such as the growth in the technology we can access on our phones. We can say that technology will continue to play a critical role, that AI is coming and will shape decision-making. Whether this is good or bad depends on whether police organizations participate early on to guide technology in the right direction, which requires strong leadership from personnel and professional organizations.
Mike Wagers: Will technology put police officers out of work?
Jim Bueermann: Policing can be automated, but the issues that cause police to show up on someone's doorstep won't change. I think there is going to be a point in the not- too-distant future where cops won't be driving cars – you will be sitting there preparing for the call as the car can drive better than you can. There are certain things AI can do better than human beings. The cost of policing is off the charts, so communities are going to have to think differently about how many cops they have and how we leverage what we can afford with the technology at the end of the day.
Darrel Stephens: Police over the years have been good at taking things on and resolving them. We have to look for technology that is going to be able to help us confront and deal with challenges more effectively. Our population is changing very rapidly. There are lots more elderly who are more easily victimized, and we have not got our arms around cybercrime. Part of dealing with that more effectively involves collaborations and partnerships. The financial community knows a lot more about theft and loss than we do. We have also been hearing for a long time that the gap between the poor and the wealthy is increasing. This is going to be worse for our minority communities, who will be the majority 25 years from now in 2043. There are lots of issues policing will have to work out going forward and we have to look to technology to help us.
Accelerate 2019 is scheduled for April 30-May 2 in Phoenix, Arizona. Register now at https://www.acceleratepolicing.com/.

Request information from Axon
Thank You!