PRESS RELEASE
University of Kansas launches new on-campus and online criminal justice programs to meet job-market demand
---
New programs provide a broad foundation in criminal justice and can be tailored to an individual's career goals
OVERLAND PARK, Kan. - Criminal justice is a large and growing career field encompassing law enforcement, corrections, policy analysis, court administration, law, and intelligence. To meet the increasing demand for skilled employees, KU's School of Professional Studies is launching two new bachelor's degrees in criminal justice, a Bachelor of Arts (BA) and a Bachelor of Science (BAS).
The BA includes more humanities courses, while the BAS consists of more hands-on classes and lab work. Both degrees require a nine-hour concentration in either "Law Enforcement Leadership" or "Law and Society."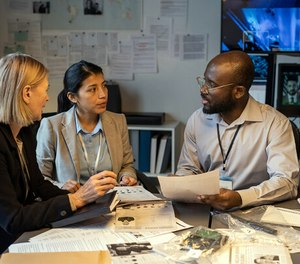 The Law Enforcement Leadership concentration is based on the fact that law enforcement officers often need additional education to advance their careers. According to the US Bureau of Labor Statistics, there are more than half a million people employed as police officers and sheriffs nationwide with a median salary of $65,790. While individuals may start their careers in law enforcement without a college degree, many departments require a degree once they become supervisors.
The Law and Society concentration examines how the law works in practice in public administration, courts, the non-profit sector, policy, policing, and the justice system.
"These new degrees provide students with a broad foundation in criminal justice and the flexibility to tailor their degree to prepare for the careers that interest them the most," said Stuart Day, dean of the KU Edwards Campus and School of Professional Studies.
Students can complete the programs on campus, but it's possible to complete the bachelor's degree in criminal justice entirely online. The degrees are designed for transfer students who already earned an associate degree or equivalent hours.
The first bachelor's in criminal justice classes will be offered in spring 2024.
About The University of Kansas
The University of Kansas is a major comprehensive research and teaching university. Its mission is to lift students and society by educating leaders, building healthy communities, and making discoveries that change the world. The KU Edwards Campus in Overland Park, Kansas, brings the high-quality academic, professional, and continuing education programs of KU to the Greater Kansas City community to serve the workforce, economic and community development needs of the region.