The Safe Cycle turns firearms cruiser-safe and deployable
The Safe Cycle is a peace of mind and visual reminder that your service weapon will not accidentally fire
---
For cops, by cops: The Safe Cycle
Business Name: Warrior Tech LLC
Product: The Safe Cycle
Officer / Department: Sgt. Tim Greenwood, Hays, Kansas Police Department
Website: Warriortech.us
What is your signature product?
The safe cycle is a device placed into a rifle that visually allows its owner to know that the weapon cannot fire, and is ejected quickly for immediate use.
Where did the idea come from?
Having served in the U.S.M.C. and U.S.M.C.R. from 1992-1998 and then immediately joining the Hays Police Department in 1998, Tim was more than familiar with weapons and firearms training. He's served as a firearms instructor, patrol sergeant, defense tactics instructor, and reality-based training instructor.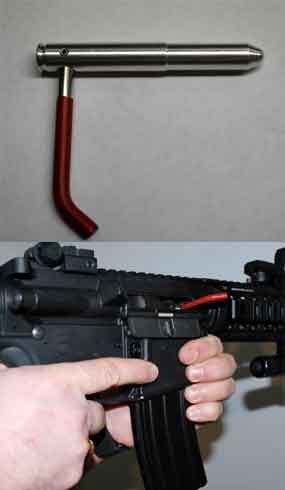 "I noticed the need for something that could bridge the gap between a cruiser-safe weapon and a deployable weapon."
How did that idea turn into a product?
Some departments share cruisers and share weapons, so when one shift ends and another begins, the officer getting into the vehicle can quickly look at the gun and know that it is safe. "I kept saying, 'God, there needs to be something like this,' and my wife said, 'Just do it!'  So, I drew it out, got together with a local machinist who was willing to help me out, and made it."
How does it work?
To insert the Safe Cycle: You take an unloaded AR-15, place the Safe Cycle in the chamber, set the bolt, then insert fully loaded magazines. 
To remove it: Grab the red handle, pull it sharply to the rear — that loads the weapon — and in less than a second, it's ready to fire. The Safe Cycle is ejected and can be reused — which is what makes the product patent-pending. 
"I've used mine hundreds of times — it's made of hardened aluminum and steel."
How did you test it out? 
"I sent it out to some people to test it; some SWAT guys, trainers, retired cops. I told them to tear it up and tell me what they thought, and unanimously got some great feedback."
Where can you purchase the Safe Cycle? 
The Safe Cycle is currently exclusively available on the website. Discounts are given to Warrior Tech's primary customers, law enforcement and military.
What does the future hold for your product? 
As of now, the Safe Cycle is designed for the AR-15 only. Other calibers and other weapons are being explored for the future of the Safe Cycle.