Holosun introduces Solar Charging Sight built for Smith & Wesson M&P-M2.0 line
The SCS-MP2-GR attaches to the gun's slide and uses a solar charging system with multi-directional light sensors to automatically adjust brightness
---
By Police1 Staff
CITY OF INDUSTRY, Calif. — Holosun recently unveiled its newest Solar Charging Site – the SCS-MP2-GR. The SCS-MP2-GR is designed to fit the Smith & Wesson M&P-M2.0 full size and compact, as well as most 9mm and 40 S&W handguns, aside from 1.0 or Shield models.
The SCS-MP2-GR is designed to attach directly to the gun's slide without an adapter plate and uses a solar charging system with multi-directional light sensors to automatically adjust brightness in varying conditions. It also features a Multi-Reticle System and is parallax-free with unlimited eye relief to help gun users reach their targets easier.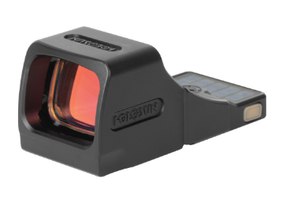 Built into the 1.93x1.03x0.91 housing is a 0.77x0.58 window, coated with various filters and anti-reflective properties to heighten visual aptitude. This helps reduce glare and limit streaking, the company said.
The SCS-MP2-GR uses an internal rechargeable power reserve with a 20,000-hour battery life. There is also an intensity override function that locks the optic into a high-brightness mode for 30 minutes and displays a low power indicator, which will signal if charging is needed.
The SCS-MP2-GR retails for $411.75. If you're attending this year's SHOT Show, check out Holosun at booths 13420 and 20527. Additional information about the SCS-MP2-GR can be found here.

Request product info from top Police Firearm Accessories companies
Thank You!