First look: GLOCK releases G44, a .22 caliber based on the G19
The G44 could be a great way to introduce recruits who have never fired a gun before to the Glock platform
---
Glock's latest offering was unveiled this week to a small group of media members who were invited to the scenic Foxhall Resort in Georgia for the launch. 
While there was speculation about a carbine and other wilder guesses, the G44 was actually smaller in nature – though much bigger in aspirations.
The Glock G44 is a .22 LR caliber pistol based on the G19. It is the same size as the G19 though lighter, tipping the scales at 14.64 oz empty.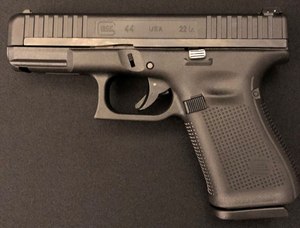 The slide is different, being a combination of steel and polymer, a departure from the traditional all-steel slide and polymer grip Glock is known for. 
The barrel length is 4.02 inches and the magazine has a capacity of 10 rounds. The magazine also features a ridged thumb button on either side. This device greatly aids with the particular motion needed to load rimfire cartridges. Pulling down on the button compresses the spring, lowers the follower and allows users to insert the tiny rounds with ease.
Range Time
After the announcement, we headed to the range to try the gun out. Stations were set up with two G44s each and a table full of loaded magazines. 
Not wanting to waste the moment I stepped up, grabbed a couple of magazines and walked over to the bench. There, I loaded a magazine into the magwell, dropped the slide and began to press the trigger back.  Everything felt incredibly familiar in a comfortable way. Thousands of rounds of training with Glocks over the span of decades had preceded this moment.
The trigger broke in a patently Glock manner and a small pop followed. The slide cycled, a puff of smoke issued forth and steel rang a few yards away. A grin spread across my face. The recoil was so tame, my sights didn't move at all. I began to see the appeal of a Glock that can be used to gently teach fundamentals.
I picked up the pace, alternating between rapid fire and carefully aimed distance shots. The accuracy was good, some shooters ringing steel at 108 yards. Because of the lack of recoil, sight picture did not alter much despite how fast I ran the gun. The grip, trigger and sights were all like familiar landmarks on a journey home. We all found ourselves shooting, reloading and shooting again, trying different targets. Our group of about seven people worked the guns heavily, non-stop, burning through the better part of 2,000 rounds in about 90 minutes.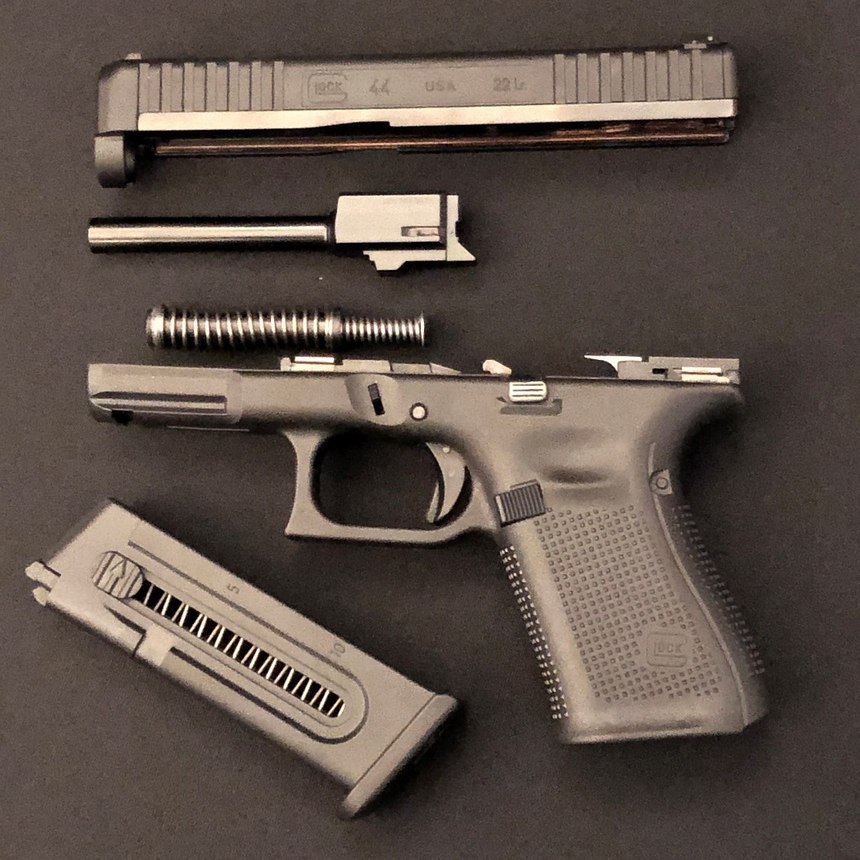 A few of us began to notice the first round would fly out of the ejection port when you dropped the slide on a fresh magazine. This happened a total of three times for different people so I took the gun apart and inspected the feed ramp – it was caked with millimeters-deep crud. I learned the guns had been run through a pretty serious battery of fire before we arrived and had not been cleaned. I scraped the built-up powder out of the feed ramp and it ran like a top afterward.
Rimfire ammo often runs dirty and this was no exception. I was impressed with the reliability displayed by the two guns as they were continually fired, heated up and not cleaned. One round failed to fire so I checked it for proper strike. The hit was just fine, the ammo failed to detonate. This is another reality of shooting rimfire.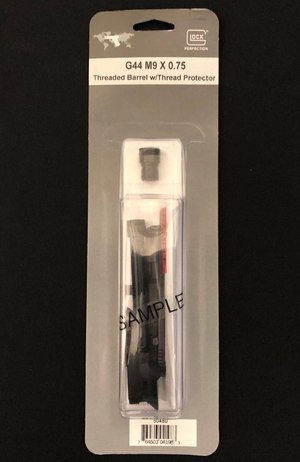 Police Applications
The immediate applicability of a .22 caliber pistol might be lost on some officers. While it is not something I would take to an armed dispute, there is a wider use most range officers will see right off, training. 
The controls are the same as the venerable G19 and a good deal of muscle memory for weapon manipulation and accuracy can be established much more economically with the rimfire pistol. 
I recognize not all cops are Tackleberrys. Having taught at the local police academy I learned some people entering our ranks have never fired a gun before. The G44 can be a great way to introduce folks to the Glock platform.
Also, years ago, a tactical mentor of mine once said they used a suppressed .22 to take out external lights, covering the SWAT team's approach to a house in darkness.
Other uses of the G44 for law enforcement are only limited to the imagination.
A .22 for Everyone
The big idea behind this model (in my humble opinion) is that it appeals to a wider base. Those familiar with Glocks will find the G44 a whole lot of fun to take out and plink. It is cheap to run and it does not intimidate with each trigger pull the way some calibers might. This is a gateway gun, leading to bigger and better things. 
The current MSRP for the G44 is $430 with an anticipated street price of around $360. Blue Label pricing will be available, but a firm number has not been established at this time. A full review will be posted soon on Police1. The G44 will be available where Glocks are sold on 01/20/20.
SHOT SHOW 2020
Police1 columnists will be checking out the latest firearms at SHOT Show 2020, scheduled for January 21-24 in Las Vegas, NV.
If you are going to SHOT Show, you can find Glock in Booth 13616. Also drop by the Police1 booth to say hello, learn how we've secured over $150 million for departments through our Grant Assistance Program, and pick up some P1 swag.

Request product info from top Police Firearms companies
Thank You!