The FN 509 MRD-LE is worth a serious look
The FN 509 MRD-LE is everything a duty handgun should be: reliable, accurate and easy to shoot well
---
I have always had a soft spot in my heart for FN firearms. As someone who respects the history of firearms, FN Herstal, S.A. demands attention from American firearm aficionados due to the company's relationship with John Moses Browning.
While working for FN Herstal, S.A, John Browning designed several exceptional firearms including the Browning Hi-Power and the M1919 Browning .30 caliber medium machine gun. On a personal level, my first department-issued patrol rifle was an FN FAL that I seriously used and abused. I put thousands of rounds through that rifle, and it never failed to outperform me.
FN America, LLC, is a U.S. subsidiary of FN Herstal, S.A., a global leader in the development and manufacturing of high-quality, reliable firearms for military, law enforcement and commercial customers worldwide. As a matter of fact, the FAL has been used by more than 90 countries. FN America currently produces the FN 15 series of modern sporting rifles for U.S. consumers and law enforcement, as well as the M4/M4A1 carbines, M16 rifles, MK46, MK48, and M240 machine guns, and the MK19 grenade launcher for the U.S. military. To say the company has a history of making military-grade firearms is an understatement.
Recently, the Los Angeles Police Department selected FN's newest offering as its issued duty gun. When I heard about this, I couldn't wait to use and abuse the new FN 509 MRD-LE (Miniature Red Dot-Law Enforcement) handgun and jumped at the opportunity to put it through its paces.
To be perfectly honest, I was curious to see what FN did to improve the FN 509 series of handguns. When the FN 509 made its debut, I did a test and evaluation and was disappointed. I really wanted to like the handgun, but it didn't live up to my expectations of a duty handgun from FN. Maybe my expectations were too high. Or maybe I was expecting them to produce the FN 509 MRD-LE. The FN 509 MRD-LE not only met my expectations, but it reset my expectations.
According to the company's literature, the FN 509 MRD-LE delivers more precision and versatility than any other duty-rated handgun. It's manufactured at the company's state-of-the-art production facility in Columbia, South Carolina, and is built on the FN 509 platform with some upgrades for law enforcement. The upgrades include a conical striker and a flat-faced duty-rated trigger that combine for superb accuracy from a striker-fired handgun.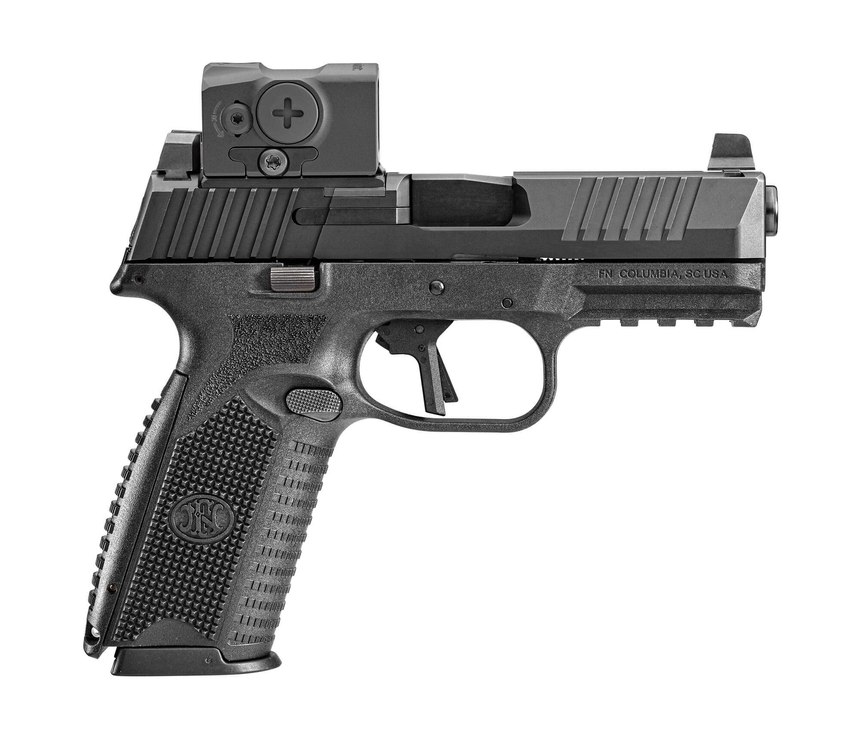 Grip texture
When you first examine the FN 509 MRD-LE, it's hard to miss the terrific grip texture. It feels good in the hand without being too abrasive. It has four different types of texture along the back strap, front strap and side panels, and below the slide stop lever. The grip texture on this duty handgun is by far the best I've ever experienced from any duty handgun manufacturer. Combined with the interchangeable back straps, every shooter will find a combination that fits them perfectly.
Magazine cutouts
One of my favorite features of the FN 509 MRD-LE is the magazine cutouts in the bottom of the grip. These cutouts make stripping a stuck magazine quick and easy. This is something I have done to some of my personally owned handguns, and I like seeing this included on a duty handgun. When clearing malfunctions, these can help the shooter diagnose and fix problems quickly. Speaking of magazines, the FN 509 MRD-LE comes with three 17-round steel magazines with a high visibility follower.
Slide design
The slide of the FN 509 MRD-LE has well-designed front and rear cocking serrations that are suitably aggressive. I like the aggressiveness of the cocking serrations, especially with wet or gloved hands. They work well when running the slide, conducting press checks, loading, unloading and doing malfunction drills. This purpose-built duty gun comes with a fully ambidextrous slide stop guarded by a frame cut out on each side to prevent accidental interference with the shooter's hands. This is a common problem for shooters whose grip consistently interferes with the slide stop lever. This can be problematic, but it shouldn't be a problem with the FN 509 MRD-LE.
Proprietary optics mounting system
The FN 509 MRD-LE uses the company's proprietary Low-Profile Optics-Mounting System for fast sight acquisition and consistent shot placement. A set of 3-dot tritium sights co-witness with the red dot optic for a clean sight picture. The industry's most comprehensive and adaptable mounting platform allows the use of common duty-capable optics. I mounted a Trijicon RMR RM06 to the slide, torqued it to spec, and set out to determine if the upgrades to this handgun were more than just being optic-ready and slick marketing. Spoiler alert: the juice was definitely worth the squeeze.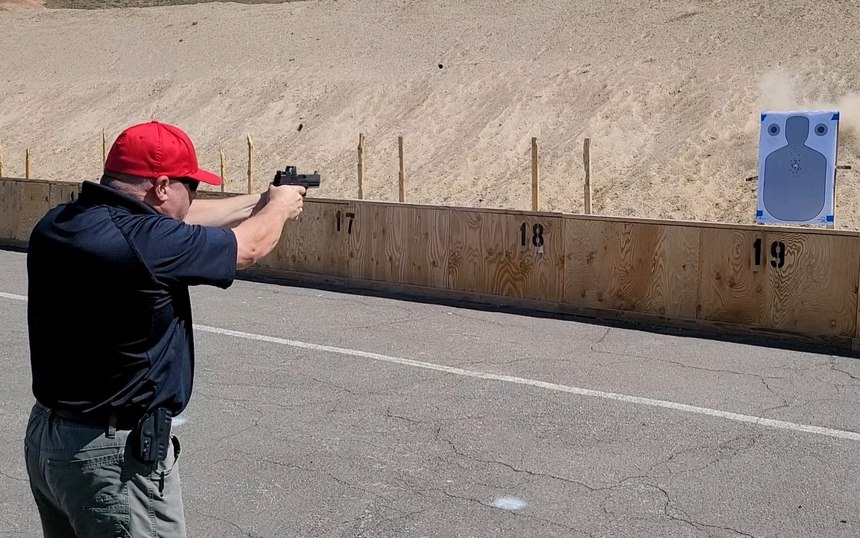 Running the FN 509 MRD-LE
Once I started running the FN 509 MRD-LE, I found it to be the most accurate factory-duty handgun I've ever tested. I don't like putting a handgun in a vice and shooting it from 25 yards to test its mechanical accuracy. I find this tedious and boring. Instead, I'm more interested in seeing if a duty gun can maintain good combative accuracy running at combative speed with a variety of ammunition while being reliable and dependable. However, the FN 509 MRD-LE really got my attention with better than normal groups. As a matter of fact, the FN 509 MRD-LE either matched or beat some of my personal records on drills such as Ken Hackathorn's BFM Drill.
The smooth flat-faced trigger has a positive wall followed by a crisp, clean break that will improve accuracy for all officers. It was a little gritty at first, but after about 250 rounds, it smoothed out and became pretty good. It ran reliably with a mixture of 115, 124 and 147 grain ammunition including training and +P duty ammunition. I even loaded some magazines with a mixture of ammunition weight and bullet types, and the FN 509 MRD-LE ran flawlessly without a single hiccup.
During this evaluation, I used the FN 509 MRD-LE on my home range, during several classes and during practice sessions. I ran it hard and fast to see if it could stand up to abuse and tested it for accuracy to see if it lived up to its accuracy standards even when dirty. It never disappointed me. The more I ran this handgun, the more it impressed me. I never cleaned it, and it became better and better even with that abuse. Overall, I put around 2,000 rounds through it, and it was better at round 2,000 than it was at round 1.
The FN 509 MRD-LE is everything a duty handgun should be: reliable, dependable, accurate and easy to shoot well. FN America, LLC is in a terrific position with the introduction of the FN 509 MRD-LE. This duty gun will help FN America carry on the tradition of producing high-quality, battle-proven firearms for military and law enforcement customers worldwide.
NEXT: Inside look: Why the LAPD chose the FN 509 MRD-LE as its new duty weapon

Request product info from top Police Firearms companies
Thank You!