Firearms Review: Ruger Gunsite Scout Rifle
Ruger's newest long gun chambered for .308 Winchester is a good fit for certain law enforcement applications
---
Over the last decade, many law enforcement agencies have embraced the concept of a patrol rifle — a shoulder fired weapon with more power than the handgun and greater reach than a shotgun. Typically, semi-auto military-style rifles are selected to fill this role, with the AR-15 and its many clones being the most popular. This type of rifle is especially well suited for law enforcement applications and will continue to dominate the scene for the foreseeable future.
Recently, a very different type of rifle was introduced that might also have some merit as a patrol rifle. In December 2010, Sturm, Ruger & Co., Inc. introduced the Gunsite Scout Rifle, a compact bolt action chambered for the .308 Winchester. I hold no illusion that the Gunsite Scout Rile is a viable replacement for the current crop of self-loaders, but it does bring some unique qualities to the table. This is especially true for rural officers who may have to manage threats at extended distance with little chance of timely backup.
A Little History
The idea of a "scout rifle" was conceived by small arms expert Colonel Jeff Cooper, more than 30 years ago. Cooper envisioned a lightweight yet powerful rifle that could be utilized for hunting or self defense. Ultimately, he felt a bolt action would best serve that purpose and he set both physical and performance criteria that would best define a scout rifle.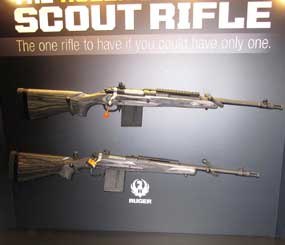 Initially, scout rifles were strictly a custom number, and as a result, were very expensive. Over the last several years, commercial versions have been marketed by Savage and Steyr. But for any number of reasons, the latest offering from Ruger probably has the best chance of success in making an impact in the law enforcement market. It comes very close to meeting the original Cooper requisites, along with a few desirable features of its own.
Features & Accessories
The heart of the Gunsite Scout is the proven Ruger M77 action. Based on the timeless Mauser, it is a super-robust system with the best case extraction system ever devised. The medium contour barrel measures only 16.5 inches, a big asset in the tight confines of modern patrol vehicles.
A most unique feature on a bolt action rifle is the flash suppressor. The 5/8-28 muzzle threaded barrel will also accommodate other .30 caliber accessories such as a sound suppressor.
The standard feeding device is a 10-round, detachable box magazine — however, a five-round version is available as a factory option. Having magazines with different external dimensions presents an interesting advantage. For example, the end user can load ammunition with very different performance characteristics into the magazines and be able to determine by feel what, in fact, is in the gun. Magazines are released by a push forward magazine paddle similar to that found on the Mini-14.
True to the scout concept, the Ruger rifle allows for the mounting of a scope or red-dot optic well forward of the action. The Picatinny rail proved to be a very sturdy base and an ideal platform for a low magnification, intermediate eye relief scout scope. If one chooses, the rail can be removed and a more traditional telescopic scope can be affixed with the provided Ruger rings. The Ruger Scout also includes iron sights consisting of an aperture rear and front post.
The stock of the Gunsite Scout is rendered from a durable wood laminate with a handsome gray pattern. A soft rubber pad softens felt recoil and buttstock spacers allow the rifle to be optimally fitted to different users. Three ½ inch spacers allow for a very wide range of adjustment and they can be added or removed to compensate for body armor or heavy winter clothing. To keep weight to a minimum, the trigger guard and magazine well are made of high-impact, glass-reinforced nylon.
Unloaded, the Gunsite Scout Rifle tips the scales at seven pounds. Depending on the spacers in the stock, total length ranges from 38.0 to 39.5 inches.
But Does it Shoot?
Back in December 2010, I had the opportunity to shoot this new rifle at the Gunsite Academy in Paulden, Arizona. Rifles were set up with a variety of different optics, including intermediate eye relief scout scopes which proved very fast into action. Targets out to 200 yards were no special trick and even pepper poppers at 300 yards fell if you did your part.
A few weeks later, I had the opportunity to fire the Gunsite Scout Rifle on paper and achieved equally gratifying results. Harsh winter weather limited my shooting to 100 yards, but with match grade ammunition I was able to consistently print groups under 1.25 inches. Not to be outdone, one of our agency instructors posted a string of two-inch groups while firing the same rifle equipped with an Aimpoint Comp M4 red-dot optic.
While the Gunsite Scout Rifle would not be my choice for conducting building entries (or used as a dedicated countersniper rifle), it remains a good fit for certain law enforcement applications. I see it as a supplement rather than a replacement for AR-style rifles and shotguns.
Like the .223/5.56 mm, ammunition with very different performance characteristics is readily available in .308 Winchester. Without question, the .308 Winchester offers far more power and penetration than the .223.
The Ruger Gunsite Scout Rifle represents some outside-the-box thinking, particularly for law enforcement. It may, however, be just the ticket for agencies or officers in need of a hard-hitting patrol rifle.