5 things cops need to know about the 2019 novel coronavirus
Besides practicing good hand hygiene and keeping current with your vaccinations, N-95 masks can be used to provide protection from airborne droplet diseases
---
This article, originally published 1/30/2020, was updated on 2/11/2020 with new information about the 2019 novel coronavirus, now known as COVID-19.
By Lt. Don Lowenthal, RN, BSN, PCCN
In January 2020, the Centers for Disease Control and Prevention (CDC) alerted the public to a communicable disease event occurring in China. A coronavirus causing respiratory symptoms had begun to affect people in Wuhan City, China.
On February 11, the World Health Organization announced that the virus, previously termed 2019 novel coronavirus (2019-nCoV), will be called COVID-19, which stands for Corona Virus Disease.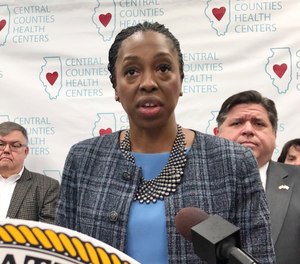 Here are five things law enforcement officers need to know about COVID-19: 
1. How many people are currently diagnosed with COVID-19?
At this time, the World Health Organization reports that 1,017 people had died from the coronavirus, with the number of confirmed infections in China at 42,700. 
This epidemic started in central China but has spread to many countries all over the world, including the United States. There are currently 393 COVID-19 cases outside of China, in a total of 24 countries. An epidemic that spreads from one country to another country is referred to as a pandemic.
2. How many people have been diagnosed with COVID-19 in the United States? 
Thirteen people have been diagnosed with COVID-19 in the United States since the pandemic began. There are heavy restrictions in place at airports accepting travelers from the Central China region, and affected citizens in China are being quarantined and placed in isolation.
3. What is the risk of transmission?
While this pandemic is a serious public health situation, it has been currently determined by the CDC that COVID-19 has a low risk of transmission. There is currently no vaccine available for COVID-19, but it is cold and flu season. Getting the influenza vaccination and keeping your hands clean are important steps that can prevent disease transmission. Contact your family doctor about the status of your vaccinations and stay up to date.
4. How can officers protect against COVID-19? 
While the CDC has presented guidelines for personal protective equipment (PPE) that should be used by healthcare providers, currently there are no such guidelines for law enforcement personnel.
Besides practicing good hand hygiene and keeping current with your vaccinations, N-95 masks can be used to provide protection from airborne droplet diseases. These masks are called N-95 masks because they can filtrate up to 95% of airborne particles. Law enforcement officers should contact occupational health professionals in their region to learn more.
5. Where can officers find more information about COVID-19?
It is important to get the latest information about COVID-19 from legitimate sources. While there is no lack of information about COVID-19 on social media, not all of this data is correct and can lead to increased fear and panic.
If you have any questions about COVID-19 or the transmission of diseases, seek out your department's occupational health professionals, your family doctor or the applicable webpages developed by the CDC at www.CDC.gov.
---
About the author
Lt. Don Lowenthal has been the infection control officer with the Philadelphia Police Department since 2007 and a registered nurse at Thomas Jefferson University Hospital in Philadelphia since 2008.