5 ways to solve a cold case
Agencies must address the growing problem of unresolved criminal cases
---
Roughly 40% of the homicides that occurred in the U.S. from 1980 to 2016 – an estimated 242,000 – remain unsolved. Agencies must decide how they will address the growing problem of unresolved criminal cases, which also include missing persons, sexual assaults and other violent crimes.
During a panel discussion on "Advances in Police Investigative Techniques" at the 126th annual International Association of Chiefs of Police Conference, Detective Sergeant Jason Moran with the Cook County (Illinois) Sheriff's Department discussed advances in police investigative techniques relating to cold cases.
Memorable quotes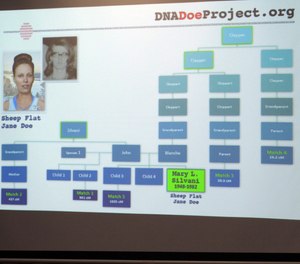 Here are four memorable quotes from Moran's presentation: 
"Most people think about an old, unsolved murder when they hear the term cold case. That is not wrong, but the idea that the term cold case only pertains to homicide is false. Other types of cold cases are missing persons, unidentified deceased persons, undetermined deaths and criminal sexual assaults."
"It is not fair that we continue to leave these cases on a dark, dusty shelf. It is wrong for the victims, the victims' families and our communities."
"A person who went missing 30 years ago or was murdered 30 years ago is no less important than someone who went missing today or was murdered today."
"A new set of eyes can change the status of these cases to cleared and closed."
Key takeaways
During his presentation, Moran listed five ways cold cases can be solved:
1. Leverage forensic science and technology
Applying new forensic technologies to cold cases could help solve the case.
"It could be that detectives on a case 15 years ago submitted evidence that came back with no hits, but DNA testing is more sensitive now, so you resubmit the evidence and you get some sort of DNA profile," Moran said.
Other resources and technologies that can assist with solving a cold case include the FBI's Next Generation Identification system, NIJ's NamUs database, the National Center for Missing and Exploited Children's facial recognition program, phenotyping (where DNA profiles or used to estimate what a person would look like) and forensic genealogy.
2. Recognize relationship changes and the passage of time
While the passage of time usually hurts a case, that isn't always the situation with a cold case. Time can change how a witness wants to participate with the police, said Moran. For example, a former gang member who was interviewed years prior about a shooting may not have said anything as he was too involved with the gang, but two decades later he may be more open to sharing what he knows about the crime.
Moran did warn that detectives need to be careful when re-interviewing witnesses as they could tip off the suspect.
3. Exploit information in our correctional systems
If while doing your case review and analysis you see a suspect from a case from 40 years ago is either in jail or has spent time in jail for a similar crime, consider interviewing previous cellmates to see if your suspect talked about the crime. However, proceed with caution, Moran said, as if you talk to the wrong cellmate, they could tip off your suspect.
4. Identify investigative errors
There are reasons why these types of cases are not solved the first time around, so if you can find out why that is, it could help you solve the case, notes Moran.
Common errors include:
Establishing a suspect too early in the case – If an investigator selected a suspect too early, all the investigative leads would have focused on one subject, so other leads could have been missed.
Incomplete canvasses – You see a lack of follow-through in cold cases all the time, said Moran. For example, investigators may have canvassed 10 of the 15 houses on a block but never came back to canvas the other five. You could go back later and find the missed witnesses who may talk about the case.
Lack of follow-through – Moran has read hundreds of cold cases where he sees witnesses disappear from the report. Usually, this is because it is a negative lead, but there is the potential to tighten up a loose thread when you review the cold case report, said Moran.
Revisit the scene to locate additional evidence – Moran recounted how he revisited the scene of a gunshot murder from 38 years ago and found skeletal remains.
5. Be persistent
While you will not solve every cold case, bringing these cold cases to a contemporary status is a law enforcement responsibility, said Moran. This means you send evidence to a lab and ensure the case is entered into databases. Ultimately, these cases will not be resolved unless agencies begin reviewing them.
Additional Resources

Request product info from top Police DNA Forensics companies
Thank You!