Shoot a K-9? In Kentucky, you might not go to jail
Ernie was shot and wounded on-duty, but under current state law the accused can only be charged with a misdemeanor due to the K-9 being able to return to duty
---
By Adam Beam 
Associated Press
FRANKFORT, Ky. — Daleon Rice shot Ernie twice, right in front of a police officer, but he'll never serve a day in prison for the crime.
That's because Ernie, a German Shepherd police dog, made a full recovery and returned to work. Under Kentucky law, assaulting a police dog is only a felony if the dog dies or can't resume his duties. Otherwise, it's a misdemeanor that often carries no jail time.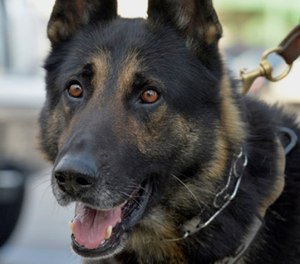 Rice ended up being sentenced to a 40-year prison sentence on other charges, but it irked Officer Mike Lusardi and Kenton County Commonwealth's Attorney Rob Sanders that Ernie's assault would not be punished. They lobbied the state legislature to change the law. A bill did not pass last year, but a new one sponsored by Republican Rep. Diane St. Onge has raced through the Kentucky legislature this year.
The state Senate is likely to give the bill final approval this month.
Kentucky is one of six states that consider it a misdemeanor to harm a police dog, according to the United States Police Canine Association. Twelve states make it a felony to harm or kill a police dog regardless of the circumstances, while the penalties in 23 states depend on how bad the dog was harmed.
"Most of the states are falling in line with protections human beings would have as well," Ferland said.
While police dogs have special bonds with their handlers, they also require a serious financial commitment from a police department. When you combine the cost of purchasing, caring for and training the dog, it ends up costing more than a police car, according to Lt. Col. Brian Steffen of the Covington Police Department.
Covington Police were unfamiliar with Kentucky's law until Ernie was shot.
"I didn't understand it. To me, he's a partner, he's a police officer," Lusardi said. "He's saved my life several times."
One of those times was in April 2015. Police were looking for Rice after he stabbed his mother in the head several times with a knife. Lusardi spotted Rice on a street in Covington and tried to arrest him. Ernie was there, too, and Lusardi released him to stop Rice from fleeing.
But when Rice turned around, he had a gun pointed at Lusardi. Rice fired, but Lusardi said he was distracted, mostly because Ernie was attacking him. The delay gave Lusardi time to take cover and return fire. Rice then shot Ernie twice, once in the front left leg and once in the back right leg. Yet Ernie only stopped fighting when Lusardi called him back.
"I knew he was hurt because I heard the big yelp, but he was still fighting through it. It was amazing," he said.
Lusardi rushed Ernie to a veterinarian, who performed surgery to remove the bullets. One bullet is still in Ernie's leg, resulting in a slight limp when he walks.
Ernie isn't the only police dog to be wounded on the job. In 2014, a Kenton County Sheriff's Dog named Santo was sent into a trailer to try and resolve an eight-hour standoff, according to Kenton County Sheriff Charles Korzenborn. The man stabbed the dog and choked the animal until it lost consciousness, resulting in another deputy entering the trailer to stop him.
"The dog woke up and the dog went back to work," Korzenborn said. "Between the two of them, they got him subdued."
The suspect in that case also received no jail time for the assault, but was later arrested on other charges, according to Sanders.
"It makes no sense that a criminal's punishment is determined by whether or not the victim returns to work," Sanders said.

Request product info from top Police K9 Products companies
Thank You!