Amazon obtains patent for mini police drones
The voice-activated miniature shoulder drone aims to be a backup for officers who are on patrol without a partner
---
By Police1 Staff
Amazon's new tool could potentially make patrolling safer for solo officers.
The company obtained a patent for an "unmanned aerial vehicle assistant," KOMO reported.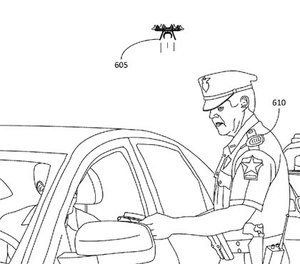 The miniature shoulder drones are voice activated and can detect "distress" commands, aiding the officer in traffic stops or signaling for help when the officer is down. 
"Many situations arise in which a user may wish to review the situation from afar," the patent filing reads. "It would be especially convenient if the (drone) were small enough to be carried on a person."
The size of the drone is possible because the device's processor is installed on its shoulder docking station, rather than on the device itself, the publication reported. 
The drone could find vehicles in parking lots, run plates, monitor situations, film video and audio, detect fires, and identify people through facial recognition software, according to the filing. 
The device could be controlled via app, computer, or voice activation. 

Request product info from top Police Drones/UAS companies
Thank You!