IACP 2019 preview: The future of police reporting
How speech recognition can improve efficiency
---
By Mark Geremia
Although there has been a growing shift among law enforcement agencies, both large and small, to address the increasing burden of paperwork in policing, the challenges are not new.
Nearly 15 years ago, the Los Angeles Times published an article, Mired in Paperwork, CHP Needs a Revamp, that shed light on the many challenges of the California Highway Patrol (CHP) – the largest state police agency in the United States. The article referred to a report by Legislative Analysist Elizabeth G. Hill on measures the CHP could adopt to help realize substantial upticks in productivity and cost benefits – namely, reducing workload by modifying the department's accident-reporting policies.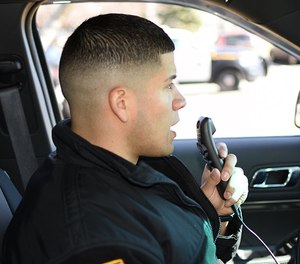 In addition to the absence of technology to replace paper and clipboards, the report revealed that CHP officers were required to investigate and file written reports on every accident: "It takes more than two hours to handle the average non-injury accident. If there's an injury or death, figure about seven hours. The time spent on these ministerial duties has risen 25% since the late 1990s – the equivalent of 98 patrol officers. And this doesn't even include directing traffic at crash sites."
Despite transformative innovations from technology since then, many police departments still struggle to find a sustainable solution to reduce time spent on administrative tasks such as accident and crime reporting.
Recently, Los Angeles Mayor Eric Garcetti endorsed a multi-million-dollar plan to tackle this ongoing challenge through IT upgrades and new technology. In an interview with MyLA.com, Los Angeles Police Department (LAPD) Chief Michel Moore was quoted stating that the LAPD stopped using written reports in the mid-90s and started using word processors: "I'm sad to say that 25 years later, we're still using that same process. We need to modernize our technology, and I'm thankful that the mayor's budget identifies an installment on a start of that process."
As for time spent on reporting, Moore lamented that it has gone from 10-15% of officers' time 15 years ago to more than 50% today. Intending to increase the time that police spend patrolling the streets, the LAPD hopes that introducing more modern technology will decrease reporting time by half, which is still higher than in 2005 – but it's a start.
The LAPD's struggle is indicative of many law enforcement agencies across America, where the paperwork burden is severe.
According to a survey deployed to more than 11,000 police chiefs across the country, officers can spend 3-4 hours a day on paperwork. Also, mandates like NIBRS (National Incident-Based Reporting System) compliance create the need for greater detail and specificity in incident reporting. Inefficient reporting processes can create ripple effects across departments – from limiting community visibility, inaccuracy and incompleteness of reports, to officer burnout, or worse, safety issues with officers remaining heads-down in the patrol vehicle to complete reports or enter data into CAD/RMS systems. Other findings indicate:
Eighty-six percent of law enforcement professionals surveyed are concerned that in-car documentation can impact their safety, as staying heads-down in the patrol car (while parked) to complete reports or enter data into the computer-aided dispatch/records management systems (CAD/RMS) can compromise their situational awareness.
More than half of respondents – 56% – say they spend at least three hours or more on reporting and other paperwork per shift, underscoring that growing paperwork demands are not being met with effective solutions
81% of respondents say that they are very concerned that reporting demands are contributing to officer burnout
Over 90% of officers surveyed say the time spent on administrative work is taking them out of the field and diminishing their community presence
Departments across the U.S. are beginning to push for new technologies to break down barriers, championing solutions that are both cost-effective and easy to integrate into existing administrative processes, such as incident reporting, and compatible with communication systems.
"Administrative tasks, like paperwork, can get overlooked in police departments, which can cause serious issues – from impacting officer morale to their safety when reporting out in the field," says Attleboro, Mass. Police Chief Kyle Heagney. "New technologies, like speech recognition, make it easier for officers to dictate high-quality reports with greater immediacy, reduces the time they spend on paperwork, and keeps them heads-ups and more situationally aware, making them less susceptible to ambush or accident."
Retired Police Chief Rick Stanley highlights the importance of modernizing the policing toolbox from his perspective of interfacing with district attorneys and seeing ramifications of incomplete reports within the judicial system: "One way that police departments have gotten closer to the DA's office is with reports available online. Cutting the time between incident occurrence and report access is a win for technology. This also makes it even more critical to create high-quality records. Chiefs know a report from weeks, months, or even years ago could easily resurface in the judicial system, and might be used to help determine the outcome of a case. Today more officers have access to technology like speech recognition, modern RMS systems and broadband, which allows them to complete reports with speed and accuracy, without sacrificing quality."
Not surprisingly, California is committed to alleviating the burdens brought on by heavy reporting and inefficient documentation processes.
San Bernardino Police Captain Paul Williams says, "The sheer volume of paperwork officers are up against is a growing contributor to burnout, and its effects, in combination with other police modernization efforts, are being considered as cities and municipalities make strategic IT investments in their public safety infrastructure. Modernizing processes, like incident reporting, is one of the best ways to cut down on documentation and help officers put their focus back on serving their community instead of on paperwork."
Speech recognition technology has been around since the 90s, but in two decades, it has taken quantum leaps in accuracy, and the time it takes to recognize speech patterns. It has disrupted what's possible for productivity and beyond in sectors such as the legal and healthcare fields. Like these industries, the goal for law enforcement agencies is to enable its professionals to do the job that they were not only hired to do but also the job for which they were rigorously trained and educated to perform. Perhaps the time is now to embrace a new approach.
As we work with and learn from police chiefs and their command staff, one topic that continually comes up is how routine tasks, like incident reporting, get in the way of the ability of police officers to focus on mission-critical tasks, like being out in the community. At IACP 2019, Nuance will host a panel discussion, Alleviating Paperwork Burnout in Policing: Why Departments Need to Turn to New Police Reporting Tools. The panel will include members of the law enforcement community who, along with Nuance, will address this important issue within the industry. The session takes place on Sunday, October 27th at 12:30 PM CDT in room W192c at McCormick Place West, Chicago, IL.
---
About the author
Mark Geremia is vice president and general manager for Dragon Professional and Consumer. He oversees the product and marketing strategy for Nuance's Dragon NaturallySpeaking portfolio, the world's leading speech recognition and documentation solution. Mark has held various leadership roles within the Dragon business over the last decade, and with his team continues to expand Dragon's reach across enterprise, legal, and law enforcement markets, transforming productivity and documentation accuracy for professional individuals and large organizations.

Request product info from top Police Technology companies
Thank You!