Cops get a complete picture with 360° in-car video from Panasonic
---
Editor's Note: The official launch of Toughbook Arbitrator 360° mobile digital video system will be celebrated at the PoliceOne 10th Anniversary event at IACP on Sunday evening (October 4th from 6:30 to 9:30) at the Seawell Grand Ballroom of the Denver Center for the Performing Arts. If you're going to attend the IACP Conference, you should register now to attend and enjoy a hosted premium bar, appetizers, desserts, and live music.
Panasonic Computer Solutions Company (the makers of Toughbook durable laptop computers mounted in squad cars all over the country) has unveiled their new Toughbook Arbitrator 360° in-car digital video system. As the name implies, it addresses the most glaring shortcoming in in-car video in a unique way. The Toughbook Arbitrator 360° can produce an almost seamless recording, 360° around the patrol car.
I had the luxury of sharing the product introduction with Joe Martin, the Director of Business Development, Public Sector for Panasonic Computer Solutions Company and Greg Peratt, National Director, Digital Video Products for the company. Let me get one thing out of the way up front here: I'm just going to use "Panasonic" as the name of the company — even though it's not — because "Panasonic Computer Solutions Company" is an unwieldy mouthful.
During my discussion with Martin and Peratt, we talked about the fact that Panasonic had been building laptops for other companies until eventually branding their Toughbook products. They also are pioneers in the video industry, with global impact in analog tape systems. Somebody suggested getting into the video evidence collection business. The "why not?" light went off in my head. Panasonic began with a blank slate; 'whiteboarding' desired specifications based on research of law enforcement needs. The 360° is a new generation of research based entirely on customer feedback.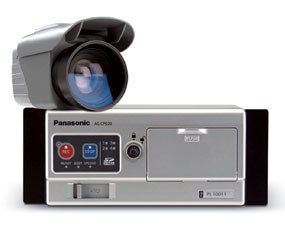 In addition to its "no blind spot" view, Arbitrator 360° has several other features that make this product a complete solution. First, it was designed and manufactured by a parent company that pioneered the two essential technologies for the system: Video recording and rugged laptops. Second, it has live video streaming, which used to only exist in the heads of science fiction writers. Third, it was designed for intuitive operation, which means it takes only about 15 minutes of walk through to teach the patrol officer how to use it. According to Panasonic, the Toughbook Arbitrator 360° will cost about the same price as its predecessor.
The 360° is a digital system. This means that agencies can dispense with the video storage closets and fumbling with fast forward. It also means almost no moving parts and probably the greatest singular impact in the technology of law enforcement: pre-event recording. Speaking of impacts, standard hard drive equipment, especially products with pre event recording, immediately imply that the hard drive is spinning constantly. While it is spinning, it is fragile. This thing is anything but fragile.
Pre event recording occurs when a video recording product is running constantly in a loop. When a particular trigger disrupts this loop, the recording grabs what ever was being recorded just prior to the trigger. This trigger can be the activation of emergency lights, a button pressed on the dashboard, an impact or a user selected event that occurred in the patrol car or remote. The default prevent recording is 90 seconds, enough to capture the red light runner who collided with the patrol car. But there's a bonus. The car that broadsided the patrol car is on video also. Yes, the audio is muted during this 90 seconds, in case the officer said what he was thinking when he saw the vehicle headed his way.
The 360° is equipped with an advanced G-force sensor, which can detect a slow rollover, something that mercury switches cannot do.
The Arbitrator 360° supports several wireless functions. First, data can be transferred onto the server wirelessly. Obviously, there is a hierarchy of server access and protections in place that prevent accidental erasure. Second, the 360° is capable of live video streaming. Considering the technology here, it safe to assume that artificial intelligence is just around the corner.
Some agencies are ready to take the in car video plunge, but wireless capability is an additional expense. Panasonic designed this system for agencies which need to upgrade incrementally.
Live video streaming is a safety feature that allows remote viewing of what the patrol car sees. That is, dispatch can look through the camera of a patrol car to monitor the incident. This capability includes being able to remotely zoom the camera. This is a tremendous officer safety bonus.
The officer wears a remote microphone, which also has a manual trigger. Officers used to aim their camera cars at the convenience store when grabbing their soda. I guess 360° viewing has changed how we park also. It will also record the events in the parking lot.
This new in-car video system from the folks at Panasonic offers simple interfaces and remote management, where settings, software and administrative functions can be done from a central location. For large agencies whose administrator would ordinarily have to go from car to car, this is serious timesaver.
Administrators will also appreciate the ways that Panasonic has addressed chain of evidence. The box is tamperproof and inaccessible to the end user. The entire system will run independently of the laptop. This means it continues to gather evidence even if what appears to be a major component is removed.
The data transfer does an MD5 Hash, which verifies the incoming data by pixel to from the integrity of the file. The original file is permanently stored. An officer can review the video and make notes on the video itself, including bookmarks, which goes to a separate file. A forensic unit can copy and digitally enhance a video onto a separate file. The original file is never touched. When the file is accessed, enhanced or viewed, a log is created. The system even has some safeguards which prevents unauthorized uploading on social networking web sites. Of course, this never happens in real life.
The 360° is capable of operating five cameras simultaneously. The primary camera is capable of 68.4° viewing, a much larger slice than the old 50° cameras. It is low light capable with automatic exposure compensation. Video recordings from all six cameras can adjust from 30 down to one frame per second. There is GPS tagging and a significant improvement in video recorder quality.
According to Peratt and Martin, video recording quality is a big thing with Panasonic.
This particular product uses H.264 compression technology, an advanced technology with a more efficient bit rate than MPEG 4. The definition, clarity, and ability to zoom and enhance images are noticeably improved. This is the kind of product superiority a company can achieve when they own the entire solution, rather than "farm it out." To put this in perspective, the cameras in this product are capable of reading a license plate at 3/8 mile. This particular view can be enhanced, using current technology. Thus, that one clue that solves the entire murder mystery on a CSI type program is no longer a Tinseltown fabrication.
The various camera products can be customized. It can also interface with an Automatic License Plate Recognition (APLR) system. Some users have reported the advantage of being able to concentrate on the matter at hand (like writing a ticket) and view the front and rear cameras, as well as monitor the backseat in their Toughbook screen.
The Toughbook Arbitrator 360° in-car digital video system has features that set it apart from many products. The reputation of their product line precedes this product release and we are looking forward to a test drive.
This "cuffs to court" system changes everything.

Request product info from top Police Mobile Data companies
Thank You!