30 iRobots patrolling Brazil's World Cup stadium
The 65-pound robots can investigate and move suspicious packages up to 30 pounds using 6-foot extendable arms
---
By Danielle Elliott
PopularMechanics.com
A team of 30 battle-ready robots is patrolling the World Cup stadiums in Brazil this month. Known as PackBots, these roving, remote-controlled bots are on hand to investigate any suspicious packages spotted in the stadiums.
The concept is that rather than putting a security officer in harm's way in order to investigate a suspicious package, the robot can be the first responder. 

Weighing about 65 pounds and able to travel at speeds of up to 5.9 miles per hour, these robots, designed by the Massachusetts-based iRobot, are similar to those American troops have used in Iraq and Afghanistan since 2002.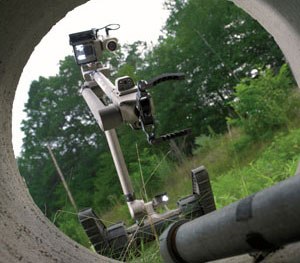 Tim Trainer, iRobot VP of robotic products, says that once a package is spotted, the robot investigates using a six-foot extendable arm and four cameras. The machine can lift packages of up to 30 pounds and move them to a safer location. 
Brazil paid $7.2 million for 30 PackBots and three years of support from iRobot. The contract started in 2013, in advance of the Confederations Cup — a warm-up tournament that happens a year before the World Cup.
Full Story: Robots Built for Battle Are Patrolling the World Cup