Ariz. Border Patrol agent opens fire on cops in standoff
No officers were injured
---
Associated Press
MARICOPA, Ariz. — An Arizona man who shot at officers from a second-floor window of his home as they responded to a 911 call was later found dead and identified as a U.S. Border Patrol agent, police said.
One of the two officers who first arrived fired back but it wasn't immediately known whether Jeremy Russo, 40, died from police gunfire or a self-inflicted wound, said Ricardo Alvarado, spokesman for police in the city of Maricopa, south of Phoenix.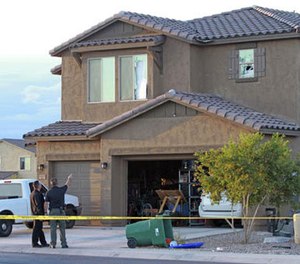 No officers were injured, and Russo's wife and two children got out of the home safety, police said.
Russo worked as a Border Patrol agent, Alvarado said. Spokeswomen for the Border Patrol's Tucson Sector said the agency had no immediate comment but planned to release a statement later.
A girl called 911 reporting domestic violence, and the two officers who went to the house encountered gunfire, Alvarado said.
A state Department of Public Safety SWAT team used explosives to break in to the home's front door and then sent in a robot that found the man's body in an upstairs closet, authorities said.
It appeared that Russo had been drinking and that the reported domestic violence involved him and his wife, Alvarado said.
He said police recovered an AR-15-style rifle and discovered bullets fired by Russo hit at least one other home. Residents in the neighborhood were either evacuated or told to shelter in place.
Police said they had no previous history with Russo or calls to the home.
Russo's body was found about four hours after the incident began, and the robot was sent in after several hours of fruitless attempts to contact him, Alvarado said.
Copyright 2016 The Associated Press

Request product info from top Robots companies
Thank You!