City council to vote on LAPD robot dog donation despite criticisms
The PD says the robot will be limited to SWAT use such as active shooter incidents, barricades and suspicious devices
---
By Libor Jany
Los Angeles Times
LOS ANGELES — Amid lingering concerns about surveillance and safety, the Los Angeles City Council is expected to vote Tuesday on whether to accept the donation of a dog-like robot for the LAPD.
The controversial device would be paid for with a nearly $280,000 donation from the Los Angeles Police Foundation. The Police Commission and the council's public safety committee have approved the move.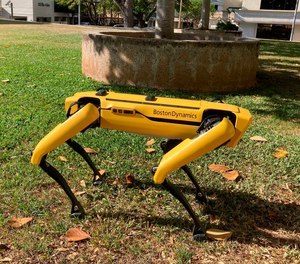 The department said it intends to deploy the device in limited scenarios and primarily for reconnaissance. Nicknamed Spot, it can climb stairs, open doors and navigate rugged terrain, giving police a set of eyes in potentially dangerous situations while keeping officers out of harm's way, officials say.
Under the department's policy, its use would be restricted to incidents involving the SWAT team, such as an active shooter, barricaded suspect or explosive device.
Critics are dubious.
As with other police technologies, they worry about its potential for misuse to harm and spy on Black and brown communities.
Hamid Khan, with the oversight group Stop LAPD Spying Coalition, said that even if the robot starts out with a more benign purpose, law enforcement cannot be trusted to regulate itself. Throughout its history, the LAPD has justified new technology and programs by saying it would be used only in narrow circumstances, Khan said.
"There's a long history of mission creep with the LAPD that what we have seen, and everything we have called out has then suddenly been transformed into a much wider expansion of its deployment," he said. "If we go back historically, the helicopter fleet first came out, then we saw the SWAT and that it's only going to be in particular situations, but SWAT has been normalized."
On social media, critics of the LAPD's plan have circulated news stories about the robotic canine's disastrous deployment in New York City.
The nation's largest police force first acquired the technology in 2020. Its use didn't get widespread attention until the next year, when it sparked a public outcry after a viral video showed the robot trotting alongside New York City officers during a hostage situation at a high-rise public housing building.
Critics denounced the decision to use the device in what they said is an overpoliced community, and they also raised concerns about privacy and data collection. After several days, the New York City Police Department broke its contract with Boston Dynamics and returned the robot.
[EARLIER: State your case: Should the NYPD have returned its robot dog?]
LAPD Lt. Ruben Lopez, who oversees SWAT, said the department learned from what happened in New York. In Los Angeles, the Police Department's "strict policies" for Spot's use would ensure "we don't abuse it, so we can avoid confrontations and stuff with people who don't want to be arrested," he said.
The dizzying pace of technology has forced police departments to keep up and made the adoption of devices like Spot "inevitable," he said.
"We will not use it to surveil," he said, noting similar concerns about widespread police surveillance after the LAPD bought drones five years ago. "It's baseless ... we haven't had a single violation."
As with the department's drones, its use must be approved by the deputy chief of the counter terrorism bureau, and the police chief must be notified.
The donation has cleared several hurdles, most recently with a 4-1 vote by the council's public safety committee in January.
Steve Soboroff, a police commissioner, said the device is intended to save lives and that fears of the technology someday being used to spy on or attack people are "ridiculous." He said the department had worked to devise safeguards against such abuse.
"This isn't about perception; it isn't about how it looks. It's about saving lives of the public and saving the lives of police officers and saving the lives of suspects, some of whom are severely mentally ill and are severely in drug stupors," he said. "There's no missiles attached to it, and there's not secret chemicals attached to it."
Several council members have signaled they would vote against the robot.
[RELATED: Technology procurement: Why community buy-in is key]
In a Twitter thread, Councilmember Hugo Soto-Martínez wrote that the robot's deployment in New York "isn't just disturbing, it's deeply unjust. Especially when talking about low-income tenants and communities of color."
Soto-Martínez, the sole "no" vote on the public safety committee, has signaled his continued opposition to the robot.
Opposition to the robots has mounted in recent months, following an uproar over a proposal in San Francisco to weaponize robots for use in killing people in certain situations. City leaders dropped the plan under public pressure.
Critics fear that it's only a matter of time before other cities push for armament.
Earlier this year, Boston Dynamics, the company that manufactures Spot, joined other robotics firms in an open letter condemning the arming of robots, saying the practice will "harm public trust in the technology in ways that damage the tremendous benefits they will bring to society."
The technology has been in use for years in more than 30 countries around the world, the company said.
Another company, Ghost Robotics, has started marketing a weaponized dog-like robot to several branches of the U.S. military and its allies. And the four-legged robots were seen trotting around the grounds at International Defense Exhibition and Conference, an arms fair held every two years in the Emirati capital of Abu Dhabi.
Besides the controversy in policing, Spot has received benign attention, appearing in viral social media videos, dancing to pop songs. Earlier this year, Jimmy Fallon featured the robot on an episode of "The Tonight Show," and Boston Dynamics has highlighted the technology's use in countries worldwide. For example, London's Heathrow Airport is using one of the robots to do 3-D laser scans of a 1960s-era cargo tunnel that's being refurbished. In Ukraine, it's being used to sweep for mines.
Across the U.S., the devices are starting to be used in various roles by police departments in cities such as Honolulu and St. Petersburg, Fla. The Homeland Security Department is considering deploying robot dogs manufactured by Ghost Robots to help patrol the southern U.S. border.
But experts say that efforts at regulation nationwide of police technology have been piecemeal and largely failed to keep up with new developments in robotics.
©2023 Los Angeles Times.
Visit latimes.com.
Distributed by Tribune Content Agency, LLC.
McClatchy-Tribune News Service