Smart city technology and the future of policing
Agencies can capitalize on innovations to save money and repair fractured community relationships
---
This article is based on research conducted as a part of the CA POST Command College. It is a futures study of a particular emerging issue of relevance to law enforcement. Its purpose is not to predict the future; rather, to project a variety of possible scenarios useful for planning and action in anticipation of the emerging landscape facing policing organizations.
The article was created using the futures forecasting process of Command College and its outcomes. Managing the future means influencing it – creating, constraining and adapting to emerging trends and events in a way that optimizes the opportunities and minimizes the threats of relevance to the profession.
After the demands the past two years have brought on policing, smart city technologies open a window of opportunity for law enforcement that is about more than just solving and deterring crime. It can also improve contentious community relations and mend a broken identity between the protectors and the protected.
By adopting smart city technology, police departments can become more effective by saving staff hours and costs and providing better service. This can build stronger relationships with the community.
WHAT IS A SMART CITY?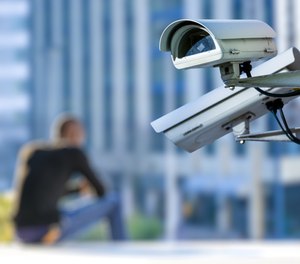 A "smart city" is one where data collection by sensors and analytics are used to facilitate services for better performance, improved sustainability, lower costs and a decreased environmental impact. IBM defines a smart city as "one that makes optimal use of all the interconnected information available today to better understand and control its operations and optimize the use of limited resources." [1] Once the data is collected and analyzed, the results are communicated to city decision-makers so that they may take actions to improve operations and manage assets that citizens access.
Think of something simple like your waste bin that is picked up weekly by the garbage truck managed by your city's waste management company. Instead of the city sending trucks on the same route week in and week out, bins with sensors would notify the trash company when a bin is full. This saves time and money for the taxpayer and reduces pollution. Apply this concept to law enforcement and personnel hours can be directed toward community policing rather than labor-intensive work, and officers would have more time to be in the community as more than just enforcers.
SMART CITY TECHNOLOGY AND THE COMMUNITY
In 2018, the RAND Corporation led work to identify high-priority needs for innovation in law enforcement. A panel of law enforcement experts noted, "There is a call for practices and technologies to improve police-community relations. Very high interest in this theme is being driven largely by the social and political tensions raised in recent years, in the wake of officer-involved shootings controversies and civic unrest in Ferguson, Missouri, Baltimore, Maryland, and other jurisdictions." [2] In 2021, after the death of George Floyd, this same argument can still be made, and smart city technology is leading the way.
Smart cities already deploy autonomous and electric vehicles complete with charging stations, LED streetlights for energy efficiency and better safety, and open-source data for governments to understand where resources need allocation. [3] Cities like Denver and New York City use smart city technology in the form of gunshot-detection systems. [4] These technologies can not only enhance the effectiveness of the police but also facilitate closer ties between the police and the people they serve.
Law enforcement can start by engaging in community discussions to collaboratively identify what the top crime issues are that should be addressed by smart city technology. As community policing is built on collaboration, respect and trust, collaborating on smart city technology gives citizens a say in the future of the police agency as well as the community they live in, which will help develop and preserve the strong ties needed to heal relationships with those who do not trust police. The specifics of which smart city technology options to use will be a local decision; however, the possibilities are almost limitless.
POLICE CAPABILITIES
A police agency of the future may have automated dispatchers answering 9-1-1 calls, autonomous police cars, artificial intelligence (AI) robots on patrol, biometric monitoring for officer health and safety, and smartphone applications to interact with smart city technology software systems to process and file data instantly.
All these technologies may not be adopted at the same time, but agencies that invest in smart city technology will have an opportunity to increase their community policing and use tech to assist with paperwork and investigative leads. Ken Hosac, vice president of IoT Strategy at Cradlepoint, believes police departments can use smart city technology and the Internet of Things (IoT) to enhance public safety.
According to Hosac, "These technologies add new levels of connectivity that allow every level of government to be more responsive and efficient, driving improvements in how they respond to public safety threats. And these changes are helping officers streamline administrative work and freeing up more time to do what they do best." [5]
Robots, sensors and high-speed cameras are already being used successfully in law enforcement. After the Boston Marathon bombing in 2013, Boston police used a robot to not only check a vehicle associated with the outstanding suspect but also remove a tarp covering the boat where he was hiding. [6] In 2016, after five Dallas police officers were shot and killed, the police chief issued the command to deploy a robot with C4 plastic explosive to fatally stop the suspect. [7]
In 2017, a man went on a shooting rampage in Fresno, California, killing three people. The Fresno police chief at the time credited the city's acoustic gunfire sensors (ShotSpotter) mounted on lampposts and telephone poles in the apprehension of the suspect. [8] In 2021, the Nevada Department of Public Safety announced they had a 43% drop in speeding drivers and an 18% drop in crashes after partnering with AI company, Waycare, which uses AI to identify sections of road and times that are at higher risk of crashes, according to the release. Nevada law enforcement agencies then used this data to station officers at strategic points. [9]
At the Carlsbad Police Department in California, smart city technology implementation is also being used with success. The department implemented six mobile license plate readers (LPR) on patrol vehicles in 2011. That same year, a Carlsbad resident was murdered inside her home while her daughter slept upstairs. Incidentally, unaware that a murder had just occurred, a Carlsbad police officer whose vehicle was equipped with an LPR camera drove by the victim's residence during his routine patrol and captured the suspect's license plate at the location.
This evidence later helped prove the suspect was at the location near the time of the woman's death, assisting in his murder conviction. The department now has 86 fixed LPRs throughout the city assisting in solving an array of crimes. LPRs show how smart city technology can assist in the labor-intensive work associated with a police investigation.
One outcome of the pandemic is that people across the world have grown to trust their smartphones and tablets, and may prefer to interact with smart technology, or a police-trained robot, rather than a human in a uniform. [10] There even are emerging examples of smart city technology being used to fight COVID-19 more effectively – like the robot dog used by the Honolulu Police Department that checks the temperatures of individuals staying in tented homeless shelters. [11]
While some cities may not be prepared to deploy robotic dogs, these types of smart tech tools can save police departments time, money and personnel hours that can instead be used for community outreach and more effective crime prevention programs.
SPECIFIC TECHNOLOGIES AND MOVING FORWARD
What can police leaders do today to deploy smart city technology and reform the current state of policing?
There are some critical considerations to save both time and money for the police, while also strengthening their standing in the community:
Smart city technology adoption and implementation could reform policing through less human-to-human contact with victims and witnesses, reducing complaints and allowing officers to spend more time on positive interactions. By using AI in software programs and surveillance systems, police could more quickly detect suspects, weapons and other objects identified as evidence, eliminating the need to detain uninvolved people. Victims and witnesses can be swiftly identified and exonerated, and officers can focus on the true suspect.
Smart city technology can eliminate the labor-intensive process of watching hours of video and relieve innocent bystanders from having a potentially negative interaction with the police. [12]
Adopting new tech is a great chance to collaborate with the community. As law enforcement leadership finds the right smart city technology, it is imperative that they first partake in community engagement via surveys and discussions to obtain feedback. Community relationships and transparency is paramount. Police leaders must educate the public on how smart city technology can accomplish the community's goals to reduce the fear of change and increase acceptance before implementation.
Police departments should consider retaining a legislative consultant who is aware of the privacy concerns and stays up on the current law and changing legislation. Policy adherence is extremely important.
Police department leaders will need to have a seat at the table with legislators when creating new laws that oversee the smart city technology they adopt. The hiring of a communications manager as well as a data analyst that can oversee smart city technology deployed by departments, to ensure that it is being used lawfully and citizens' privacy is protected, will help in the success of the programs.
There is a litany of other uses, all resulting in less time wasted by staff, better results for the public and fewer opportunities for adverse outcomes we see today.
The global market confirms a strong trend toward smart city technology in policing. In May 2021, MarketsandMarkets, a research and consulting company, addressed this booming market. They noted that by 2026 the value for the global law enforcement software market could reach $22.1 billion, an increase from $12.6 billion in 2020. Additionally, the company expects that market to keep growing post-COVID-19 "as more law enforcement software agencies across the globe plan to migrate its IT infrastructure to cloud, boost departmental operations, and improvise processes. The increased demand for law enforcement solutions during COVID-19, rising numbers of crimes, increased focus on community-oriented policing, and growing investments for public safety measures in smart city projects are a few factors driving the growth of the law enforcement solutions and service." [13]
Certainly, the time is now for every agency to consider which elements of smart city technology they should employ and how to plan with their cities to employ these measures to better serve their safety.
CONCLUSION
Now is the time to invest in smart city technology. True leaders are in the business of not only anticipating change but leading it. Police leaders can do this by connecting smart city technology with the service they provide to the community.
Smart city technology can assist with work that often sucks officers away from the time they could be building relationships. Experts have said regarding smart city technology and policing, "Departments can create more opportunities for positive interactions while working to leverage the expertise, resources, and local knowledge of key stakeholders in the community. Using both technology and training, departments could make it easier for constituents to support public safety, helping to make community-law enforcement relationships healthier and more productive." [14]
Ten years ago, discussing smart city technology in relation to community policing would have seemed outrageous. In 2022, tech is taking on an accelerated role to keep people healthy after a pandemic and becoming intricately woven into the fabric of citizens' lives regarding how we work, where we dine, how we shop, ways we communicate and our safety. These same capabilities can be employed by police agencies as they search for ways to rebuild a fragmented relationship with the community in ways that don't seem outrageous at all.
NEXT: Technology procurement: Why community buy-in is key
References
1. Centre for Cities. (May 29, 2014). Smart Cities.
2. Hollywood JS, Wood D, Goodison SE, Lauland A, Wagner L, Wilson TJ, Jackson BA. Fostering Innovation in U.S. Law Enforcement: Identifying High-Priority Technology and Other Needs for Improving Law Enforcement Operations and Outcomes. Santa Monica, Calif.: RAND Corporation, RR-1814-NIJ, 2017.
3. Datalux Support. (September 18, 2018). Top Ten Smart Cities in the U.S.

4. ShotSpotter. 2021. ShotSpotter Cities.
5. Hosac K. (December 6, 2018). How the Push for Smart Cities Impacts Police Forces. State Tech.
6. Villarreal R. (2013, April 21). Robots Helped Capture Boston Bombing Suspect. International Business News.
7. Schabner D. (2016, July 9). Using Robot to Kill Cop-Shooting Suspect was 'last resort,' Dallas PD says. ABC News.
8. Smith S. (April 20, 2017). Gunfire Sensors Credited with Quick Arrest in Fresno Rampage. Associated Press.
9. Ziegler S. (June 22, 2021). AI Partnership with Nev. Law enforcement reduces crashes, data shows. Police1.
10. Thomas Z. (April 19, 2020). Coronavirus: Will Covid-19 speed up the use of robots to replace human workers? BBC News.
11. Ladao M. (May 17, 2021). Honolulu PD showcases robot dog, says it will benefit community for years. Police1.

12. Rigano C. (October 8, 2018). Using Artificial Intelligence to Address Criminal Justice Needs. NIJ Journal 280.
13. MarketsandMarkets. 2021. Law Enforcement Software Market by Component, Solution (Digital Policing, Computer-Aided Dispatch, Jail Management), Service (Consulting, Training and Support, Implementation), Deployment Model (Cloud and On-premises), and Region - Global Forecast to 2026.
14. Deloitte Center for Government Insights. 2021. The future of policing.
Bibliography
Bellini J. (May 30, 2019). Police Unlock AI's Potential to Monitor, Surveil and Solve Crime. Wall Street Journal.
President's Task Force on 21st Century Policing, Final Report of the President's Task Force on 21st Century Policing (Washington, DC: Office of Community Oriented Policing Services, 2015).
SmartCity Press. (February 22, 2019). Data-Gathering Technology is Now Used to Predict Crime and Terrorism.