iRobots to help police boost security at World Cup
30 compact 'Packbots' will be supplied to the Brazilian government
---
By Joe Prince-Wright
NBC Sports
If the U.S. national team heads home early from the World Cup in Brazil this summer, there will still be a huge U.S. presence on the ground in South America… in the form of robots.
That's right folks, iRobot, a Bedford, Massachusetts-based company, will supply 30 'Packbots' to the Brazilian government in a $7.2 million deal, according to Robohub, as security is high on the agenda ahead of this summer's World Cup.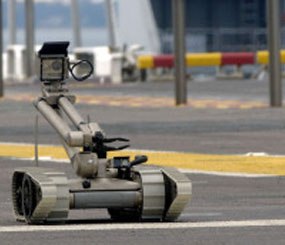 However it is expected that the 12 host cities will share the high-tech machines to help boost security and examine any packages that are deemed to be suspicious. The PackBot system made its debut in Afghanistan in 2002 were it was used to help soldiers cross minefields and clear buildings. It has been used in Iraq and several other countries, with over 800 of the military robots providing much needed help across the world.
Full Story: American robots set to help police 2014 World Cup