Ballistic shields: A 'must have' for street patrol
A ballistic shield is not always recognized as a necessity until it is too late and an active shooter situation has occurred
---
Oak Creek. Aurora. Old Bridge. College Station. New York City. Toronto.
Those are just the first half dozen cities that immediately come to mind when we think about active shooter situations in recent memory.
Clearly, the old "that'll never happen here" mentality will no longer work, no matter how bucolic your little corner of the world appears to be, or how massive your police department is.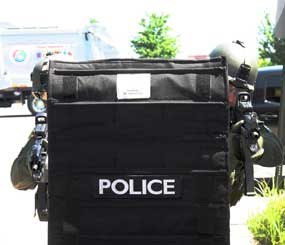 Ballistic Protection as a Necessity
Gone are the times where a responding officer could wait for the arrival of that one squad car carrying a ballistic shield — more often than not nowadays, patrol officers are the first responders to active shooter situations.
Furthermore, the bad guys are ratcheting up their firepower — increasingly, gunmen are mounting their attacks with weapons which exceed the protection levels afforded by some body armor out there on the streets.
So, it's becoming clear that portable, carryable, ballistic protection has become a necessity.
In order to get more information on this important issue, I recently connected via phone with Brooks Thomas, who works in the Ballistic Products Division at Patriot3.
"Departments are calling for ballistic shields because their patrol officers are often the first people that might have to handle an active-shooter situation. They should have something to protect themselves further other than a vest," Thomas said.
Thomas said further that he's seeing increasing attention being paid to preparing patrol officers to respond in situations that had previously been the domain of SWAT.
"They're preparing for situations where they would have maybe another officer that responded and had to take immediate action upon arrival to suppress the situation immediately. Officers need to be able to have something like that [a ballistic shield] in their vehicle — it would be a great tool to be able to utilize."
Lots of Options Available
Based in Quantico (Va.), Patriot3 manufactures two shields that offer excellent protection for the patrol-level active-shooter response — the Minuteman Series and the Flex Shield. 
The Minuteman series of ballistic shields range in size, weight, and NIJ ratings — with options available to have a viewport or not have one — and each folds and stows in a carry bag. In addition, an LED lighting system can be mounted atop any of the models.
It's not enough to simply put the gear in the trunk, though, so Patriot3 offers non-ballistic training versions, enabling agencies to seamlessly integrate the needed training with these shields in hand.
"The biggest thing in training is to be able to learn to shoot with a shield," Thomas said. "It's a patrol officer learning to shoot with a shield —it's completely new to them. It's interesting to watch them try to shoot with it — it's something that takes a lot of practice."
The Minuteman series have been out a while, and many of us have seen them in scenario training as well as real-world usage. 
When Thomas and I spoke, the shield about which I was least familiar — and consequently most curious — was the Flex Shield.
"The weight of the systems is 11 pounds. We consider it more of a multi-function shield because it has two pull tabs which immediately drops the shield down 24 by 45 inches of coverage," Thomas explained.
The articulating ballistic/fragmentation barrier deploys in seconds. The Flex Shield is storable, highly-mobile and can be adjusted to different angles or configurations to match the environment.
The Flex is NIJ Level 3A rated, and immediately out of the case offers protection against rounds or fragmentation. Fully deployed, the Flex Shield opens to 98″ by 48″ and in the worst case scenario, it can be used as a liter for wounded victims or fallen officers.
"While the immediate protection advantage is optimal in active-shooter situations, ballistic shields also offer other benefits as well," Thomas said.
"Having a compact ballistic shield that can be deployed in just seconds in patrol units allows an officer to fully and confidently respond to any situation."
Thomas noted the use of a ballistic shield for protection down long hallways while clearing a structure or building, and of course there is the opportunity to use such protection when approaching a suspect in a vehicle. 
A Shield in Every Squad
Longtime readers of this space know that I'm a strong advocate for a patrol rifle in every squad car in America. We're slowly making progress in that regard, as I continue to hear reports from Police1 Members that departments are beginning to properly outfit our cops with rifles.
Even as we work that problem though, it's time we consider another need: portable ballistic shields for every cop on the streets.
"Unfortunately, a ballistic shield is not always recognized as a necessity until it is too late and an active shooter situation has occurred," Thomas lamented.
Let's change that.