Review: RPAMS A2 Buckler ballistic shield for patrol officers
This lightweight, gimmick-free shield, is designed to protect an individual officer on the move from rifle rounds
---
My recent Police1 article, Ballistic shields can improve officer safety, addressed how rifle-rated ballistic protection that is lightweight and immediately accessible to officers is no longer optional. It belongs inside the passenger compartment of every patrol vehicle where, at a moment's notice, an officer can grab it and go. It's no longer acceptable to only have rifle-rated ballistic protection available for SWAT or in the trunk of a supervisor's car; by the time it gets on the scene, it's already too late.  Patrol officers are most likely the first to arrive and they need the right equipment to get the job done.
I received an email from Terry Wilmeth after that article was published. Wilmeth told me he was part of a company in Oregon called RP Advanced Mobile Systems (RPAMS), and he had read the article on ballistic shields. He said his company had been working on a ballistic shield, and he was sure I would be interested in what they developed.
As a law enforcement officer for over 30 years, I have become highly skeptical of most claims, preferring to take a "prove it" attitude instead of a "tell me about it" approach. Terry told me the article was taken seriously and that the information was used to develop their latest product, the A2 Buckler ballistic shield. He said it made them realize that patrol officers and school resource officers would likely be the first to the scene of an active shooter or similar incident, and they needed to be equipped with the necessary tools to save lives. This includes rifle-rated ballistic protection. It became clear to the people at RPAMS that a lightweight, easy-to-deploy, rifle-rated ballistic shield was needed for safety.
Body armor has defeated handgun threats for decades and saved thousands of police officers. Unfortunately, the most frequently worn body armor does not defeat rifle threats without being heavy and bulky with limited coverage. Rifle plates are typically reserved for tactical teams and are rarely seen on patrol officers. If patrol officers have rifle plates, they are usually found in plate carriers that take extra time to put on during an event where every second counts. 
What makes the RPAM A2 Buckler ballistic shield different is the use of multiple layers of an innovative ballistic board called ShotStop, made from Duritium. The ballistic board armor panels used for the RPAM A2 Buckler ballistic shield are UL-752 level 8 certified ballistic boards. This means it stops 5.56 NATO and 7.62 FMJ rounds and matches the performance standards of NIJ Level III body armor. This same material is used to make rifle-rated body armor plates.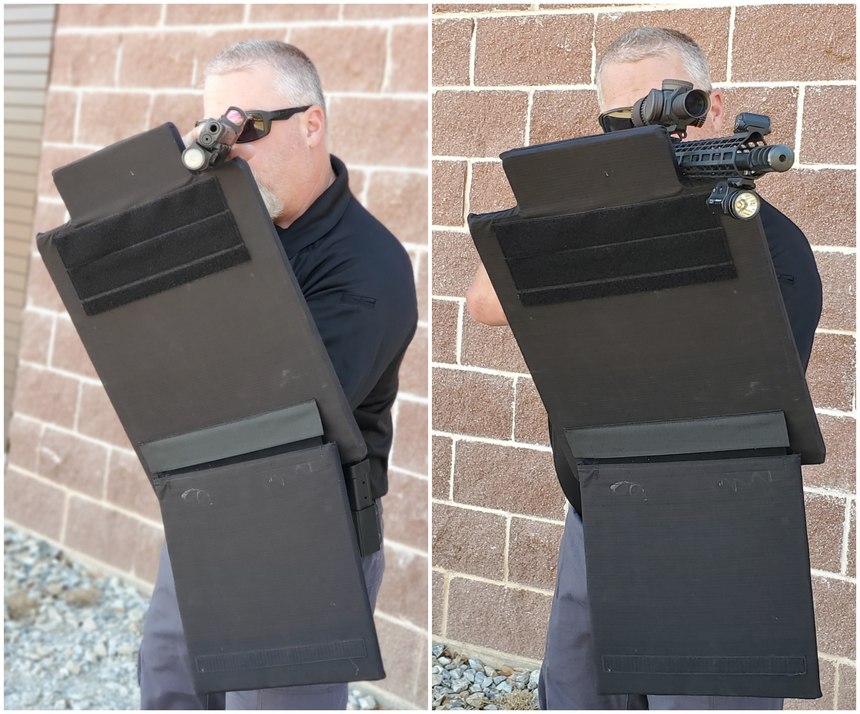 Range testing the RPAM A2 Buckler ballistic shield
We happened to be presenting a Pistol Mounted Optics Instructor Course in Oregon this past July. I told Terry that if he wanted me to examine the RPAM A2 Buckler ballistic shield, he could meet me at the range. I told him to bring the shield, and we would shoot it to see if it stood up to his claims. Imagine my surprise when he showed up and permitted me to shoot his product. Little did he know we had a rifle to shoot and not just handguns. Once we brought out the rifle, I expected at least a little bit of concern to show on his face, but he was completely unphased.
After we passed the shield around to the students in class, we set it up on the range and proceeded to try to punch holes in it. The first rounds we fired were from the rifle primarily because if it didn't stop the rifle rounds, I wasn't interested in testing it further. The first 5.56 NATO 55 grain FMJ round struck in the middle of the shield and easily prevented the round from penetrating. Then several rounds of 9mm FMJ and duty rounds were fired at the compromised shield. None of the rounds penetrated the shield. We were able to get one 5.56 NATO to penetrate the shield, but upon closer examination, this round penetrated at the same spot as the first rifle round fired. I became a believer.
A few weeks later, I was sent the newest version with an updated carrier. Of course, I shot this one to ensure that the first results were repeatable. We shot the top of the shield with a 5.56 NATO 55 gr FMJ round, the bottom part with a Speer Gold Dot .223 62 gr HP, one side of the shield with a Speer Gold Dot 124 gr 9mm HP, and one side with a 9mm 115 gr FMJ. Both rifle rounds penetrated three layers of material, lodged in the fourth, leaving one layer completely intact. The 9mm rounds were stopped in the first layer of material. These were impressive results from this lightweight shield.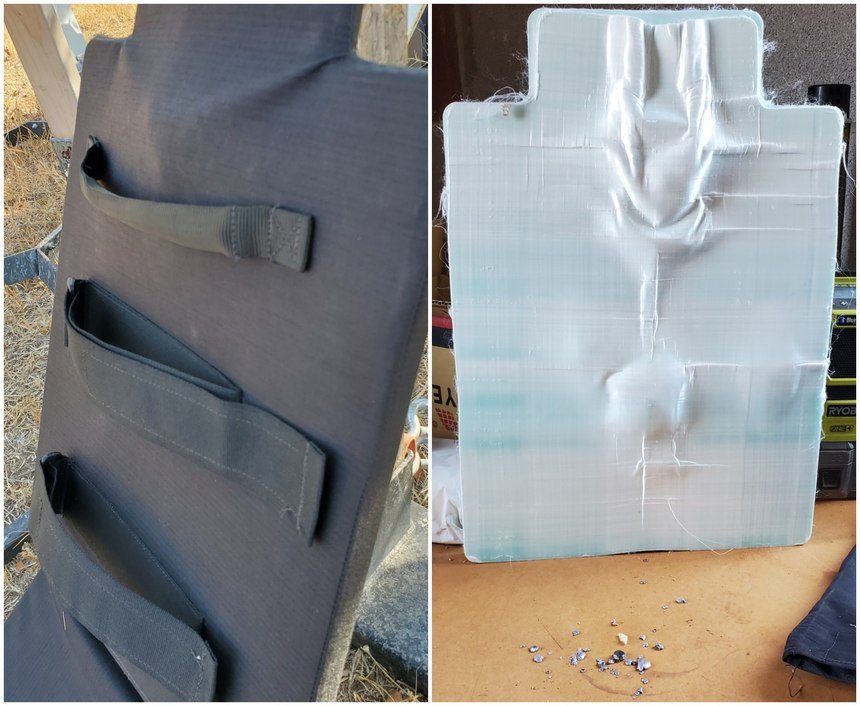 RPAM A2 Buckler ballistic shield specifications
The standard RPAMS A2 Buckler ballistic shield weighs six pounds and measures 14 inches wide by 20 inches tall. This means it has twice the protective coverage of most rifle plates. At only six pounds, officers can efficiently run with the shield minimizing fatigue while staying fully mobile. The armor panels are encased in a ballistic nylon sleeve for ease of use and handling. The shield has dual adjustable hook and loop forearm straps, and a soft grab handle, allowing the user to use either hand without adjusting. The newest version of the RPAMS A2 Buckler ballistic shield includes an optional 12"x12" modular section weighing 2.5 pounds that attaches to the face of the shield using industrial-strength Velcro. While stowed away, the extra panel adds about a half inch of thickness to the shield and stays secure even while running. The extra panel can be quickly released for additional vertical protection. This optional panel makes the entire rifle-rated shield weigh a total of 8.5 pounds.
The RPAMS A2 Buckler ballistic shield has a left- and right-side cut out at the top to make it easier for officers to deploy handguns, patrol rifles, and shotguns as needed. There's nothing fancy added to increase weight. No extra lights or windows are required. There are no gimmicks, just lightweight ballistic protection that every officer needs.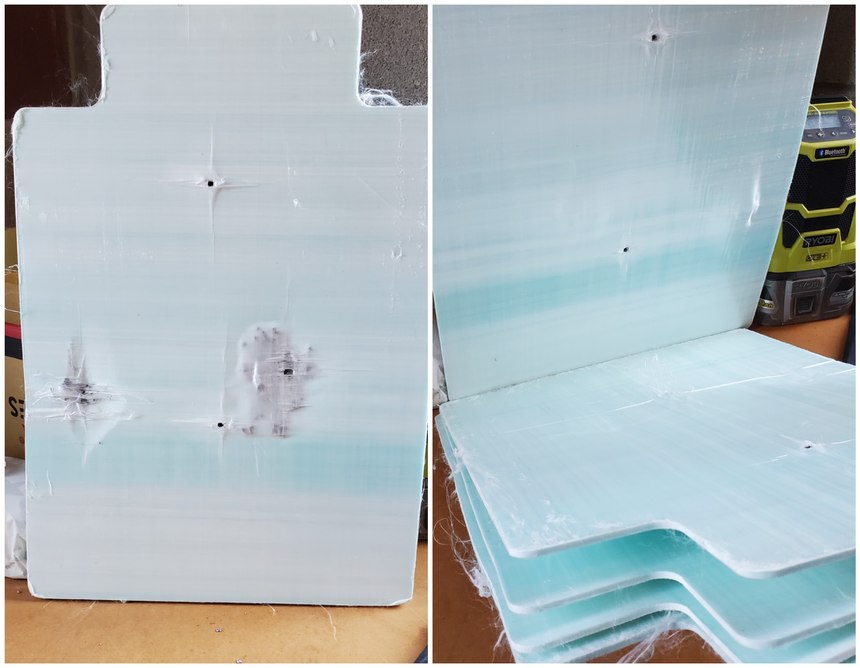 RPAMS A2 Buckler ballistic shield meets expectations
The RPAMS A2 Buckler ballistic shield was a pleasant surprise. There's a difference between reading a weight on a specification sheet and experiencing how it feels. The A2 Buckler shield was significantly lighter than I expected, and the coverage was exactly what I envisioned when I wrote the article on the use of ballistic shields to improve officer safety. When you deploy this shield, it's kept close to your body, so the weight feels even lighter.
Remember that this isn't a ballistic shield that is meant to protect a team of officers. This shield is designed to give an individual officer additional ballistic protection when quickly responding to an emergency call when seconds can mean the difference between lives saved and tragedy. The shield effectively covers the complete torso of an officer. The size of the shield and the lightweight ballistic boards keep it light and easy to maneuver. Its material composition also makes it positive buoyancy, meaning it will not pull you underwater. A bigger shield means more weight and slower operations. It would be easy to keep this shield in the passenger compartment of every patrol vehicle for rapid deployment. Officers could grab the shield and their rifles at the same time, saving precious seconds and potentially saving lives.
The RPAMS A2 Buckler is 100% made in the USA. MSRP is less than $1,800 for the basic shield (optional 12x12 lower drop-down is an additional $599), and department pricing is available. If you want more information on how to get the RPAMS A2 Buckler into your patrol vehicle fleet, check out their website or contact Terry Wilmeth at terry@rpams.com.

Request product info from top Ballistic Shields companies
Thank You!