Live and direct from... anywhere
Streaming video makes incident management much more manageable
---
For the consumer-at-large, streaming video to a portable device is an easy sell. When it's not only possible but easy to watch TV or a movie from anywhere, to pause it as desired, and to later pick up exactly where you left off, everyone wants it. For public safety, the draw is for video that flows both directions, from the portable device to home base or a command post, and from the command post back to the portable device.
Video sourced from surveillance cameras on streets and highways, transportation hubs and platforms, and even private businesses is certainly valuable. The downside is that it contains so much data that it takes skill and special technology to identify the portions of interest. When an aspiring terrorist parked his car bomb in Times Square, the act and the actor were captured on a video system, and still images were then sent electronically to officers on patrol, and the suspect was apprehended.
Streaming that video to cops in the field would have been even more valuable, and with the advent of tablets computers and other such devices, this is likely where we're headed in the future.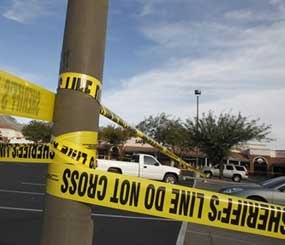 Eyes and Ears on The Street
Even with video intelligence coming from the command center, it's more likely that the officer in the field will see something with his own eyes and be able to transmit that information in visual form back to a location where decision-makers can determine the best action or resources to commit to the incident. This is especially valuable when the field operator doesn't have the expertise to assess the situation properly but can act as directed to address the problem.
For example, most major criminal investigations begin with a police patrol officer or deputy dispatched to a location in response to a call for service. Whether the incident is a stray dog or a multiple homicide, a uniformed officer is usually the first at the scene. Traditionally, the officer starts the ball rolling by using his radio to call for a supervisor and investigators, but the supervisor and investigators will be much better prepared to deal with the situation if they can first see what the officer is seeing. This is now possible with consumer-grade systems like the FaceTime application on the iPhone and various computer tablets. A caveat before further discussion on this concept: You should consult with your department's policies and procedures for specific guidance on what types of equipment are permissible for this sort of work.
Assuming it squares with your P&Ps, an officer can pan around a room or other crime scene and show in any desired degree of detail exactly what is present. In situations where network conditions don't support video streaming, an emailed video clip is nearly as good, as it will be only minutes old when viewed. One important consideration on whether or not you use a consumer device for this sort of thing is what your video will be used for once it has been taken.
Mundane situations like traffic control following an athletic event or rock concert are also good candidates for exploiting a video stream. Fixed traffic cameras aren't always where you need them, especially when the problem intersection is one that doesn't normally see a lot of traffic. An officer stationed at one of these chokepoints can show an incident commander in real time what is happening there, so that traffic can be re-routed from other areas the officer at the scene can't see from his vantage point.
Maintain Your Situational Awareness
Assimilating the information from a video stream requires considerable concentration. Even when you're fully focused on the screen, you can miss important details. Broadcasters know this and for many years have used slow-motion replays and onscreen graphics on sports programs to highlight and call attention to critical elements that affect the contest. Officers in the field can't always devote that kind of attention to a video clip. It's more important to maintain situational awareness of what is going on nearby. This isn't to say that a video clip can't be valuable. Each of us has a distinctive gait and carriage that isn't apparent in a still photo. With some people, the idiosyncrasies of this movement can make the individual stand out from a crowd.
When that's the case with someone you're trying to find, sending out a short movie titled, "Stop the Guy That Moves Like This" can be far more productive than handing out stills from a surveillance camera or mug shot.
EMS providers could also benefit from the ability to transmit video from the field. Many medical conditions are identified not with a single symptom, but rather with a cluster of conditions and behaviors. These are readily identified by physicians and others with the appropriate training and experience, but may be a once-in-a-career event for a paramedic with the ability to start immediate life-saving treatment. Many ALS ambulances are already equipped with wireless data modems for transmitting cardiac telemetry, and proliferation of wireless broadband has the potential to expand the use of this capability.
Widespread provisioning of 4G/LTE networks make it increasingly possible to transmit video in both directions as easily as making a phone call. One of the challenges of this capability lies with training first responders to incorporate the video resource into their "tool box." Once police officers, firefighters and medics begin to consider "Is this something that is more easily shown than described?" video streaming will play a much larger role in public safety operations.
For now, with budget cuts making it difficult to add officers where needed, utilizing video allows agencies to make better-informed deployment decisions, sending officers to where they are immediately needed, and thus creating a force multiplier in a very bad economic environment.