Caught on camera: How LPR tech is helping this N.C. PD track criminals
After the city installed automatic license plate readers in high-crime areas last year, the arrests were quick to follow
---
By Kenwyn Caranna
News & Record
        
GREENSBORO, N.C. — The arrests last November came just a few days after 10 automatic license plate reader cameras were installed along city rights-of-way.
Using data provided by the cameras, officers were able to identify a vehicle used in a string of robberies at convenience stores, police spokesman Ron Glenn said. Ultimately, two people were arrested.
"They've been extremely successful in identifying vehicles," Glenn said of the cameras. "(They) allow us to capture traffic that is moving in and out of that area."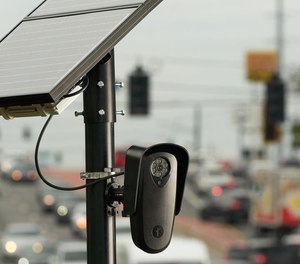 The cameras, which cost the city $27,500, are installed in several high-crime areas around Greensboro.
On Tuesday, the City Council authorized the installation of five additional cameras, which are owned and maintained by Atlanta-based Flock Group.
Currently, the solar-powered cameras are installed along Martin Luther King Jr. Drive, Spring Garden Street, East Market Street and West Gate City Boulevard. Additional cameras are planned for English Street, East Gate City Boulevard and another one on Martin Luther King Jr. Drive.
On an annual subscription basis, data generated by each camera costs the city $2,500, Flock Group spokeswoman Holly Beilin said.
The cameras are optimized to shoot the rear of passing vehicles and capture the make, model, color, license plate and state that issued the plate. It also detects details such as roof racks and bumper stickers, according to Flock's website.
[RELATED: How to buy license plate readers eBook]
The company's technology also integrates with the National Crime Information Center to provide alerts to dispatch and patrol officers on license plates associated with outstanding warrants, missing persons and stolen vehicles.
In at least two instances, those alerts allowed Greensboro police to find the vehicles and charge the occupants with possession of stolen property and, in one case, contributing to the delinquency of a minor, Glenn said.
In another local alert, the driver was found to have outstanding warrants. After being arrested, that person divulged the location of two accomplices wanted by authorities, according to Glenn.
The camera system also allows police to search for vehicles when they only have vague information, such as when officers working a hit-and-run crash needed to find a red sedan with out-of-state plates. Glenn said the officers used the camera system and were able to obtain the correct license tag.
The vehicle was tied to two additional hit-and-run crashes.
In another case involving a shooting, Glenn said officers, who had a description of the vehicle, were able to identify it and its direction of travel using the camera system. After issuing a "be on the lookout" for the vehicle, officers located it at a hotel just hours after the shooting. Three people were charged, Glenn said.
And even though vehicles may be identified, people are not, Beilin said.
"Our cameras have no facial recognition capabilities. They simply can't do it," she said.
Also, she said, the system has limits on data storage. So if footage is not downloaded by police, "it's automatically deleted by default after 30 days on a rolling basis," Beilin said.
"People are rightly concerned about protecting their privacy and they're also concerned about making sure that the police are using this in a way it's intended," Beilin said.
  
(c)2022 the News & Record (Greensboro, N.C.)
McClatchy-Tribune News Service

Request product info from top Police License Plate Readers companies
Thank You!