How ALPR data drives intelligence-led policing
Retaining ALPR data, along with the location coding of the places a license plate was recorded, can provide critical information for investigators
---
Police officers still cruise through motel and truck stop parking lots running license plate numbers to find stolen cars and wanted persons. And they still go to crime scenes the day after to write down license plate numbers of cars that may have routinely passed by and observed a crash or assault during their daily travels. And they conduct surveillance on suspect vehicles. Automatic license plate readers can transform those simple investigative tasks into force multipliers that generate information to solve – or even prevent – crimes yet to be committed.
The greatest boon to accessing vehicle license plate information since the marriage of radio and computer technology is the addition of optics to the formula. Rather than a dispatcher or police officer entering license plate alpha-numeric information into a computer terminal to access a database, a camera using optical character recognition (OCR) scanning does the gathering and entry of the plate number. Obviously, the speed and efficiency of automatic license plate readers (ALPR) adds tremendous utility to the information-gathering process.
According to a 2012 U.S. Department of Justice report, ALPRs can capture nearly 2,000 plates per minutes at speeds up to 160 mph. Because of the variety of license plate configurations, angles of view, reflectivity and debris obstruction, the technology incorporates sophisticated optical character recognition software, high resolution digital cameras and infrared illumination. Camera quality and costs will vary based on the goals, placement and use of the device.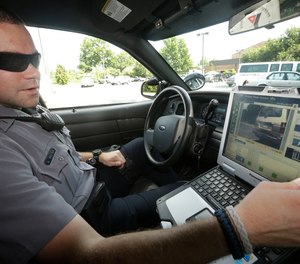 Real-time benefits
The success of Amber Alert, the system of getting as many eyes as possible watching for a wanted vehicle, is just a small illustration of how valuable efficient searching for vehicles used in criminal activity can be in stopping crimes and saving lives. ALPR technology multiples capacity for scanning license plates both on a mobile platform mounted on cars, and on stationary platforms such as parking lot entrances and freeway toll booths.
Detection of stolen plates, plates associated with wanted persons, or plates associated with vehicles used in other crimes can result in immediate law enforcement action to impound vehicles and apprehend suspects. Successful discovery of at-risk and missing persons is also a result of real-time plate analysis.
Archive benefits
Some jurisdictions have limits on the time that ALPR-derived data can be retained; others do not allow the retention at all unless it is associated with a crime. Driven by privacy concerns, laws or policies requiring the purging of gathered data exist in some jurisdictions. These restrictions allow the real-time benefits of ALPRs, but fail to provide the public with the crime-reducing benefit of historical data. Retaining ALPR data, along with the location coding of the places a license plate was recorded, can provide critical information for investigators.
Examining locations for the presences of suspects, particularly in multiple offenses with similar modus operandi, can link offenders with criminal events over time. Without the specificity required for a GPS surveillance warrant, investigators using ALPR data can track movement from one stationary reading to another to provide a strong indicator of a suspect's movement and whereabouts at a given time. Victim and witness information might also be gleaned from archived ALPR data.
Coordinating vehicle time and location information with other evidence, including suspect statements, cell phone data, and social media posts, can support alibis and refute false claims.
Predictive policing
Perhaps the most exciting use that proves the value of archived ALPR data is in the field of intelligence-led, predictive policing. ALPR results, triangulated with other statistical data, can reveal patterns of activity associated with criminal events that analysts can use to establish probabilities of crimes and their locations. Preventive measures, community policing efforts and investigative resources can then be concentrated on the most likely to be affected areas.
One medium-sized city in the southwest struggles with one of the highest auto theft rates in the nation. It has turned to ALPRs to help a regional task force focus resources on locating offenders. A detective assigned to the task force stated that knowing where a car is stolen and knowing where it is recovered is not as valuable as where the vehicle is used in between. In concert with the agency's crime analyst, the ALPR data is used to identify areas where stolen vehicles frequent often uncovering where known drug dealers, parolees and criminal actors live. This led to recognizing that a significant number of car thefts are related to trade and use by drug users in a temporary underground economy. The task force was then able to target resources to deal with both the thieves and the drug sellers that attract them.
Just like the satisfaction that comes from finding just the right piece when putting together a 1,000 piece jigsaw puzzle, ALPR data can fill the information gaps when constructing a crime-fighting strategy or solving a crime.