PRESS RELEASE
Laser Technology and the National Law Enforcement Challenge Help Improve Traffic Safety Programs
---
Since 2013, Laser Technology, Inc., (LTI) and International Association of Chiefs of Police's (IACP) National Law Enforcement Challenge (NLEC) have hosted several informative webinars for law enforcement agencies who are interested in participating in the NLEC and improving their traffic safety programs. In preparation for the 2015 Challenge application deadline, the final LTI hosted webinar in this years' two-part series will air on April 9, at 9:30 AM MDT.

The NLEC is a friendly competition between agencies across the country, where participating agencies submit an application that exemplifies their traffic safety efforts throughout the year. The April 9 webinar titled "Improving Traffic Safety Programs through the National Law Enforcement Challenge," will be hosted by NLEC Committee Chair Howard Hall and will feature speakers from model agencies that have been successful in their traffic safety programs and in the Challenge. These speakers include Captain Anthony Gordon with the Henrico County Police Division; Lieutenant Lee Bailey with the New Kent County Sheriff's Office; and Captain Mark Brogan with Washington State Patrol.

The three focus areas promoted by the NLEC are undeniably some of the leading issues that plague the traffic safety enforcement community and the country. The participating agencies also choose one priority that is specific to their community to include in their application. Some past agency-specific priorities have included issues such as distracted driving and pedestrian safety.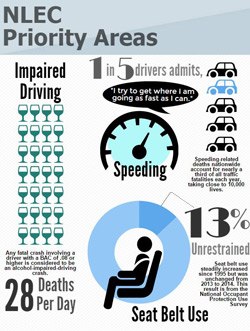 The first priority area required in NLEC applications is occupant protection. According to the National Occupant Protection Use Survey, which is the only survey that provides nationwide probability-based observed data on seat belt use in the U.S., seat belt use has continuously increased since 1995. Unfortunately, the percentage of people who habitually wear seat belts remained unchanged from 2013 to 2014, at 87 percent. Almost 15 percent of people still drive or ride unprotected.  

Another area that is a required focus on NLEC applications is impaired driving. The National Highway Traffic Safety Administration (NHTSA) reports that there were 28 alcohol-related crash fatalities per day in 2013. Any fatal crash involving a driver with a BAC of .08 or higher is considered to be an alcohol-impaired-driving crash, and fatalities occurring in those crashes are considered to be alcohol-impaired-driving fatalities. The third required focus area included in NLEC applications is the speed awareness. The NHTSA recently found that one in five drivers admits, "I try to get where I am going as fast as I can." Nationwide, speeding-related deaths account for over 30 percent of all traffic fatalities each year, claiming almost 10,000 lives.

The NLEC is about recognizing outstanding traffic safety programs across the country and about improving these focus areas, to ultimately save lives. Traffic safety needs to continue to be a top priority for law enforcement agencies. LTI is proud to be a supporter of the IACP's NLEC by sponsoring and cohosting webcasts that inform departments how to apply, how to win and how to run model traffic safety programs. All agencies that attend the "Improving Traffic Safety Programs through the National Law Enforcement Challenge" webinar and submit a 2015 NLEC application by the May 1 deadline will be entered to win an LTI 20/20 TruCAM® to assist with traffic safety enforcement. The TruCAM is an all-in-one handheld laser-based video and photo camera producing evidence for speeding, distracted driving, tailgating and more.

About the IACP
The International Association of Chiefs of Police is the world's oldest and largest association of law enforcement executives. Founded in 1893, the IACP has more than 23,000 members in 100 countries.

About LTI
Laser Technology, Inc., is a Colorado-based manufacturer of laser measurement devices, including traffic safety equipment. LTI introduced the first commercial laser speed device that enabled law enforcement agencies to pinpoint an individual vehicle in dense traffic. From speed enforcement to crash scene investigation and more, LTI's equipment has been used by law enforcement agencies and professionals worldwide for over 28 years. Read more About Laser Technology, Inc.

Request more info from Laser Technology
Thank You!