New Orleans police arrest suspect in killing of officer
33-year-old Travis Boys had broken handcuffs on his wrist when he was arrested Sunday morning
---
By Rebecca Santana 
Associated Press
NEW ORLEANS — New Orleans Police Superintendent Michael Harrison says a man believed to have shot and killed a police officer was arrested after he was seen getting onto a city bus.
He says 33-year-old Travis Boys had broken handcuffs on his wrist when he was arrested Sunday morning and taken to a hospital for treatment of apparent dehydration.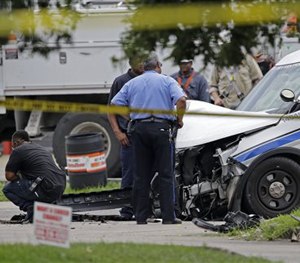 He says Boys will be booked with first-degree murder of a police officer, aggravated escape and illegal possession of a firearm — and the aggravated assault charge on which he originally was arrested.
Boys was captured after a 24-hour manhunt. At one point during the search, Boys crashed a pickup truck into a house but then managed to flee.
Copyright 2015 The Associated Press

Request product info from top Prisoner Transport companies
Thank You!