Electric 'police-prepped' Chevy Blazer pursuit vehicle coming out in 2024
The Blazer EV PPV can log at least 290 miles before plugging in, Chevrolet says
---
By Anne Berleant 
DETROIT— Chevrolet's debut of the new Blazer EV sports utility vehicle on Monday included a look into the future – the "police-prepped" Blazer EV PPV, which is set for a 2024 release. 
The electric pursuit vehicle will be based on the Blazer SS EV and will have "the largest Ultium battery in the lineup," CNET reported.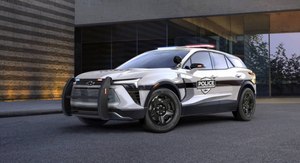 With a 557 horsepower and 648 pound-feet of torque, the Blazer EV PPV can log at least 290 miles before plugging in, Chevrolet said. 
The same front Brembo brakes that are in the Blazer SS will be used in the Blazer EV PPV, and the interior design will accommodate police officers and their gear. 
The driver-assistance technologies included in the police version are not clear, according to CNET. And while pricing has yet to be determined on the electric police pursuit model, the non-police Chevy Blazer EV, set to go on sale in Summer 2023, is priced starting around $47,595.

Request product info from top Police Vehicles companies
Thank You!