How patrol car technology is improving operations
The array of technology in today's police vehicles adds markedly to their utility and safety for the officers who operate them
---
This feature is part of our PoliceOne Digital Edition, a supplement to PoliceOne.com that brings a sharpened focus to some of the most challenging topics facing police chiefs and police officers everywhere. To read all of the articles included in this issue, click here.
By Tim Dees
Not so long ago, the "police package" offerings from most auto makers was simply the biggest engine they made, plus heavy-duty everything: brakes, cooling, transmission, suspension and electrical systems. There was little (if any) difference between cars sold to police agencies and to taxi operators. The array of technology in today's patrol cars adds markedly to their utility and safety for the officers who operate them.
Pre-wired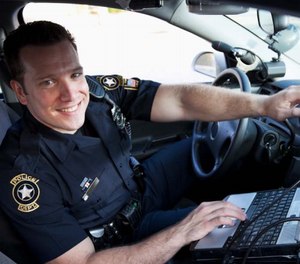 One of the more time-consuming chores of shops that have to outfit new cars for patrol is to run the cable harnesses that connect and power the numerous electronics in the car: police radio, computer, ticket printer, radar, lights and siren, modem, etc. This task has been greatly simplified, and in some cases, eliminated entirely. Most police package cars have some cabling pre-installed, and can be ordered with siren speakers, emergency lights and control consoles installed at the factory. This necessarily limits the choices of equipment and vendors, but that disadvantage is outweighed by not having to find secure places to mount and connect dissimilar gear.
Headlamps and taillights are configurable to flash when the emergency lights are activated. Padded, contoured dashboards are replaced with equipment trays ready to accept a mount and wiring for a printer or radar unit. Steering wheel controls used in consumer models to make phone calls and change radio stations can be configured to activate roof lights or sound the siren momentarily. This feature allows officers involved in high-speed responses or pursuits to keep both hands on the wheel and still have access to the car's emergency equipment.
Designing in places and wiring for tech gear allows the officer to operate more efficiently and safely. When gear has to be bolted in wherever it might fit, the driver's compartment gets overly crowded. Providing a place for an item as mundane as a ticket printer gives the officer access to an e-citation system that eliminates a great deal of paperwork and streamlines the citation process.
Ergonomics
There was a time when the basic equipment array in a patrol car consisted of a switch or two for the roof or alley lights and control heads for the radio and siren. It wasn't long before there was so much gear crammed into patrol car interiors that it was difficult for the officers to fit. This crowding wasn't just uncomfortable; it was unsafe. Equipment often blocked airbag deployment zones or got loose in collisions, threatening greater injury.
Today's cars remedy the situation by integrating much of the gear with the car's design, as detailed above, but also increasing the comfort level for the officers. Seats are wider and deeper to allow for bulky duty belts and body armor. Seat belt latches are extended, so they are easily reachable when seated. The seat backs are reinforced with "non-intrusion panels" to defend against attacks by prisoners in the back seat who might have been able to get a knife or screwdriver past the officer who searched them.
Ergonomics is receiving more attention these days in other areas, such as moving a lot of personal gear from a duty belt onto a load-bearing vest. Officers who are encouraged to complete reports in their cars have long been plagued with keyboard/computer configurations that cause back strain and repetitive use injuries, often aggravating skeletal injuries sustained in confrontations. These injuries are costly, increasing the use of time lost to sick and on-the-job injury leave, not to mention they can shorten careers.
Most consumer-model cars have the transmission shifter on the floor or center console. This is a critical area for patrol cars, usually taken up by an electronic console or computer platform. Police package cars move the shifter back to the traditional place on the steering column, freeing up that space for gear.
Officer safety features
The patrol cars I drove all had traditional white dome lights that came on when the doors were opened, illuminating me and ruining my night vision. The usual remedy was to remove the bulb. The latest cars have both red and white dome lights, selectable by the operator to preserve night vision. They also come with a programmable "dark mode" where the interior and external "puddle lights" don't illuminate when the doors open or are unlocked. This allows officers who want to maintain some level of stealth to arrive at incidents without visual fanfare.
Sensors that provide alerts when they detect an object in the driver's blind spots to the sides or rear quarters do double duty to help guard the car's perimeter when parked. When officers are working on reports or other chores in the car, it's easy to lose situational awareness with what's going on outside. Most of us have been startled by someone walking up on the car unexpectedly, usually to ask directions, but sometimes to initiate an assault. The blind spot sensors in patrol cars are configured for a perimeter alarm, notifying the officer that someone or something is approaching the car. When the alarm is tripped, the officer gets an alert, the doors lock, the windows roll up, and the rear view/backup camera comes on. Some systems display the protected field on the dash display, showing movement trails and where the intruder is thought to be.
Keyless entry and push-button start is becoming standard on higher-end trim lines, but this utility also provides an extra margin of security for police officers. Some cars provide for automatic locking of all doors when the officer exits the car with the key fob on his person, and unlock the doors when he approaches again. This allows officers to have greater security and faster getaways when leaving or returning to their parked cars, but it also provides an anti-theft feature. If an intruder can't get past the door, it makes it a lot harder to steal the car.
Safer winter operations
Agencies that are forced to conduct operations on ice and snow in the winter have usually had to make do with rear-wheel drive cars, and sometimes tire chains. Most police package cars now come with all-wheel drive (AWD), even in sedans, and electronic stability control (ESC) packages. Where it used to be a regular event to have cars slide uncontrollably on the ice, ESC makes it all but impossible. ESC isn't a substitute for sound emergency vehicle operations and skid pad training, but it certainly provides an extra margin of safety.
Without AWD, some locations are all but inaccessible in inclement weather. Equipping all fleet cars with AWD means that all services are available all the time, not just when the weather is nice.
Telematic systems communicate data
Built-in telematics reduce the workload for fleet managers. These systems communicate wirelessly with a central server to monitor performance, efficiency, tire pressure, maintenance intervals and officer driving habits. There is no need for officers to fill out a maintenance form or for someone to check mileage periodically to see which cars are due for an oil change. The cars constantly report their own status, making it easy for managers to schedule maintenance before it goes overdue.
The patrol car is the street cop's office, his place of work. It's fitting that the industry has caught up to the idea that it ought to be tailored for his needs and safety.
---
About the author
Tim Dees is a retired police officer and the former editor of two major law enforcement websites who writes and consults on technology applications in criminal justice. He can be reached at tim@timdees.com.

Request product info from top Police Vehicles companies
Thank You!