Ky. trooper's 1991 Ford Mustang SSP finds new life
The vehicle was designed as a lightweight option for law enforcement to keep up with sports cars of the time in pursuits
---
By Ricki Barker
Richmond Register
RICHMOND, Ky. —  At a local car show, one stern-looking 1991 Ford Mustang stood out among the hundreds of gleaming cars with its familiar black and white paint scheme and a logo that prompted even the most bias of car aficionados to slow down and take a second glance.
"That's kind of what it was designed to do," joked car collector and the owner of the 1991 Ford Mustang, Gary McFarland. "When you saw it, you slowed down; and while it isn't in service anymore it's still doing it's job — making people stop."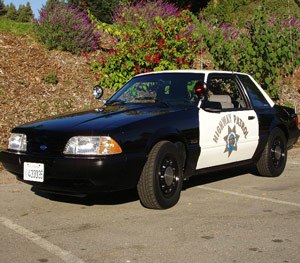 McFarland's Mustang is not just any ordinary vehicle, it is a Ford Mustang SSP, a custom car produced by Ford specifically for law enforcement to use as interceptors.
SSP stands for "special service package," and the each of the 15,000 Mustang SSP cars produced between 1982 and 1993 feature a special Foxbody trim designed exclusively for police departments throughout the United States.
This version of the Mustang was born when the California Highway Patrol asked the Ford Motor Company to produce a lightweight police car option that could keep up with the popular sports cars of the time in pursuit.
"Back then most departments were using really bulky sedans like the Crown Vics and Fairmonts," McFarland explained. "So when they came out with this, a lot of highway patrol agencies jumped on it."
While the car itself is an unusual specimen, McFarland's Mustang has deeper meaning for the Kentucky native.
"It was actually used by the Kentucky State Police at the Richmond Post," McFarland began. "I have restored old police cars before and recently restored one from the Florida State Police, but being from Kentucky and being able to work on a car from here is the cream of the crop. I'm a Mustang nut and I love these cars, but this one is really special."
McFarland said he waited eight years to have a shot at buying and restoring the former Unit 542.
"They had it up in storage in Frankfurt and I knew that as soon as it went to auction — I wanted it. So I kept track of it for all those years so I wouldn't miss the opportunity," the car collector explained.
After buying the car, McFarland said he found another connection to the vehicle that surprised him while doing research on the vehicle.
"I knew the guy that drove the car," McFarland laughed. "I have probably seen him driving it all those years and never would've dreamed I would one day own it."
DOCJT Investigative Manager Mark Cool and former KSP trooper, was that guy, and he says he remembers his former cruiser well.
"We got it in 1991 and we were excited about it," Cool said. "It was a big deal to have that type of car because at that time, the state police cruisers were not real high horse power cars."
Cool said Unit 542 was such a celebrated car during the 1990s that it was one of five KSP cruisers chosen to go to the Indianapolis State Police drivers training.
"We got to drive the car on the Indianapolis Motor Speedway, it was easy to maneuver. They had a shorter wheel base and were really, really fast," Cool explained.
The former state trooper said the Post 7 used the Mustang mostly for speed enforcement and not as a primary patrol car.
"That car probably pulled over a lot of people in its day," Cool said. "The policy didn't allow us to drive those cars in the rain, so it was only used for catching speeders."
Cool said Unit 542 was the last of the SSP model Mustangs to be used in the state.
"We used it for years and after we were done, the car went to the Harlan post where I think they used it as the D.A.R.E vehicle for many years. It was a good car and I don't think it ever was wrecked or had to be worked on much," said Cool.
Cool said it was an odd twist that the guy he lived down the hall from in Commonwealth Hall all those years ago would one day own his old police vehicle.
"I think it's a good thing that people restore these old police cars," Cool said. "It gives them new life and purpose."
McFarland said he appreciates the history behind the vehicle and the people who worked from its seats.
"The history of it is why we bought it. A police cruiser is a very personal thing to the troopers. Can you imagine all the things this car has seen and all the people who put their lives on the line to protect others. It's a unique thing — that's why I restore them."
McFarland said the next step in restoring Unit 542 is tracking down the original license plate for the vehicle.
"I've been in touch with Frankfort and I think we are close to finding it," said McFarland. "We like to preserve as much of the history as possible. People love seeing these old cruisers at car shows. It always gets people talking."
Copyright 2015 the Richmond Register 
McClatchy-Tribune News Service