Taking the burden out of audio and video redaction (eBook)
Artificial intelligence is making it more efficient for agencies to comply with public information requests while providing greater public trust and transparency
---
Sponsored by Veritone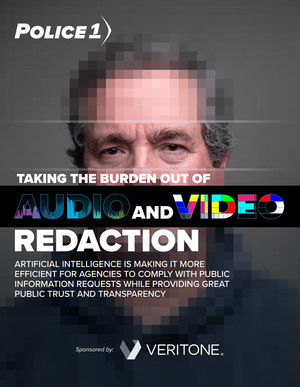 For those in law enforcement, the values of privacy and transparency come increasingly into conflict.
With the growing prevalence of body-worn cameras, U.S. police often have video footage from their encounters and activities – and when cases attract attention, the public expects to see it. Sometimes there may even be legal deadlines governing its release.
Yet that footage can contain the faces and identifying information of innocent victims who don't deserve to have their privacy invaded – including witnesses, bystanders and first responders. Often large amounts of information must be redacted from these videos in what has traditionally been a laborious frame-by-frame process.
It can be a monumental task agencies may lack the manpower to complete manually in a timely way.
This eBook explores how audio- and video-redaction technology enabled by artificial intelligence can automate and simplify the burden of removing this personal identifiable information. It explains:
How Veritone Redact helps police safely manage and release bodycam footage.
Why departments should be proactive in responding to FOIA (Freedom of Information Act) requests and how to do it efficiently.
What to do with your unstructured data beyond body-worn cameras.
Fill out the form below to download your copy today! 
Download "Taking the Burden Out of Audio and Video Redaction"