Baltimore to raise police pay in effort to boost recruitment
A new contract agreement makes Baltimore PD the highest paying major police force in Maryland
---
By Jessica Anderson
Baltimore Sun
BALTIMORE — Rank-and-file members of the Baltimore Police Department have voted to accept a new three-year contract that will raise pay for new officers in an effort to boost recruitment.
The contract will raise starting salaries for new officers from $55,000 to $60,000 a year, and will make Baltimore the highest paying major law enforcement agency in the state.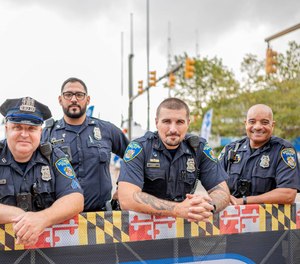 "We are confident that this targeted approach is a smart investment that will significantly enhance our efforts in attracting new recruits, while also incentivizing retention for our experienced officers," said Commissioner Michael Harrison in a statement.
Starting salaries at most nearby suburban jurisdictions range from $51,314 at the Harford County Sheriff's Office up to $58,240 in Howard County, according to those agencies' websites. Baltimore's new starting salary is in line with other major city departments. Officers at the Metropolitan Police Department in D.C., for example, make a starting salary of $60,199.
"With this agreement, the city hopes to attract more recruits to the agency by offering higher pay in the first three years," Mike Mancuso, president of the Fraternal Order of Police Lodge 3, wrote in a letter to officers after Wednesday's vote.
[RELATED: Why police departments must streamline the recruitment process]
"However, this tentative agreement does little to address the retention piece which we urged was necessary. We feel that the city needs to do more to retain its officers in the coming weeks, months, and years," Mancuso said.
At least 206 officers have left the department so far this year, outpacing new hires despite recent efforts to increase hiring and recruitment. There have been 140 officers hired so far this year, leaving a deficit of 66 officers, according to the departmental data.
The department statement said the contract focuses on officers in their first three years because since 2016, more than 66% of voluntary separations are with members with less than five years on the job.
Beginning in January, all officers with an associate degree, bachelor's degree or master's degree will earn an additional $1,500, $3,000 or $4,500, respectively, each year. Those in patrol will receive an additional $2,000 a year, or double the current rate, and those working evening and night assignments will also receive increases.
[RELATED: Watch Miami PD's 'most EPIC recruitment video EVER']
In July, all officers with more than 11 years of service will receive a 2% raise, and in July 2023, all will receive a 2% across-the-board raise. Those with 19 years of service will receive an additional 1% increase, for a total of 3%, the department statement said.
"I am pleased that representatives were able to agree on terms that improve the ability to retain and hire new officers and align our department with statewide police reform efforts," said Mayor Brandon Scott said in a statement.
A final contract was not released because it is still in draft from, police spokeswoman Lindsey Eldridge said.
But Mancuso, the union leader, said in an interview Thursday the city needs to do more to make veteran BPD officers want to stay.
"I just want to express to the commissioner that retention has to be his focus now. He can stop the people from leaving," he said. "You can't wait until the next contract. The police department won't survive."
He noted that new recruits still won't be working out on the street for well over a year after they are hired due to training.
Mancuso added that the contract "didn't pass overwhelmingly. It was a close vote. Almost half were not good with it."
For years, the department has been trying to beef up its ranks as part of the ongoing federal consent decree process that mandates sweeping police reforms. It launched a new recruitment campaign, and has sought to target more minority, female and local recruits.
To defray costs of the new contract, the department will rely on "more than $8 million of operational savings," the statement said.
"Our new agreement adheres to our administration's commitment to fiscal responsibility, while making our police department more competitive in hiring and retaining officers," said the department's chief of staff, Eric Melancon, in a statement.
The contract will be submitted to the Board of Estimates for notification and approval.
©2021 Baltimore Sun. Visit baltimoresun.com. Distributed by Tribune Content Agency, LLC.
McClatchy-Tribune News Service