A study in change management: Developing the LAPD University mobile training app
The LAPD Leadership Program has been teaching change management for over 20 years. Here's how those philosophies were put into action to pivot the delivery of training
---
Law enforcement has an interesting relationship with change. We are vocal advocates for it, but when change comes it is something we vehemently fight.
Vast changes have been thrust upon the policing profession in the past 20 months, leaving officers fatigued and suspicious about what comes next. While the nation normalizes, our profession remains in the midst of crisis. Budgets are strained, ranks are depleted and officer morale is abysmal. Compounding all of this are the ongoing challenges of the COVID pandemic. These factors all impact the ability of leaders to effect positive change.
While the road ahead is difficult, times of crisis can result in innovation and efficiencies. The LAPD Leadership Program has been teaching change management for over 20 years, and the prescribed steps are codified in our leadership lexicon, but do those change management steps work in practice? There is no greater lab than the real world. Below we examine the Leadership Program's efforts in creating a distance learning platform using our change management model.
Step 1: Identifying the problem
Change management begins with correctly identifying the problem at hand.
Like many agencies throughout the country, LAPD training has been largely shuttered because of the COVID-19 pandemic. Simultaneously, our regulatory body (POST) continued to require 24 hours of training per officer on a two-year cycle. The problem existed of how to keep our 9,300 sworn members certified.
This was a logistical challenge that included budgeting, allocating space for socially distanced classrooms, and how to convene officers given patrol deployment constraints after losing 700 sworn personnel to retirements and resignations.
Tentative solutions included de-centralization of training, using large outdoor spaces, or hoping that conditions would improve. Analysis indicated that none of these shifts would produce acceptable results; we required something more dramatic. To foster real change, you must articulate a clear optimistic vision of the future.
Step 2: Developing a vision
At the beginning of the pandemic, the LAPD Leadership Program was toying with a mobile training application to act as a compendium to in-person sessions, but we had no way to fund it for broader use. At the same time, our children began adapting to an online learning environment from home and adult learning programs like EdEx and Coursera gained prominence.
Fortuitously, in late 2020, POST awarded a Distance Learning Grant to the LAPD Leadership Program to support a new approach to training. The vision was the creation of the LAPD University, a distance learning system where officers could complete POST-required training from the convenience of their mobile devices – imagine sitting in court or the hospital and gaining new skills and credit from your iPhone. Now with a vision identified and the money for a solution, we entered the next phase of our change management process – building a coalition.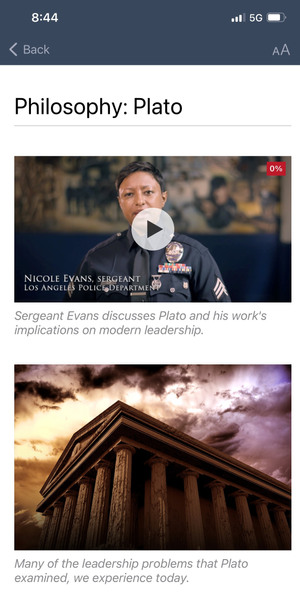 Step 3: Building coalitions
Officers generally like training; it is a chance to get out of the black and white, develop skills and enjoy time with friends. Our detractors also want us to have more training. Reports from myriad groups following 2020's civil unrest included police training as a recommendation. However, officers generally don't like e-learning. While effective in getting a uniform message to the masses, e-learning is viewed as painful and not engaging.
How do we bridge this gap? We had to create a platform that would be interesting, entertaining and achieve results. To accomplish this, we used talent from our Media Relations Division to create well-produced videos, enlisted interesting people (including a Seal Team Six Commander) to record podcasts, and created a chat function to give a more interactive social media-like experience. We then used this team of content creators to recruit attendees.
Step 4: Preparing for resistance
Organizational change will always meet resistance. Preparing for this eventuality is critical to any leader's action plan. LAPD University was not immune to this resistance and experienced a learning curve.
We found people did not want to put an app on their personal phones and had the typical early problems as any new technology including uneven font size and differences in the Android and iOS functionality. But by engaging early adopters who were excited about the platform, we were able to grow usage and overcome the resistance of the idea.
As for tech problems, the vendor was highly responsive in working with our Information Technology Bureau to get the app placed on department phones and have the content available on a desktop.
Communication was vital in ensuring that the officers' concerns were being met and that every individual possessed a broad understanding of our end-state.
Step 5: Looking for short-term wins
Critical to change management is developing systems to foster short-term wins for your coalition to celebrate. With the LAPD University team, our wins were focused on the creation of four courses and attracting a targeted number of students. Benchmarks of initial success for the courses were set in relation to the date of launch and obtaining 400 attendees within four months per course.
We also celebrated the students. The first cohorts were given minor commendations for their willingness to adapt to new learning, and we created systems to ensure that their completion was immediately reflected in every student's training record.
Step 6: Implementing enduring solutions
For change to be successful, it must be structured to endure. This requires monitoring, evaluation and the flexibility to adapt to new conditions.
The crux of our endurance strategy has been the quality of content and accessibility. The app is designed to be available to all law enforcement personnel anywhere at any time. Presently, the LAPD University is open to employees (sworn/non-sworn) of agencies around the globe at no cost (this will be re-evaluated when grant funds expire). As LAPD University moves to 2022, we have planned a series of new courses reflective of the challenges of the new year. Courses include leadership, expansion of our De-escalation Use of Force Course and Tactical Medicine.
It has been reassuring that the theoretical material we teach in the Leadership Program was successful in the implementation of actual change.
If you would like to see firsthand the LAPD University, download the application on Google Play or the App Store, and send us an email for access codes at LAPD.University@lapd.online.
NEXT: Dr. Kevin Gilmartin features in PoliceOne Academy's new health and wellness series