Benefits of the White House Fellows Program for law enforcement leaders
This one-year, paid position places talented people in mid-career within the highest levels of the federal government – here's why first responders should apply
---
Most of us in law enforcement have spent the past two years trying to process the constant vitriol directed our way. We have seen public safety funding removed, a mass exodus of police officers and abysmal morale in our ranks.
The inevitable outcome following the policy decisions that precipitated our current operating environment was easily predicted by those of us in law enforcement. The result of these policies has been the abject suffering of the people we serve, a massive increase in violent crime and difficulty recruiting quality police candidates.
Each of us probably also questioned why political leaders opted to pursue policies that have ripped apart the fibers of the communities we serve. Equally perplexing is why these leaders aren't seeking qualified counsel from law enforcement professionals. The fault lies within us. We have failed to lead broadly in a way that shapes the outcomes that are best for our community. Fortunately, there exist several mechanisms that can get us into an arena to create positive change. One such opportunity recently opened: the White House Fellows Program.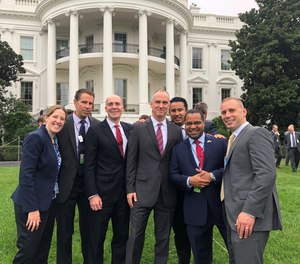 The origin of the White House Fellows Program
The White House Fellows Program has been training America's top leaders since the Johnson administration. The fiercely non-partisan program, which launched in 1964, places talented people in mid-career within the highest levels of the federal government. When President Johnson founded the fellowship, he declared that a "genuinely free society cannot be a spectator society." No American can ever accuse someone in our profession of being a spectator, but we must expand our playing field.  
Program alumni include General Colin Powel, Senator Bill Hagerty, Secretary Elaine Chow, several ambassadors, business leaders and educators. Notably underrepresented are first responders. By my count, there are only 11 law enforcement representatives out of the total number of 816 fellows since 1964. I was honored to be selected as a White House Fellow representing the Los Angeles Police Department, serving from 2018-19 in the Trump administration.  
What the White House Fellows Program involves
For one year, leaders work as full-time, paid fellows working directly with senior White House officials, cabinet members and other executive agencies on projects that shape our nation. They also participate in an intense education series that includes domestic and international policy trips.
Any American can apply as long as they qualify for a Top Secret clearance and have a bachelor's degree, although the overwhelming majority have postgraduate education. The White House Fellows application process is rigorous and includes the writing of essays, and participating in regional and national selection panels.
When I was finally selected, I was placed in development finance and directed to combat the malign influence of the Chinese Communist Party in emerging markets. Like most people reading this article, I literally wear a blue collar, and this was as far from the LAPD as one can get. Notwithstanding, it was an environment where I thrived and learned every day. Cop skills are valuable everywhere.
The benefits of attending the White House Fellows Program
There were two aspects of my year that I found most valuable. The first was the relationships forged.
My cohort was comprised of the most talented leaders our nation produces – everyone from a Seal Team 6 commander to a software CEO to a neurosurgeon. This was a group that I lean on significantly nearly every day to solve problems, help push policy agendas and champion new ideas. Many joined LAPD Training Division's Community Police Advisory Board, and help advise on myriad issues for the department. 
In addition to my cohort, there were the highly talented people working in the White House and executive agencies, some of these people held Senate-confirmed positions, and most of them were titans of business prior to entering the administration. As a White House Fellow, one has the capacity to get lunch or a coffee with nearly anyone.
The second valuable aspect was truly learning how the federal government operates. I worked on several projects that served as the world's greatest learning lab. One project was a trilateral infrastructure partnership with Japan, Australia and the US. This was a joint venture to source development finance deals in the Indo-Pacific.
I was able to assist in the drafting of the documents that forged the relationship and was later charged with leading a delegation to Indonesia where we co-financed a subsea cable, bringing broadband to millions. To accomplish this, it took a team of dozens of career and political partners from the three nations, alignment in policy with several agencies, and generating interest among senior staff at the State Department and National Security Council.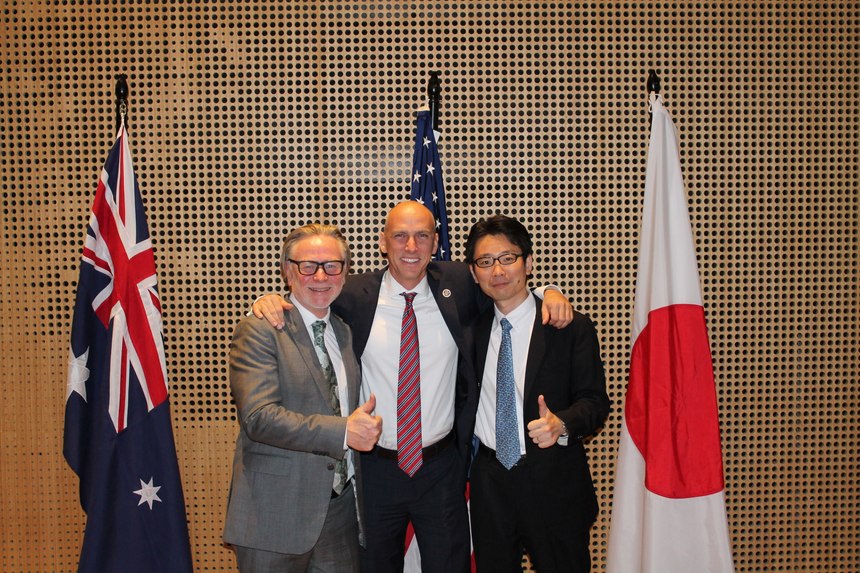 Fellows give back
When the Fellowship was created, there was an intent that the fellows return to their respective sectors and ensure stronger relationships between the executive branch and the fellow's community. Through my experiences, I acquired skills in building coalitions for problem identification and solving and in-depth knowledge of global financial markets, which I apply in my daily work with the LAPD.
When I returned to the LAPD, I was able to form a Community Police Advisory Board for the LAPD Training Division, write several grants to fund a variety of topical issues, and create the LAPD University – a distance learning platform. Additionally, I was elected to the Board of Fire and Police Pensions, where I use my new skills to inform pension investment policy. 
Now more than ever, we need our most talented law enforcement leaders in positions to inform the federal government about the critical issues impacting policing. The future of our communities depends on sound policy decisions, and few leaders have the level of community insight earned by our profession. Apply today at https://www.whitehouse.gov/get-involved/fellows/apply/. You can also obtain additional information at whff.org.
NEXT: A guide to law enforcement leadership training and graduate degree programs
---
About the author
Lieutenant Brian Churchill is a watch commander for Wilshire Patrol Division with the Los Angeles Police Department. He concurrently serves as a Lieutenant Commander in the Coast Guard Reserve and was a White House Fellow from 2018-19. Brian earned a master's degree from the University of London and a bachelor's degree from Boston University.