Sentinel event review identifies lessons learned from Madison Police Department response to 2020's police protests
If you wish to prepare your agency for unrest it would behoove you to read the entire report
---
The Madison (Wisconsin) Police Department (MPD) recently released a "Sentinel Event Review" of the department's responses to a series of violent disturbances that occurred from May 30, 2020, through August 25, 2020. (Report available in full below.) If you wish to prepare your agency for unrest it would behoove you to take the time to read the entire report, especially the descriptions of each sentinel event.  
What is a sentinel event?
A "sentinel event" is defined as an event with an undesired result such as: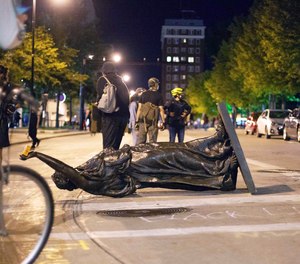 Exercise of First Amendment right prevented.
Any use of force.
An officer or a protestor is injured.
Property damage.
For your convenience, here is a report overview.
The COVID handicap
The death of George Floyd triggered large disturbances nationwide, while the nation was in the midst of a pandemic. COVID-19 had prevented MPD from doing its scheduled crowd control training, resulting in an under-prepared department.
May 30 staffing
On May 30, a crowd of thousands demonstrated around Capitol Square. As the crowd dissipated at 4 p.m., about 150 of their number responded to one woman's demand for police be held accountable. In response, an occupied state patrol vehicle was surrounded and trapped. Members of the MPD Special Events Team (SET) were able to rescue the trooper and the vehicle.
SET members were not geared up since the demonstration to this point had been peaceful. Therefore, they disengaged to return to the city-county building to gear up. However, the crowd followed and closed in on them, and team members had to struggle with the crowd to secure the city-county building. Some members of the crowd kicked at the door, while others vandalized a parked squad.
Led by one individual with a bullhorn, the crowd marched to State Street with members smashing windows on the move. Although a few members came forward to try to prevent looting, they failed and the looting of Goodman's Jewelers and other businesses started shortly thereafter.
Action on State Street
On State Street, fully equipped SET members re-engaged the crowd and formed a line to disperse them. During this and subsequent demonstrations, protestors protected their violent members by positioning "peaceful protesters" to the front as a buffer, while the violent members tossed rocks, bottles and chunks of concrete over the "peaceful protestors" into the line of officers.
Note: One Madison police tactic of maintaining dialog with protestors before, during and after events proved ineffective since the protestors present deemed police "illegitimate" and refused to talk.
Some tipped over planters and threw rocks inside at the police line, while others started dumpster fires. OC was used to disperse the crowd, while officers directed impact munitions at individuals engaged in launching projectiles. A back and forth occurred as members of the crowd dispersed but circled around, using side streets.
The Madison Police Department, understaffed, initiated an "All Call," summoning all off-duty officers. As officers arrived, they were posted to seal off side streets, preventing the return of dispersed protestors. (All Madison officers receive a full crowd control class in their in-house academy.) Some officers were assigned to form Mobile (Field Force) Teams to respond to trouble spots as they occurred throughout the city. The disturbance wound down in the early morning hours of May 31.
Ultimately 300 officers from multiple agencies were involved. Seventy-five businesses sustained damage. Ten arrests were made on 12 charges, while 302 individual use of force incidents were reported. Eight officers and one citizen were injured.
June 23 deliberate confrontation
On June 23, a well-known demonstrator named Devonere Johnson deliberately triggered a must-arrest situation by carrying a baseball bat and megaphone into businesses to intimidate customers and extort payments from business owners with promises to not destroy their businesses if paid. Five officers arrested Johnson, who created a major scene with his resistance. The several minutes it took to control him were recorded and posted on social media.
Even though the arrest was justified and great care was taken not to injure Johnson, an angry crowd laid siege on the city-county building, demanding Johnson's release. An incendiary device launched through a second-story window started a fire inside the occupied building but was quickly extinguished.
The crowd marched on the capitol, which is the jurisdiction of the Capitol Police. A decision was made to allow the crowd unfettered access to the capitol grounds while protecting the Capitol Building. The crowd attacked the "Forward" statue, the symbol of Wisconsin's Progressive Movement, as well as the statue of Colonel Hans Christian Heg. In life, the Colonel was a passionate abolitionist, who fell fighting to end slavery at the battle of Chickamauga. Both statues were pulled down, however, Heg's statue was ignominiously decapitated.
The intent of the decision-makers in standing down in the face of this criminality was to avoid a potentially violent encounter with the "protestors." Intervening to save these statues was considered "secondary to safety concerns."
Attack of senator
State Democratic Senator Tim Carpenter was taking pictures of the protest and he was beaten down even after declaring himself, "An ally!" The senator was taken to the hospital with a concussion, treated and released. The report explained that the state senator was seen to be violating a proclamation of the protesters prohibiting cameras.
June 24 March on the Capitol
A crowd marched on the Capitol again and were met by a large contingent of trained and well-equipped officers of the Capitol Police and State Patrol. The crowd control line was very effective on this night, according to the report, because of the number of officers. Their high-profile prepared presence appeared to prevent further violence.
Subsequent sentinel events
By the time of the final disturbances in August, police responses were faster and more coordinated. The Madison mounted unit was used but called off when the crowd got violent. Commanders worried the horses, lacking protective equipment, were ill-prepared for projectiles.
When commanders on scenes, throughout these days of conflict, asked for permission to disperse violent crowds with CS, at times permission was granted and at times it was denied.
During the later events, the police department added citizen dialog representatives (CDRs) to their toolbox. These non-law enforcement volunteers attempted to engage the protestors in dialog.
Synopsis of some of the report's recommendations.
Some of the recommendations of the combined reporting group were that the Madison Police Department should:
More effectively communicate with protestors before, during and after the event.
Engage more with community leaders during events to emphasize public safety.
Train citizen dialog representatives and select CDRs who are known by and have influence with the protestors.
Provide additional ongoing crowd control training not only to the special events team, but to all officers.
Include in these trainings a variety of realistic scenarios using these experiences.
Work on developing tactics to identify and intercept the instigators of violence more effectively.
Continue to only use CS when needed.
Assess use of force immediately with officers involved to refine and improve tactics.
Utilize body-worn cameras more.
Obtain radios that work in conjunction with protective equipment.
Harden the target that is the city-county building, including the mounting of more cameras around the structure.
Conduct area sweeps before events to clean out potential improvised projectiles.
Track the issuance of less-lethal munitions better.
Provide GPS tracking capability for all officers and vehicles.
Develop quick-response protocols for fighting fires in civil unrest situations.
Expand mobile (field force) quick response capabilities.
Educate community members of the public and businesses on how to protect themselves and their property, during civil disturbances.
Conclusion
The Madison Police Department opened this "transparent process" up for citizen assessment and included their comments in the report. In conclusion, here is one of those citizen comments that bears reading in total:
Citizen-Comment 3: "The response was a disgrace because of the political leadership that instructed police to show maximum restraint. This resulted in unacceptable and uncontrolled looting, destruction and burning of private and public property and terrorized residents (especially elderly residents) of downtown some of whom didn't dare leave home for days. Such was the pressure on the officers to keep a low profile that reckless driving, extreme speeding in residential areas, and shootings got to be out of control. Then the incompetent mayor apologized for issuing a statement praising police.
The officers themselves conducted themselves with dignity, respect, and self-control that went above and beyond what anyone could expect. They withstood provocations and physical attacks without responding with force. I am grateful for their conduct in the face of grave danger and wish there were 500 more of them to protect our community from the thugs and looters egged on by "Freedom Inc." and others who openly justified their violent conduct (not to be confused with peaceful daytime protesters). This city's political leadership is absolutely disgraceful. I am a lifelong liberal democrat, and I am appalled that the republicans were on the side of justice and order on this issue. I sincerely hope we have more police, not less, better funded, not worse, and free from political interference as they try to keep us all safe."
This writer believes Citizen 3 represents the way the majority of people you protect look upon all of you. Keeping that in mind, may you stay safe, stay strong and stay positive!
Crowd control resources from Police1
Madison Police Department Sentinel Event Review Nov 2021 by epraetorian on Scribd