12 things every police department's civil unrest plan needs
Failure to plan is planning to fail, and that's glaringly evident when large-scale civil unrest breaks out
---
No city wants to experience civil unrest, but all law enforcement agencies must have a preparedness strategy in place should one transpire.
Law enforcement, fire, EMS, hospitals, emergency management, public works and faith-based organizations must be together at the table discussing the policies and procedures that should be in place when an event occurs. Interagency participation is critical for departmental-wide buy-in, training and response. Collaboration is critical to preparedness, response and restoration.
It doesn't matter what triggers the event, whether it's an officer-involved shooting, presidential election or the outcome of a sporting event, it is law enforcement's ability to respond and restore that will have the greatest impact on community and officer safety.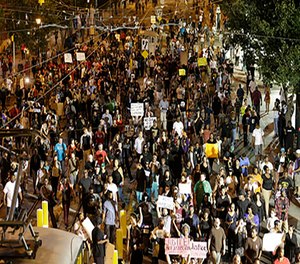 While this is not a comprehensive list of issues, these are all policy discussion points that should be addressed within your municipality.
1. Arrest teams and jail considerations
During civil unrest, law enforcement agencies should have plans in place for arrest teams. The plan must include how the arrest teams will be deployed, how they will communicate during mass arrests, where to take the arrestees and how they will be transported.
Before deciding to activate arrest teams, agencies must have an understanding of current jail capacity and inmate housing and security required at alternative locations.  
2. Mutual aid
Since there are no jurisdictional boundaries when it comes to civil unrest, agencies should have mutual-aid agreements in place with allied emergency responders.
Having agreements in place with your neighboring jurisdictions and state, whether the agreements are formal or ad hoc, is the best thing you can do to help preserve your community's safety. The agreement should be revisited continually.
3. Unified command
Unified command is a key component to effective multi-agency or multi-jurisdiction response. Law enforcement agencies should expect there to be modest communications barriers at times but ultimately rely on trusting the tactical and agreed upon decisions coming from the unified command.
Operating a unified command is no small undertaking. There is an incredible amount of consensus and strategic deployment within the unified command. 
4. Equipment and fleet inventory
Agencies must know the type of equipment and fleet available to them. Taking inventory of PPE is one thing, and making sure the PPE is suitable for first responders is another.
Agencies should make sure that masks are fit tested. The current condition of all body armor should also be considered. Also, law enforcement should prepare for equipment failure and vehicle tires to be slashed. An inventory of available helicopters and drones should also be added to this list.
5. Cyber disobedience
Protestors are fueled with emotion and their actions are unpredictable. They are adaptive and technologically sophisticated. Agencies should prepare for cyber disobedience.
Hackers may infiltrate public safety systems during incidents, deface websites and swatting may occur. Law enforcement agencies should discuss these probable scenarios and have a mitigation strategy for expected cyber attacks.
6. Social media
Social media can be a blessing and a curse during times of unrest. It can be a powerful and useful tool that provides community members with rapid updates on safe zones, and it can make bad news worse when public outcry goes viral. Social media can intensify a situation in a matter of minutes and being prepared to assess a rapid reaction is not an easy task.
Another consideration for departments is that there are individuals out there who may feign illnesses or suggest there is a lack of law enforcement response to lower the perception of your department. Establishing a social media plan, specific to civil unrest, will help safeguard the community and the officers on duty. Planning for deception will aid in your response. 
7. Calling in the National Guard
In order to call in the National Guard, agencies must consider the logistics and identify multiple and possible locations where to post them. There are a number of variables to consider – from communications and interoperability to legal review of policy and standard operations procedures.
8. Managing calls for service
Life doesn't stop during a riot. Agencies must have a plan in place to manage the standard calls for service volume. Calls will continue to come for aid requests whether it's a vehicle crash or domestic violence call. Agencies must consider the call for service volume at the communications center as well as having a plan for routine response.
9. Interoperability
There has to be a communications plan in place for how agencies from multiple jurisdictions will communicate with one another in the field, to dispatch and what channels the different teams will be on during the crisis.
In addition, it's important to recognize that agencies use different terminology. Make sure everyone is speaking in plain language or using agreed-upon terminology.
10. Critical infrastructure and extra security detail
Determine your city's critical infrastructure during times of civil unrest and how those areas will be secured. Hospitals, telecommunications, electricity, water, gas, transportation, safety shelters and alternative jails/inmate housing should be identified in your response strategy. Having a plan in place on providing extra security detail is vital.
11. Work with public works
Law enforcement agencies may not always think of public works during times of civil unrest, but there should be a regular dialogue.
In most cities, public works removes graffiti; they should be communicating with you, especially if they notice any new graffiti during unrest as it may be an indicator of a possible threat. They can also bring in sandbags or other materials to act as barriers.
12. Additional considerations
Several additional factors should be considered:
Safeguarding the community by not publicizing shelters.
Possible role abandonment, not necessarily from within the department, but from any allied emergency responder.
Have an inventory of less-lethal options and policies on when to use them.
Be prepared to spend a lot of time with the media as the event is unfolding, throughout the event and after the crisis ends.
During a crisis, it is common for cities to receive donations such as food, water, or financial contributions. Plan for how the donations will be managed.
A civil unrest strategy must be developed with input from all emergency responders and allied stakeholders. Being prepared and understanding your department's resources, as well as its limitations, will help ensure your agency makes timely and informed decisions during a crisis.
NEXT: How to train for mass gatherings, protests and riots (eBook)
This article, originally published 09/29/2016, has been updated.