Training day: How to set up a community outreach event to review police policy
When those creating policies hear from those most affected – the officers who are bound by the policy and the public – it has a profound and productive effect
---
The policing profession is as much a part of today's news cycle as the COVID-19 vaccine. You would be hard-pressed to find any TV or radio newscast, media organization's Twitter feed or national or local newspaper that isn't now regularly posting news focused on police activity, and specifically on uses of force.
For law enforcement leaders and agency communicators, situational awareness of the media landscape is more important than ever. What is making news clear across the country could very directly impact an agency 2,500 miles away. The events that land one police department, regardless of its reputation, geography, or even in some cases its public relations prowess, in the media spotlight, can become an overwhelming challenge for any department. While all politics may be local, trending news, particularly about policing in 2021, is global.
But how does media coverage of law enforcement relate to how a department handles the roll-out of a new policy? Directly. As most everything surrounding policing is being intensely scrutinized, the policies a department creates or amends may also fall under the proverbial microscope. As transparency becomes an increasingly loud call to action, one way police departments can build goodwill and effect change in the communities they serve is to adopt a policy-sharing process. And, to make the policies potentially more impactful and to increase buy-in among the community and the very police officers who are responsible for carrying out said policy, police leaders should consider bringing the public and the police together during this process.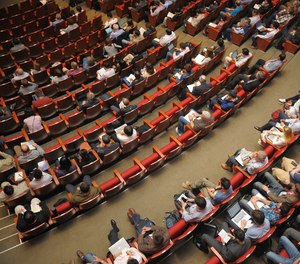 Policing leaders need to consider their audiences: the public they serve and the rank and file who make up their department. Involving both in the policy-creation process may lead to greater success in the long run. When those creating policies hear from those who are most affected – the officers who are bound by the policy and the public, it can have a more profound and productive effect. Here are some examples of that in action:
1. Baltimore Police
Take this play from the Baltimore Police Department's (BPD) playbook. Then-Deputy Police Commissioner Jason Johnson in 2016 instituted the "Policy of the Period" concept. Each pay period, the Department highlighted an important policy for discussion during roll call. There's also a brief online refresher to be completed by every sworn member, regardless of assignment, and an online quiz with each bi-weekly course. This was done in anticipation of a Department of Justice consent decree.
Baltimore PD also developed its use of force policies with the input of a few key groups, such as the NAACP and ACLU. All policies were then placed on the department's website without redaction. BPD has taken additional steps to involve invested community members. One critical way that showed leadership gave careful thought to its interaction with residents and city stakeholders was by knocking down barriers to the public's participation in the policy process.
Here are three such examples:
Bringing conversations to the community where they are, rather than having them come to the police department or some other government building where people may not feel comfortable or safe.
Having translators at meetings.
Considering timing and location of meetings to account for transportation and childcare issues.
In Baltimore, after discussions with police leadership about how community members were troubled that young men were made to sit on curbs during stops, the community activists learned that officers did that as a precaution as there were no partitions in their cruisers. Officers didn't want to place potential suspects in the cruisers with no protective barrier between them. Community stakeholders then fought to get the officers the money for those partitions and both parties felt they had achieved something.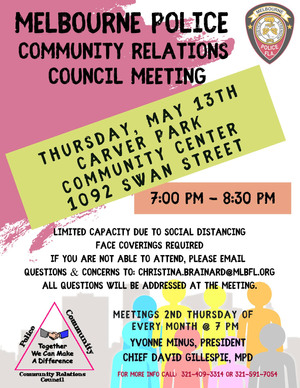 2. Melbourne (Florida) Police
After the murder of George Floyd in Minneapolis in May 2020, Melbourne Police Chief David Gillespie received a letter from several community groups demanding changes to police policies. They wanted his nearly 200 officers to commit to not making arrests at protests, to encourage de-escalation and to ban chokeholds among a list of other matters.
The chief reports he reviewed those requests, and made some, but not all, changes.
He invited in-group members, some of whom were from the League of Women Voters, local NAACP and ACLU of Florida to discuss what was changed and explained why other changes weren't made.
Chief Gillespie says he "did want them to understand the mindset and demonstrate our transparency."
3. Winchester (Virginia) Police
Winchester Chief John Piper, who had spent 23 years with the much larger Fairfax County Police Department, established a policy review workgroup soon after becoming chief.
The workgroup, made up of officers and civilian personnel from within the department, examines WPD's General Orders, and focuses on best practices and verifies the policies align with the agency's values. Policies on use of force, the K-9 unit and administrative investigations are all available for the public to see after Chief Piper placed the General Orders on the police department's website.
Whether the focus is on the Baltimore Police Department, the eighth largest police department in the U.S, or a smaller agency like Winchester Police Department in Virginia where 79 officers patrol a 9.3 square mile section of the Shenandoah Valley, there appears to a growing interest from the public to better understand police department policy and in some cases, from community members wanting to help shape that policy.
Community outreach checklist
Here's a suggested checklist for police leaders to create a community outreach event on amending or creating a new police policy:
Develop key objectives for creating policy change. What matters to you most as a law enforcement agency and what matters most right now to your community? How do you determine that? Consider a community survey to gauge response and consult with your social media manager who likely has a good pulse on what is resonating in your jurisdiction)
Decide who to engage. Hopefully, a chief already has a strong working relationship with key community stakeholders but faith-based groups and civil rights organizations are good places to start.
Set up the event. While virtual events are an option, be mindful of the time allocated for the meeting as maintaining people's attention while on screens can be a challenge. Think about properly spaced seating in your training academy, another government building, or perhaps a local high school auditorium.
Look for hands-on opportunities that could be integrated to demonstrate aspects of a new policy. These can be displayed via social media videos or be shared via a media event, described below.
Communicate the event to the media. The media is interested in new things. Subject matter involving police policy that once might have been deemed "too dry" by news management has now increased news value due to the high-profile incidents constantly appearing in the news cycle. Send a media advisory allowing reporters to join policy change meetings with community stakeholders or have them join after the new policy is created and show them how it's different. For example, how might traffic stops look different after a policy change? Have a uniformed officer in a marked cruiser do a mock traffic stop, offering reporters b-roll for TV, sound for radio and interviews for all three.
Follow up. Designate a high-ranking member of command staff or the chief to follow up with key stakeholders and maintain communication for any significant developments, such as posting the final product online and on social media.
Share the news
Lastly, while everything you do may feel very public-facing, keep in mind something marketers know all too well: you must reach out and "touch" people seven times to get them to see something and/or take action.
The steps police leadership takes to involve the community in police department processes is important and it's noteworthy. Don't squander the opportunity to share that news with your audiences (both internal and external). Send out news releases, post to social media, take the media up on their offer to do interviews about your policy change and host media events to ensure you get widespread coverage of your police department's engagement initiatives.
While so much news surrounding law enforcement may seem negative right now, know that you, to a degree, can control the media cycle by giving thoughtful attention to the news itself (amending or creating policy change with the public's input) and ensuring you package it in such a way that the media can then easily share that story with its audiences. Allowing involvement from members of your community in the policy review process and then ensuring you've let the broader public audience know this has occurred will help build trust at a time when that is an increasingly fragile commodity.
NEXT: Roundtable: 20 best practices for policy-related public communications