'I don't see this trend getting any better': Officer shortages devastating small-town PDs
Leaders of small departments said rural towns often have more difficulty hiring officers than larger, better-funded cities
---
By Olivia Stevens
The Free Press
MANKATO, Minn. — North Mankato Police Chief Ross Gullickson expects to retire in a few years feeling uncertain about the future of hiring for departments like his.
"A recurring theme of concern amongst chiefs and sheriffs across the state is replacing officers that retire, resign or otherwise leave the profession," Gullickson said. "You can't not have cops."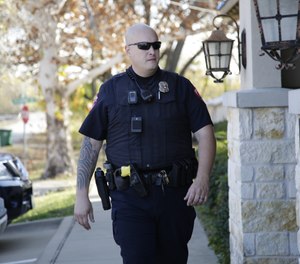 As police officer shortages afflict the state, local departments are ratcheting up recruitment efforts and, in cases like North Mankato's, raising wages to attract more applicants.
While all departments report seeing fewer applicants for open positions, smaller cities have experienced the most intense and immediate impact of staffing shortages. Often unable to advertise competitive wages, many fear they are beginning to leave gaps in the cities they serve or sacrifice quality in hiring.
Leaders of small police departments in the area said rural towns often have more difficulty hiring officers than larger, better-funded cities in the first place. Many officers prefer opportunities in the metro not only because they often offer better pay, but because bigger forces offer more chances for advancement and to specialize in the area they enjoy most.
[READ: A letter to the American public: 3 common misconceptions about pay and rural policing]
"It's probably definitely less attractive to work in a smaller city like this, mainly because you're usually stuck on night shifts for most years of your career, there's really not as many opportunities as far as like getting into like a school resource officer or a SWAT team or investigations," Le Center Police Chief Derek Carlsrud said. "Once you get into a job in a small town, you're kind of stuck there for a while until somebody retires, which, if you only have three or four officers, doesn't happen very often."
Diminishing quality, disbanding departments
Several police chiefs expressed their belief that the combination of large numbers of openings in other occupations and the stigma surrounding police after highly publicized incidents of police violence against people of color have dissuaded people from entering the field.
Pat Nelson, chair of the Minnesota State University law enforcement program, agrees. She said since about 2018, she has seen a 10% decline in students entering the program.
Nelson said she has had conversations with students who said they chose not to enter law enforcement because of the negative portrayal of police in the media.
"It seems like there's such a negative view of people who are in criminal justice by the general population," Nelson said. "Even friends and family are pressuring them to not do that because of the negative view of the public."
Madelia Police Chief Rob Prescher said he's been trying to hire a fifth officer to work the 2,300-person town since March, but has received only one application so far. While the city raised wages during the last union contract negotiation process, it simply can't keep up with larger communities that have better funding and resources toward recruiting.
Because tiny departments get so few applicants, Prescher said he is concerned about an increase in towns like his hiring officers who might, in the past, not have gotten an interview. He said having to weigh the risk of giving an inadequate officer direct authority over a community and not having enough people to keep the public safe is extremely difficult.
"What's probably going to rescue us from having any more incidents like we had up in Minneapolis is making sure that we have the best, brightest and most capable people apply for those positions," Prescher said.
"We got to get rid of some of those stigmas around law enforcement and really get people in minorities to apply and work in the communities that they're living in, so they can better identify with people that look and think and kind of walk the same streets as them and understand what's going on," he said. "And if we can't get those people in there, then we have whatever we can staff, and that's not going to improve anything."
Le Center Chief Carlsrud said he's concerned about his department being eliminated altogether if staffing doesn't improve.
Executive Director of the Minnesota Chiefs of Police Association Jeff Potts said the cities of Morris, Clara City and Ortonville have already disbanded their forces this year, and more cities could follow.
"If the communities have their own police department, the officers know the area well, and then if they close and they contract with sheriff's offices, (the public) may not get the same level of service," he said.
Potts said Clara City, for example, faced a string of burglaries downtown that may have been handled quicker had their police department still been around.
Part-timers in demand
Carlsrud said the Le Center police department hasn't been fully staffed since 2019. Currently, the city, which has a population of about 2,500, employs three full-time officers and six part-timers, and has been unsuccessful in trying to hire several part-time officers over the past year.
Hiring part-time officers saves the department money as their employment prevents paying more overtime for full-timers, who on their own can't adequately cover the community with their standard hours, Carlsrud said. It also can prevent burnout from these officers who may otherwise be overwhelmed by the amount of time and energy they have to dedicate to the job.
Le Center is considering raising the wage for part-time officers, which is not competitive with nearby towns, Carlsrud said. An increase could be included in next year's city budget, which the city will discuss next at a meeting Aug. 23.
"Ever since we started posting the job application on our Facebook page, quite a few people that have stopped me in the community will ask me why we only pay them $18 an hour," Carlsrud said. "You can work at Dollar General for that much."
The nearby Le Sueur Police Department, which is much larger and raised its starting wage to $33 per hour for part-time officers, also has been struggling to fill its open position.
Those taking part-time positions are often recent graduates from college or a police academy looking to transition into a full-time job. But because of the number of openings in policing, many are forgoing part-time work, Le Sueur Police Chief Aaron Thieke said.
And even when Thieke does make part-time hires, they often don't stick around.
"It's kind of a vicious cycle where we'll hire a part-time officer, investing in them with the background checks, exam, psychological checks, and then training hours, and a lot of the times we barely get done training them in and they've got a job offer that's better somewhere else," Thieke said.
[RELATED: The challenge of hiring and keeping officers in small and rural agencies]
'What's next?'
Larger towns, like Le Sueur and Mankato, which offer higher starting pay than most smaller, neighboring towns, are also dealing with staffing issues, though their need may not be as urgent.
The Mankato police department, because of its proximity to Minnesota State University, which has a law enforcement program, has fared better in staffing than neighboring towns. Still, the department is planning for a future of fewer graduates in the field and therefore, fewer applicants.
"We've been able to keep pretty close to our allotted number of officers, but I don't see this trend getting any better," Mankato Director of Public Safety Amy Vokal said. "I'm certainly keeping an eye on the nationwide trends and watching what other departments are doing to survive during difficult times."
Vokal said if staffing worsens, she plans to rely more heavily on their community service officers, civilian employees who take some of the calls for service that are noncriminal, such as animal complaints and ordinance disputes. Still, she acknowledges their work is limited, and trained officers are necessary for most police work.
Because fewer people are entering police work than there are open positions, departments that can afford to do so are looking to increase benefits wherever they can to poach officers from other communities.
"We have increased our pay structure, and we've also offered hiring bonuses and increased vacation and sick time to lure or otherwise recruit candidates and officers from other agencies to apply with us," North Mankato's Gullickson said. "You'll find that this is a pretty common practice amongst organizations as they try to also fill their staffing shortages."
Potts, of the police chiefs association, said to compete for candidates, every department is going to have to get used to employing a more hands-on approach to recruiting. He said every member of the agency should keep an eye out for people who could be interested and building relationships with young people still in college.
"The chief basically has to wear the hat of a recruiter whenever you run into people in your community, whether younger people who are trying to figure out what they want to do for a career or people who may be contemplating a career change," Potts said.
"It's important to brand that organization in a positive way, like through social media, making sure that the community knows who you are, the type of work that you do," he said. "You kind of have to look at this a little bit differently. It's not just, you know, putting it on your website and accepting applications, you have to find the people."
Nelson said she hopes the current job market offers an opportunity for a more diverse future in policing.
Since career fairs resumed after pandemic shutdowns, Nelson said MSU recruiters have been showing up at high school and community colleges throughout the region and into the Twin Cities to encourage students of a wide variety of backgrounds to consider their law enforcement program.
"A lot of our graduates now are asking agencies, 'What is your philosophy about communities, and what can I do to be a good community member as well as an officer?'" Nelson said. "'What are you doing about diversity?' and different questions like that.
"And sometimes the agencies don't really have an answer because they haven't had to answer to potential candidates like that before, or they themselves are still trying to find their identity. There is a change in our graduates that's coming out."
NEXT: Survey finds crisis in police recruitment and retention
___
(c)2022 The Free Press (Mankato, Minn.) Distributed by Tribune Content Agency, LLC
McClatchy-Tribune News Service