States join pilot to coordinate investigations of missing, murdered Indigenous people
In some counties, Indigenous women are murdered at a rate ten times the national average
---
By Suzie Ziegler 
OKLAHOMA CITY — A "first of its kind pilot project" that aims to coordinate investigative efforts in cases of missing or murdered Indigenous peoples is set to launch, said U.S. Attorney Trent Shores last week. 
According to Route Fifty, the program begins in Oklahoma and later will be rolled out in Alaska, Michigan, Minnesota, Montana and Oregon. The Tribal Community Response Plan will create "culturally appropriate guidelines" to better coordinate investigations among federal, state and tribal agencies. The guidelines will include instructions for law enforcement, victim services, community outreach and public communications, according to Route Fifty.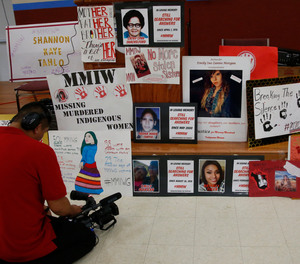 Authorities aren't certain exactly how many Indigenous people have gone missing or been murdered in recent years, often due to poor data collection, says Route Fifty. In some counties -- those with tribal reservations or high concentrations of tribal members -- Indigenous women are murdered at a rate ten times the national average, according to Route Fifty. Among Native American and Alaska Native women, murder is the third leading cause of death. 
Shores and fellow U.S. Attorney Brian Kuester announced the project along with the Muscogee (Creek) and Cherokee Nations. 
"The first step in achieving justice for missing and murdered Native Americans was acknowledging the injustice of any historical indifference to or neglect of these tragic cases," Shores said in a statement obtained by Route Fifty. "Now, it is time for action to tackle this crisis head-on." 
Cherokee Nation Principal Chief Chuck Hoskin Jr. tells Route Fifty that the pilot will be an "important partnership" that "will help pool our focus and resources on these cases with immediate, coordinated and professional response plans." 
Muscogee (Creek) Nation Principal Chief David Hill said he feels "these types of collaborations, in which our input is sought and utilized to craft culturally specific guidelines, are the best path forward" in addressing the crisis.