SHOT Show 2016: Is Ruger American Pistol poised to dominate?
Ruger has just launched a new handgun with the hope that it will return this manufacturer to its former standing as an essential police sidearm
---
Just a few decades ago, it was not an unusual sight to see a Ruger revolver being carried by an American police officer. Ruger's Security Six graced the hips of law enforcers and security guards from coast to coast. Even the U.S. Air Force issued this revolver well into the 1980s. 
The age of wood stocks and revolving cylinders has long passed and the era of plastic frames and striker firing pins is upon us. Despite Ruger's former prominence in the police arena, this new era seems to have left Ruger without a design to compete against modern pistols like the Glock 17, Smith and Wesson M&P, and SIG P320. 
But that may be about to change. Ruger has just launched a new handgun with the hope that it will return this manufacturer to its former standing as a desired police sidearm. This new firearm — dubbed the Ruger American Pistol — is chambered in 9mm Luger, 45ACP and, very soon, the 40S&W.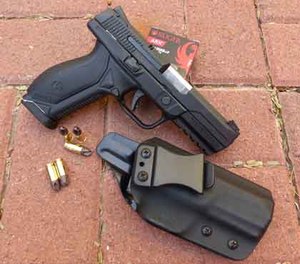 Some Differences from Other Striker-Fired Designs
The Ruger American is a full-sized duty pistol with a magazine capacity of seventeen rounds in 9mm and 10 rounds in .45. The American's controls are ambidextrous and the pistol can be used with either hand without changing anything or reversing parts. The layout of the magazine release and slide stop are rather conventional in placement so little or no retraining will be needed when transitioning from a pistol of another manufacturer. 
This new pistol follows the current trend of striker operation but differs from some designs in that its striker is pre-loaded when the slide reciprocates. This results in a shorter and somewhat lighter trigger pull. The barrel lockup is timed slightly longer than that of some other designs. This means the slide and barrel stay together longer after firing, reducing the force that comes from slide acceleration. 
Incorporated into the design are some very user-friendly elements. First and foremost is the manner of disassembly. Rotating the frame-mounted takedown lever deactivates the pistol and renders it safe, eliminating the need to pull the trigger before removing the slide. Also, of some importance, the chamber is set more or less flush with the ejection port allowing easier visual verification that the pistol is unloaded and empty. 
Durable and Versatile
The frame and grip panels are made of plastic while the slide and metal parts are nitrided stainless steel and/or nickel-Teflon coated, meaning the pistol should be reliable in the harshest environments with little lubrication or maintenance.
The new gun is built and tested to function with +P ammo without concern of accelerated wear or damage from a steady diet of hotter defensive ammo. Ruger engineers tested the gun with weights attached to the frame's mounting rail to make sure the pistol will run properly with a weapon light or laser attached. The pistol ships with interchangeable grip panels sized small, medium and large that can be changed easily with an included Torx wrench. 
Ruger has kept this new design under wraps but did sneak a few pistols out to a number of holster-makers like Safariland and Blade Tech prior to release to ensure holsters and mag pouches are immediately available for use. This wise move ensures that new buyers will not need to wait months and months to find a suitable holster. 
Shooting the Ruger American
I recently traveled to the famous Gunsite Academy in Paulden (Ariz.) where I was allowed to try the American Pistol on the Hanneken Range. We ran both the 9mm and 45 versions with standard pressure and +P defensive ammo including the new ARX ammunition made for Ruger by PolyCase. Guns were left intentionally dry. 
Despite the chilly December weather, our samples functioned fine. Recoil, as Ruger claims, was quite easy and manageable despite the hotter ammo, thanks to the delayed slide to barrel lockup. The pre-loaded striker does give a fairly smooth and crisp trigger pull although the reset seems spongier and less distinct than that of some other designs. This no doubt will be an early point of contention with some shooters. Another point likely to draw criticism is the size of the trigger guard. It is somewhat small and shooters with larger than average fingers or those who shoot with gloves will likely feel some rubbing between the bottom of the trigger and the inside surface of the trigger guard. 
Back home, I ran a 9mm test sample American with a good variety of ammo to include inexpensive steel-cased cartridges. As expected, there were no malfunctions and accuracy seems as good as — or better than — pistols the Ruger is designed to compete against. 
Will the new Ruger be able to take its place alongside the respected and established designs of other makers? The Ruger American Pistol has been in development for several years and was originally conceived as an entrant for military handgun trials. Those trials may not have come to fruition but they've left Ruger with a new modern design that should be ready for not only domestic but also global markets.