SHOT Show 2016: Kimber's K6s is one of the most unique revolvers on the market
The DAO trigger on the K6s is so slick, I initially thought there was something wrong with the gun
---
During my visit to the Boulder City Rifle and Pistol Club for SHOT Show Media Day on the Range, one particular standout was the K6s, a gun that predictably is rocking the boat in the gun industry. That's right, the founder of custom 1911 worship, Kimber, has a new revolver.
The Kimber K6s is probably one of the most unique revolvers on the market today. It is a six shot, 23 ounce, .357 Magnum with a fully shrouded 2-inch barrel. Sharp edges are radiused enough to slip in a pocket.  The internal hammer aids in a snag-free draw.
If I stopped here, I would be describing more than half of the pocket-size .357 Magnums on the market today. However, the DAO trigger on the K6s was so slick, I initially thought there was something wrong with the gun. In fact, it was the best trigger I felt all day. As I watched shooters put rounds down range, I noticed that almost everyone shot the K6s at a very high accuracy rate, including me.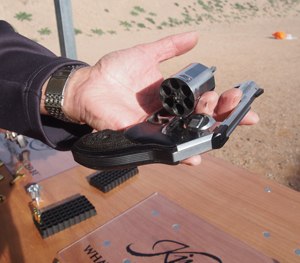 Although this is not a particularly lightweight gun, it is the perfect weight and size for controlling full house .357 Magnum loads. I liked the all-stainless steel construction and solid lockup. 
Kimber has milled the areas flat between the cartridges around the cylinder, giving the gun a modern look and keeping the width of it in check. The grip feels solid in the hand and the overall balance makes it a sweet instrument to shoot.
Finally, the Kimber K6s has a push-button cylinder release and a yoke that gets the cylinder out far enough to allow for larger speedloaders. I was able to load "2x2" rather quickly, and one shooting station had a 5 Star Firearms speedloader that kept the K6s in the fight.
The only thing that would keep me from getting the K6s is fairly minor: there aren't any holsters for it right now. Well now, that's easily resolved.