SHOT Show 2016: Milkor's less-lethal launcher offers superior accuracy, many munitions options
The Multiple Grenade Launcher – Less Than Lethal (MGL-LTL), six-round launcher can put a variety of 40mm less lethal munitions downrange with superior accuracy
---
At Media Day on the Range during SHOT Show 2016, we encountered an excellent less lethal projectile launcher from Milkor. Dubbed the Multiple Grenade Launcher – Less than Lethal (MGL-LTL), the six-round launcher can put a variety of 40mm less lethal munitions downrange with superior accuracy.
Developed in partnership with Abrams Airborne Manufacturing, the launcher has a rail atop the wheel for the sighting optic of your choice, as well as rails around the barrel with ample space for lights, lasers, grips, and other additions to the system. The stock is adjustable, allowing the shooter to get precisely the cheek weld and arm extension he or she requires for the mission.
The mechanics of the gas-operated system are simple and, one would imagine, therefore relatively easy to maintain. Pulling a hook in front of the wheel releases a mechanism that allows the stock to swing away and reveal the six cylinders. Dumping spent casings is done by simply pointing the barrel up. A company representative said that they recommend loading the cylinders counterclockwise from the cylinder nearest to the chamber.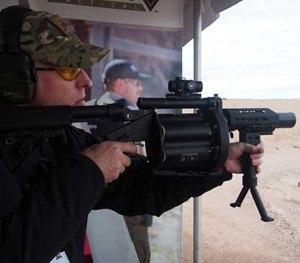 The company even makes a speed loader (imagine putting that on your belt or in your pocket!) in the event you are in a particularly bad crowd-control situation and need more than six shots of CS or OC downrange in a short period of time.
The maximum usable range will vary with the type of less lethal munitions you're using, but in testing the launcher at the Boulder City Rifle and Pistol Club, I was able to put a Blunt Impact Projectile (BIP) round from Security Devices International (SDI) right where I wanted it at about 25 yards.
With no sign that protests against police will come to an end anytime soon, departments would do very well to train and equip their officers with this excellent less-lethal projectile launcher. As the company says, "MGL-LTL is the solution that sends everyone home safe."