Felonbook.com gives criminals a social network of their own
The anonymous creator calls himself Mr. X (con)
---
By Police1 Staff
NEW YORK — With the launch of felonbook.com, Americans with criminal records now have their own online community.
Mr. X (con), as the anonymous creator calls himself, had the idea for felonbook while serving a federal prison term for nonviolent marijuana charges, according to a press release. He looks "to give personal power back to those with a criminal history" by encouraging users to think about how to better their situation and change "the system."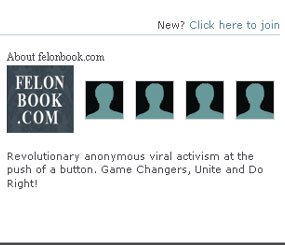 The press release states:
"Felonbook gives the average Joe, perhaps a convicted felon, ex-con, even friends, family or like-minded citizens, the opportunity to have their vision manifest.
"This is done when an individual member of the community creates a Group, gives details about something he or she would like to change, and then through discussion proceeds to 'sell' this particular plan to the Group.
"Groups that have three thousand members in unanimous agreement, move forward to a Forum where the entire felonbook community looks over the proposal.  Game Changer plans are approved out of Forum by an entire community majority vote. 
"After this they are adopted and supported from the community fund, which is generated via individual membership fees of $9.99 a year."
No personal pictures or videos are promoted on felonbook.