Ottawa police arrest, charge 2 Canada protest organizers
A protest involving dozens of semi-trailers has gridlocked Canada's capital city for three weeks
---
By Brian Platt
Bloomberg News
OTTAWA, Ontario — Police arrested and charged two of the most prominent organizers of the trucker protest that has gridlocked Canada's capital city for three weeks.
The arrests came as officers continue an extensive operation to lock down the city center of Ottawa to clear the streets of demonstrators, as well as dozens of semi-trailers. Police are setting up a system of about 100 checkpoints to control entry into a large section of downtown.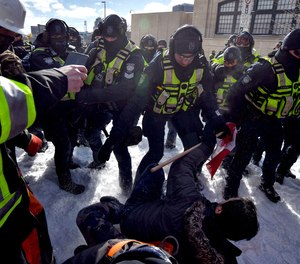 Chris Barber, one of the main organizers, has been charged with three counts of counseling others to commit a crime. Tamara Lich is charged with counseling others to commit mischief. Both are scheduled to appear in court Friday.
In anticipation of the law enforcement sweep, Canada's parliament announced it would be closed on Friday, meaning debate will be delayed on Prime Minister Justin Trudeau's decision to invoke emergency powers to help quell the demonstrations.
By mid-morning, police had begun a slow-moving operation to begin arresting protesters who remained in the area and tow their vehicles. But despite some arrests being broadcast on live television, in other areas of downtown most demonstrators have so far chosen to stay.
Under the federal emergency legislation, the entire downtown protest area has been declared a prohibited public assembly and police have said they will arrest those who refuse to leave.
Police are also using the checkpoints to prevent a repeat of the last three weekends, during which thousands of protesters drove into Ottawa creating massive street parties that authorities had little control over. Highway exits into the downtown area are blocked off, and police have said only those who live, work or have another lawful purpose will be allowed through the checkpoints.
[NEXT: 12 things every police department's civil unrest plan needs]
©2022 Bloomberg L.P. Visit bloomberg.com. Distributed by Tribune Content Agency, LLC.
McClatchy-Tribune News Service