The trauma kit, evolved
Officers of varied skill levels can use ZOLL's Mobilize Rescue kits to treat victims or even themselves, bridging the gap until EMS arrives
---
Many years ago, while supervising my agency's dispatch center, I learned the value of EMD or Emergency Medical Dispatcher. This concept takes the traditional call taker/dispatcher roll and adds a life-saving benefit – talking a reporting party through their medical emergency. I literally saw this concept save lives when put into practice.
When I was recently asked to review a new medical kit, I anticipated a bag full of the normal supplies, but my interest sharpened quickly when I saw the same concept applied in the Mobilize Rescue Systems from ZOLL.
I need another digital account for something like I need a hole in my head, but when I saw instructions for setting one up for the medical kit, I was determined to check it out. I'm glad I did. A number of different kits in various sizes are included in the Mobilize Rescue Systems. The bigger they are, the more equipment they have to deal with various medical emergencies. All of them have something in common I have not seen in any other medical kit. They come with digital instructions that not only help you assess the patient, but also walk you through treatment. While the larger kits have built-in touchscreens, the smaller ones use an application on your phone.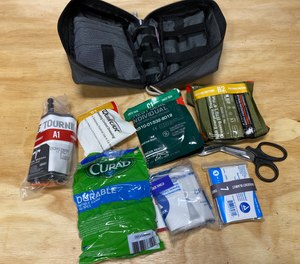 Perspective
I come to this review with a somewhat critical eye for emergency medicine. I was an EMT-B for eight years and worked part-time for an ambulance service in an area southwest of Colorado's mountains that was 60 miles from definitive medical care. Over the five years I worked there I learned a lot. I helped many people recover and tried to comfort those who were beyond my help.
While I am no longer an EMT, I am a first aid/CPR instructor and have stayed current on trends like TCCC for law enforcement and the critical shift from priority mnemonics ABC (airway, breathing, circulation) to MARCH (massive hemorrhage, airway, respiration, circulation, head injury/hypothermia).
With this in mind, I recognize there are many different levels of medical knowledge, skills and abilities. In putting together a medical kit and app for people, you have to teach to the lowest level of knowledge. After installing the ZOLL Mobilize Rescue app, I walked myself through a number of scenarios to test it out.
App walks you through the delivery of care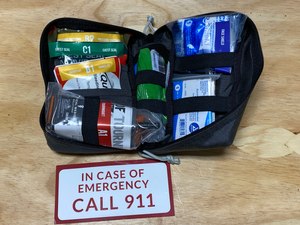 The program walks you through a cascade of questions to assess your patient. Using the touchscreen, you select the option that best fits your scenario.
The first thing the app tells you is to put on gloves, and I applaud the use of PPE, particularly in these times. I also tested with the included gloves on and found you can still operate a touchscreen.
When you open the included bag to access the supplies, a laminated card that says "In Case of Emergency Call 911" on both sides falls out onto the floor. Knowing human nature, people might try to catch this, but either way, they will most likely see it. This simple but critical reminder will limit the amount of time the responder is tasked with treating the patient.
The app uses illustrations to demonstrate proper techniques and text to clarify, redundancy being crucial when people are stressed. There are even animations whose moving features demonstrate exactly how to execute different techniques. When CPR is required, the app demonstrates the head tilt chin lift maneuver, then there is a video illustration of actual chest compressions. Also included is a beeping pentameter to help you keep proper time and a voice that sounds suspiciously like the voice from an AED that tells you how to conduct hands-only CPR.  
Perhaps most important, the app uses the modern application of best emergency medicine practices. Namely, it will first ask you if the victim is bleeding badly, then dive in from there. Also of key importance, the actual kit has labeled items within it that refer to what is needed. Some people would not know a mylar blanket from a chest seal (by packaging) so each piece of gear is labeled B1, C1, etc., for easy reference. The app will tell you to select A1 (Tactical Medical Solutions SOF Tourniquet) then walk you through its application. All the various scenarios I tried loop back to a re-assessment of the patient or allow you to complete it by pushing buttons to indicate the patient has resumed consciousness, or EMS has arrived.
Applicability to law enforcement
Within the Compact Rescue System I received were several pairs of gloves, an SOF tourniquet, Mylar blanket, face shield, shears, a packet of QuikClot, a Hyfin chest seal and a pressure dressing. Many of these items are potentially crucial in treating gunshot trauma and could well supplement the kits already carried by officers on their person or in their vehicles.
There is an immediate answer for severe hemorrhage to the limbs, but there are also options for the chest and junction areas like hips and shoulders. Using the same principle as the EMD, it is my humble estimation this system could work extremely well in treating injuries almost immediately, not just because of the gear within the kit itself, but in conjunction with the use of the app that walks you through assessment and treatment.
Officers of varied skill levels could use these kits to treat victims or even themselves, offering critical care in the immediacy after a wound is caused, bridging the gap until EMS arrives.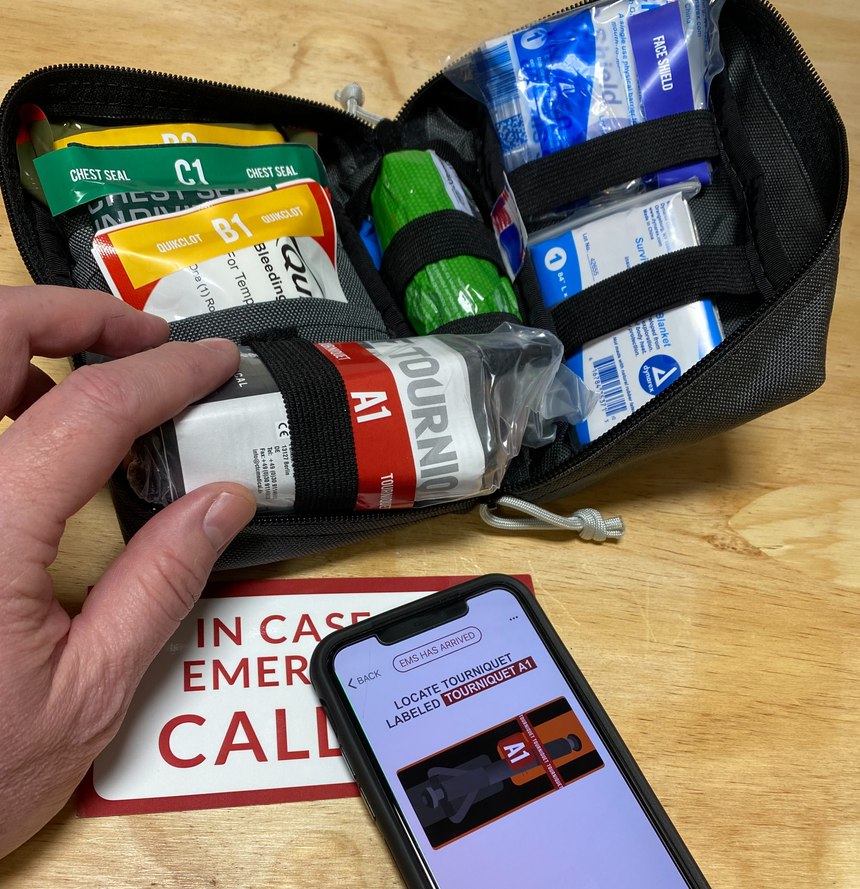 NEXT: Why all cops should take advantage of FLETC's tactical medical training